How to create an Eventbrite seat map
Updated: Mar 26, 2015
If you're organizing an event that's using reserved seating, you can use an existing seat map, get a quick start with one of our layout types, or start with a blank canvas using the Eventbrite Seat Designer. Head over to your event's Edit page and scroll to Step 2: Create Tickets. Just turn on Reserved Seating to get started!
Tip: Organizing a large-scale reserved seating event? Speak with an expert on our sales team at 1-800-993-7308.
Pro Tip: Before you get started, find a PDF of the venue's seat map (you can ask the venue manager for the most updated information). We also recommend checking if there are any obstructions you should know about, or doing a location tour to make note of things like exits and bathroom locations.

Note: Having trouble setting up your seat map? Check out this troubleshooting article for some common things to check if Seat Designer isn't working for you.

Option 1: Pick an existing template
If you enter location information and there are existing seat maps for the venue, we'll show you those options and you can start from one that works.
To see if any seat maps exist for your venue, scroll to Step 2: Create Tickets on your event's Edit page. After turning on reserved seating, you'll be able to change this seat map, set your own focal point, and create custom ticket types.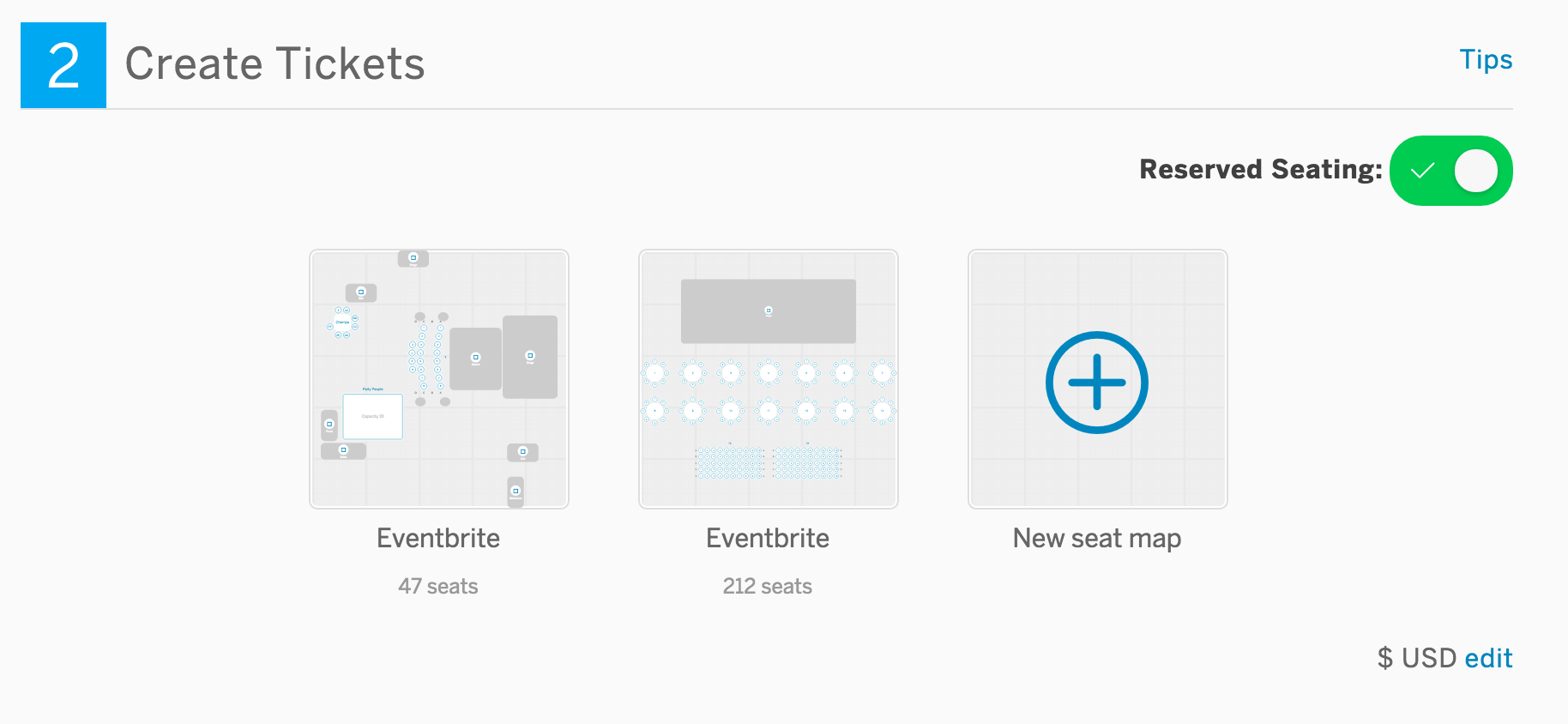 Tip: Don't see any templates? Just select New Seat Map and you can choose a layout type or Start with a blank canvas.

Option 2: Get a quick start
After selecting New Seat Map on your event's Edit page, a new window will pop up to choose a layout for your venue. After you choose a layout type, just tell us a few details about your venue and event:
- Tables & Chairs: This layout type is great for events like galas and receptions. Enter the number of tables and chairs per table for your venue.
- Sections & Rows: This option works well for events like plays and stage performances. Enter the number of sections, rows per section, and seats per row for your venue.
- Mixed Seating: This layout type lets you create both seated sections and tabled areas. Just let us know how many tables and chairs per table you need. You can also set the number of sections, rows per section, and seats per row.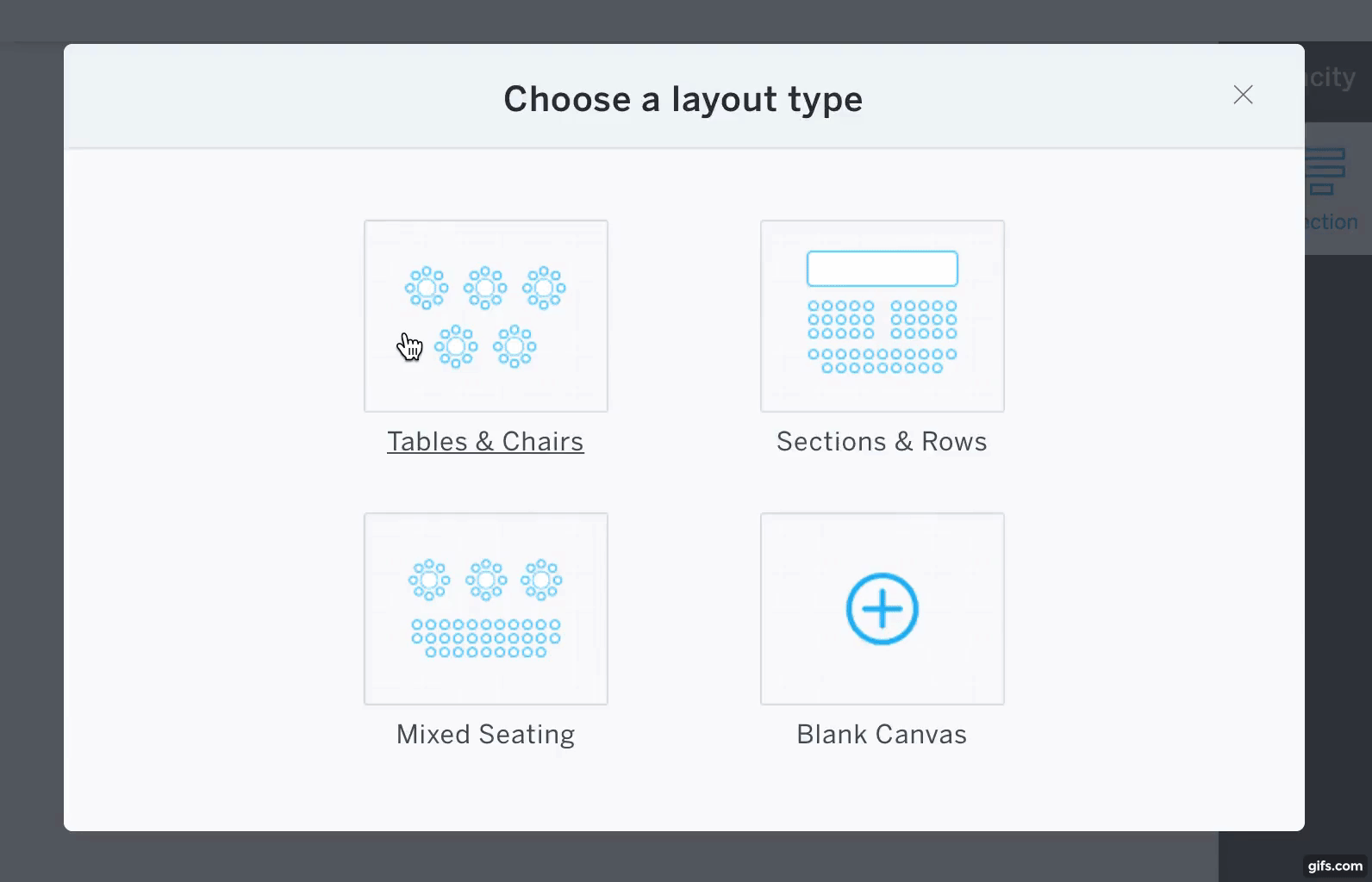 Example: Hannah is organizing a dinner party for her colleagues, so she selects the Tables & Chairs layout type and designates 10 tables with 6 chairs per table. She also adds a bathroom, exit, and food area.
Pro Tip: With the quick start option, you can also add any objects—stage, food area, exit, bathroom, drink area, and/or dance floor—to your seat map. This helps attendees find the best seat that works for them.

​Option 3: Start with a blank canvas
You can create your seat map from scratch by selecting Start with a blank canvas—add all the pieces you need to best match your event's venue!
Add any of these items to your seat map:
- Sections: Add seated or standing sections.
- Tables: Add round or square tables.
- Objects: Add and change all kinds of objects, like a stage, food/drink area, bathroom, exit, or dance floor. This helps attendees pick the best seat, and you can even create your own objects with circles, squares, and lines.
- Text: Label anything on your map with small, medium, or large text.
​Once your seat map is complete, you're ready to set a selling order and create tickets. Then we'll give it a final review. Just make sure to save your progress using the Save button.
Tip: It doesn't matter if your stage is at the top or the bottom of your canvas. Use what makes the most sense for your event's venue—it helps people understand where they want to sit and what seat to choose!
Pro Tip: If you're setting up your own space, do a test run of a row or two to get an idea of how many chairs will fit comfortably. Consider where you might place things like a bar, dance floor, or stage.

Note: Be careful not to stack any objects you add on top of another object, and make sure your sections don't overlap with tables. This could prevent attendees from being able to select an individual seat when purchasing tickets.