How to set up access codes for hidden tickets
Updated: Mar 31, 2015
Access codes are a great way to password-protect hidden tickets reserved for sponsors, members of the press and media, or employees in order to get a comprehensive view of your event's reach. From your event's Manage page, go to Invite & Promote and select "Discount Codes." Then set the Promotion Type to "Access" to get started.
1
Go to your Manage page.
After logging in and creating an event, click or tap your event from the My Events page, then select Manage.
2
Go to "Discount Codes" (under Invite & Promote).
If you have existing promotions, you'll see them here. If you don't, you'll be taken to the Create Discount Code page.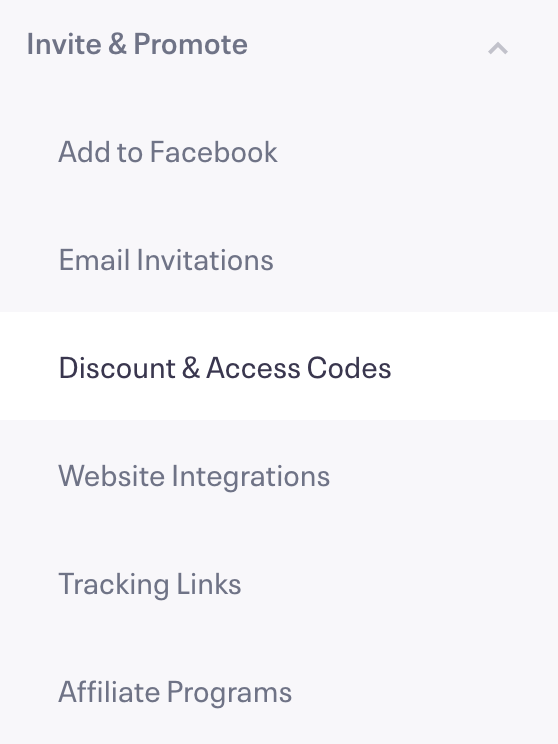 Note: If you're using our new repeating events feature, you can set up access codes for all the events in your schedule, or individual events. Just choose a date from the Individual Event Selector at the top of the Manage page.
3
Select "Access" under "Promotion Type".
Access the drop-down menu under Promotion Type and select Access. Access codes will reveal hidden ticket types that you set up on your event's Edit page (under Step 2: Create Tickets).

4
Set up the details.
Code: This is the access code that you'll provide to your attendees to use when they order. Spaces, apostrophes, and non-alphanumeric characters (except '-', '_', '@' and '.') are not allowed.
Offers Apply to: Check off any tickets that the code should apply to; this can be All Ticket Types or selected ticket types.
Uses per Offer: Allow the code to be used in an unlimited fashion throughout the duration of your event or enter a set number of tickets that can have the promotion applied.
Starts/Ends: Set the date the code should start being available for use and the date access code should end and no longer be available for use.

​Tip: Promotional codes are not case sensitive. This means that your attendees can enter in the code without worrying about getting capitalization errors!
Pro Tip: You can bulk upload up to 3,000 discount or access codes (no more than 256 characters each) in a single .csv or .txt file. Just select Choose File to use this method.
5
Save to finish.
That's it! Share the access code with its target audience so attendees can unlock hidden, password-protected tickets for purchase.
Pro Tip: At the bottom of a Create Discount Code screen, you'll see a link with that code embedded in it. Provide this link to your attendees to automatically reveal any hidden tickets granted access to when clicked.

Note: Only one coded discount or access code can be applied per order completed to your event. However, attendees can take advantage of multiple public discounts within the same order when registering for your event. To offer a discount on a ticket revealed by an access code, just set the price of the ticket to the discounted rate and include a note in the Ticket Description section for the ticket.
6
Track your progress.
Once you've created and saved an access code, you can select the name of the code while on the Manage Discount Codes screen to see the details for each one.
You can also track the usage of and see which attendees have claimed a promotion during registration in the Promotion Code Usage report .