How to fundraise and collect donations with Eventbrite
Updated: Apr 23, 2015
Eventbrite provides the tools you need to collect donations and fundraise for the causes you love. It's easy to collect donations online or on-site, and you can even integrate your event with Kindful to automatically create donor profiles and help engage your donors.

Note: If you're collecting in a currency other than U.S. dollars, you can provide tax invoices for donors along with their order confirmation.
While tax invoices aren't available for events using U.S. dollars, you can customize your order confirmation email to include the information needed for a tax-deductible receipt. Make sure to state that your organization is recognized as a nonprofit by the Internal Revenue Service (IRS), the relevant IRS Code section, and your organization's tax identification number.
Collect donations online on your event page
When creating tickets on your event's Edit page, you have the option to add in Donation ticket types.
Donation tickets allow attendees to decide how much they'd like to donate or pay, and it's a great way to go if prices are on a sliding-scale. You can even add a Ticket description to include a suggested minimum donation amount and promote the organization you're fundraising for.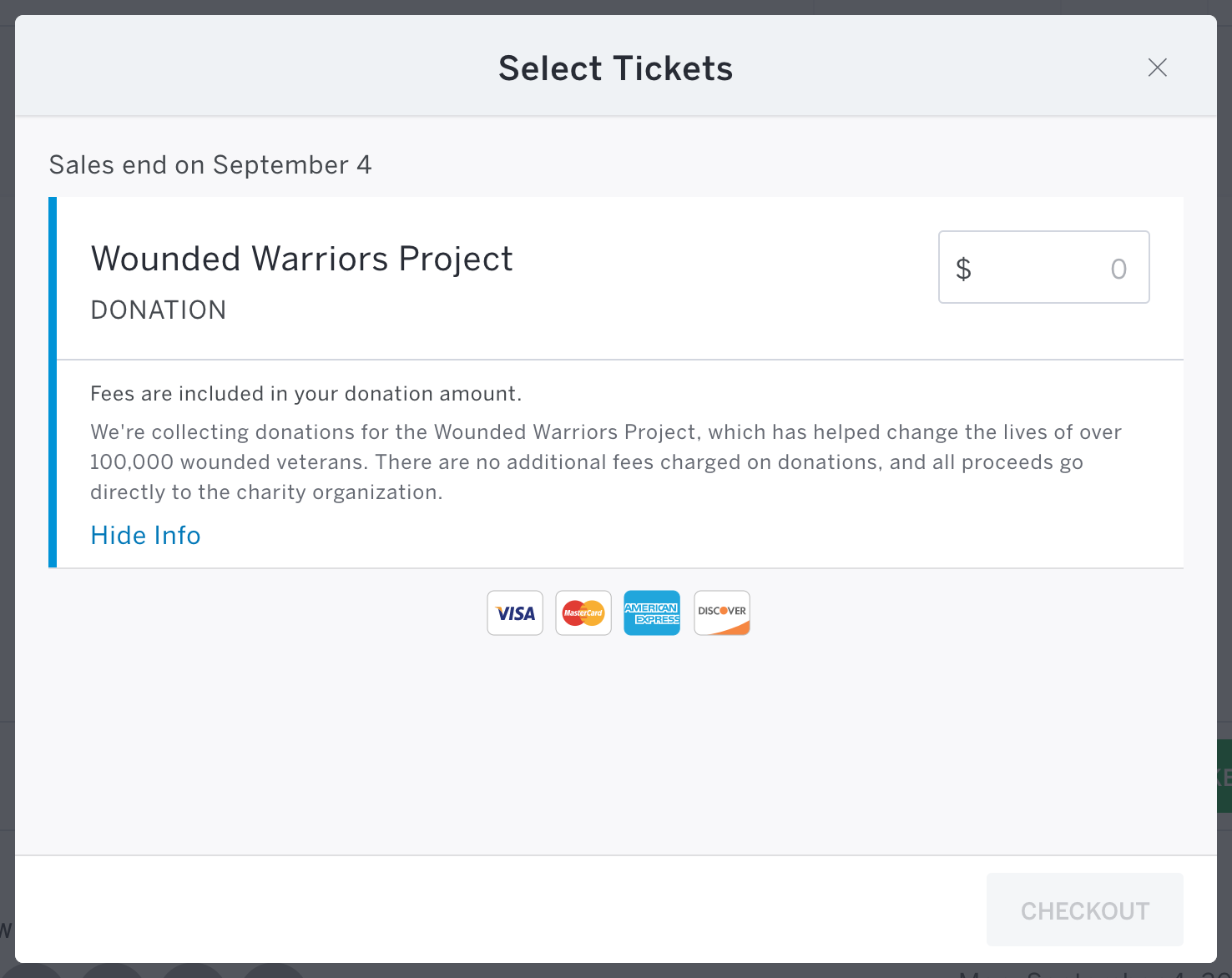 Tip: When an attendee makes a donation, they'll receive an order confirmation email, as with any other order. Each donation counts as one attendee, but you can create a free ticket type so donors can register additional attendees.

Collect donations on-site with Eventbrite Neon
You can easily collect donations on-site with our Eventbrite Neon iOS mobile app. While donation ticket types aren't supported by Eventbrite Neon, there is a workaround which involves creating a paid at the door ticket for each dollar increment that can be used (e.g., $1, $5, $10, and $20).
After downloading Eventbrite Neon, log in and choose your event. Then from the Sell tab, simply tap the plus sign for each dollar increment to meet the amount the attendee would like to donate.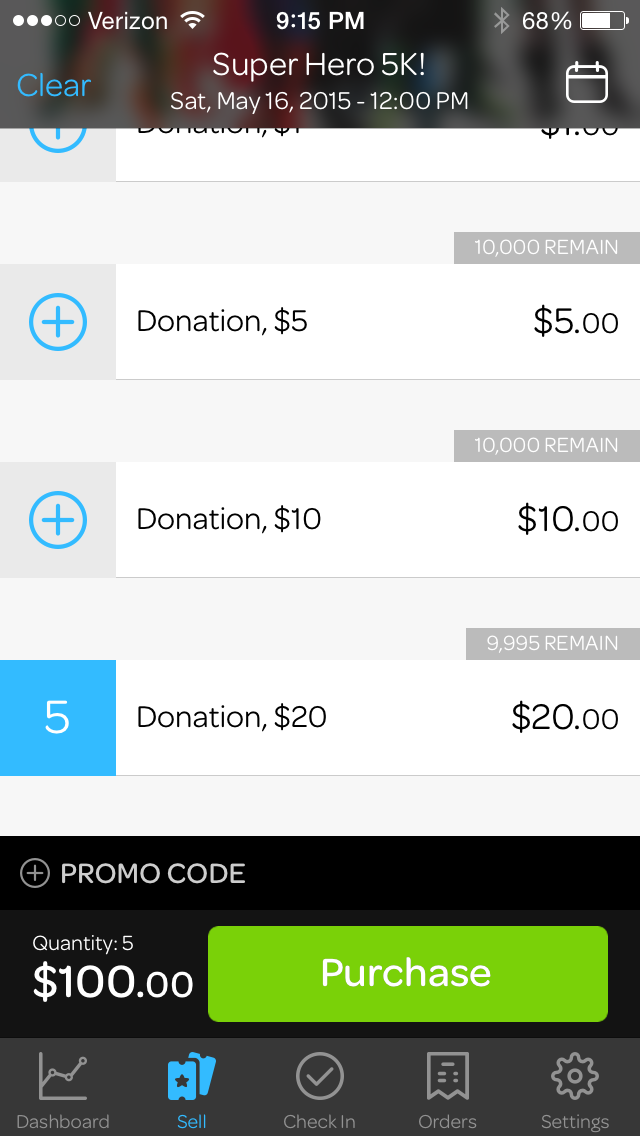 Example: Casey wants to collect a $100 donation from an attendee, so she taps the $20.00 donation ticket five times to equal the $100 donation amount.
Create donor profiles with Kindful
Eventbrite has partnered with Kindful, an online fundraising tool that helps you easily engage with donors.
Attendees are seamlessly synced into the Kindful database, and profiles are automatically created for your donors. You can then keep track each unique interaction your donors have with the ticketing process and use that data to better connect with them.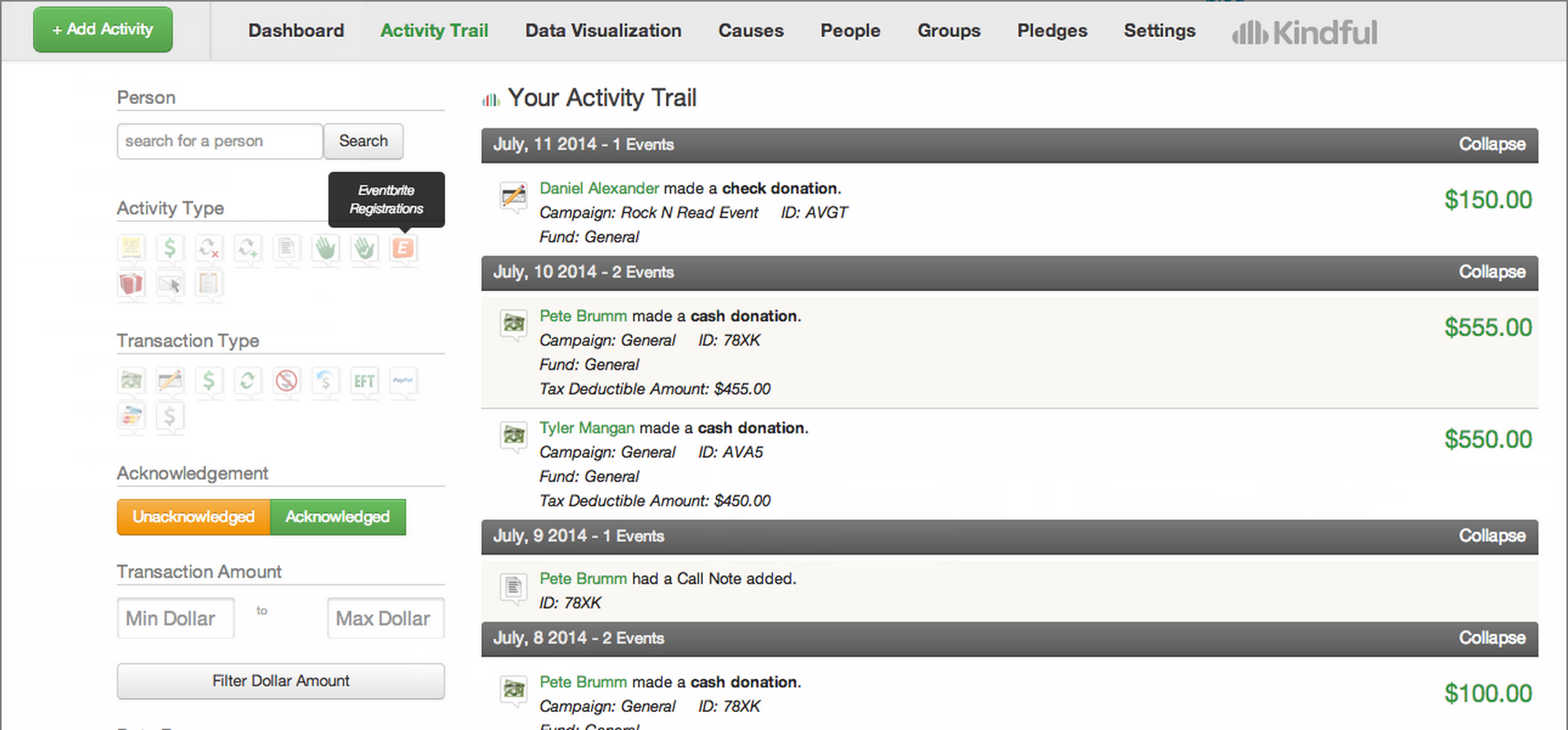 Tip: Check out our blog to learn more about the integration with Kindful.
Pro Tip: Learn more about organizing fundraisers and nonprofit events from our Event Academy.