How to accept payments by check, invoice, or at the event with offline payments
Updated: Jan 27, 2015
Attendees can pay by check or invoice, or pay at your event with our Neon iOS mobile app when you enable offline payment options. From your event's Manage page, go to your Payment Options and select "Add offline payment methods" to offer additional payment options. You'll collect these payments outside of Eventbrite, and still be able to track them in reporting.

1
Go to your Manage page.
After logging in and creating an event, find your event on the My Events page, then select Manage.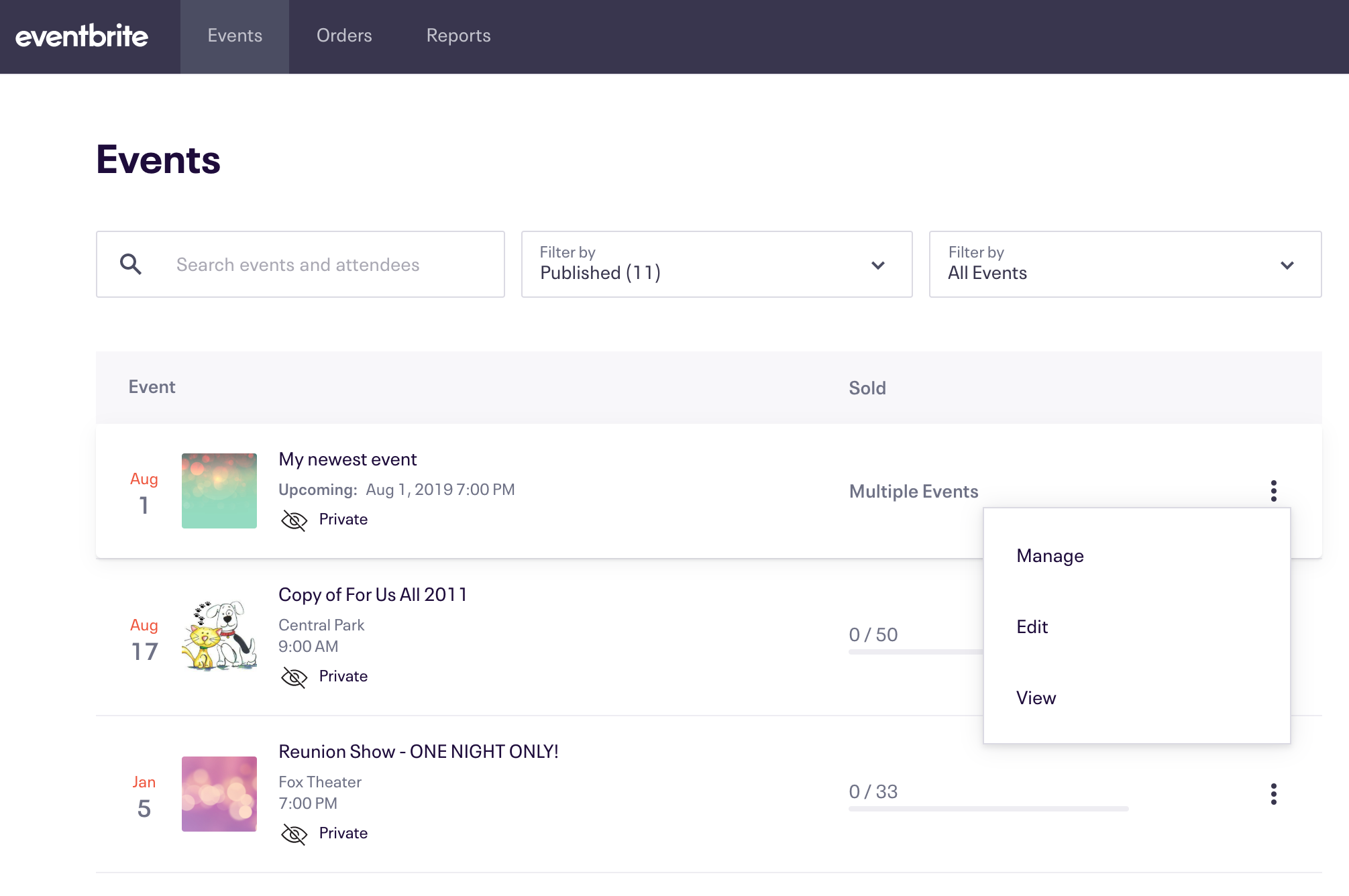 2
Go to Set Payment Options.
From the options menu, scroll to Set Payment Options. If you've already set up your payout details, you'll select Payment Options instead.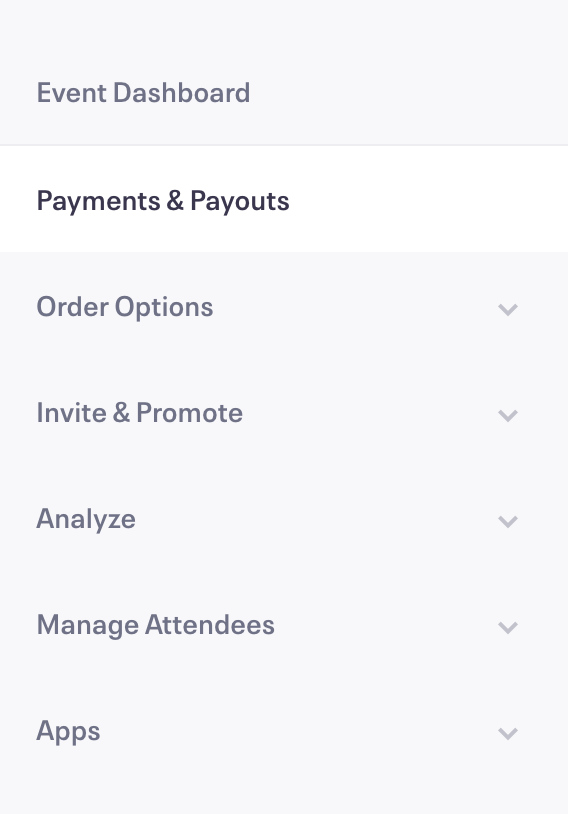 3
Select "Add offline payment methods."
Choose Add offline payment methods to show the alternative methods of payment available.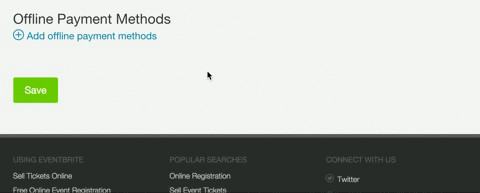 4
Select which offline payment methods you'd like to offer.
Click or tap the switch next to the offline payment methods you'd like to offer so that it's green. Then enter payment instructions for your attendees.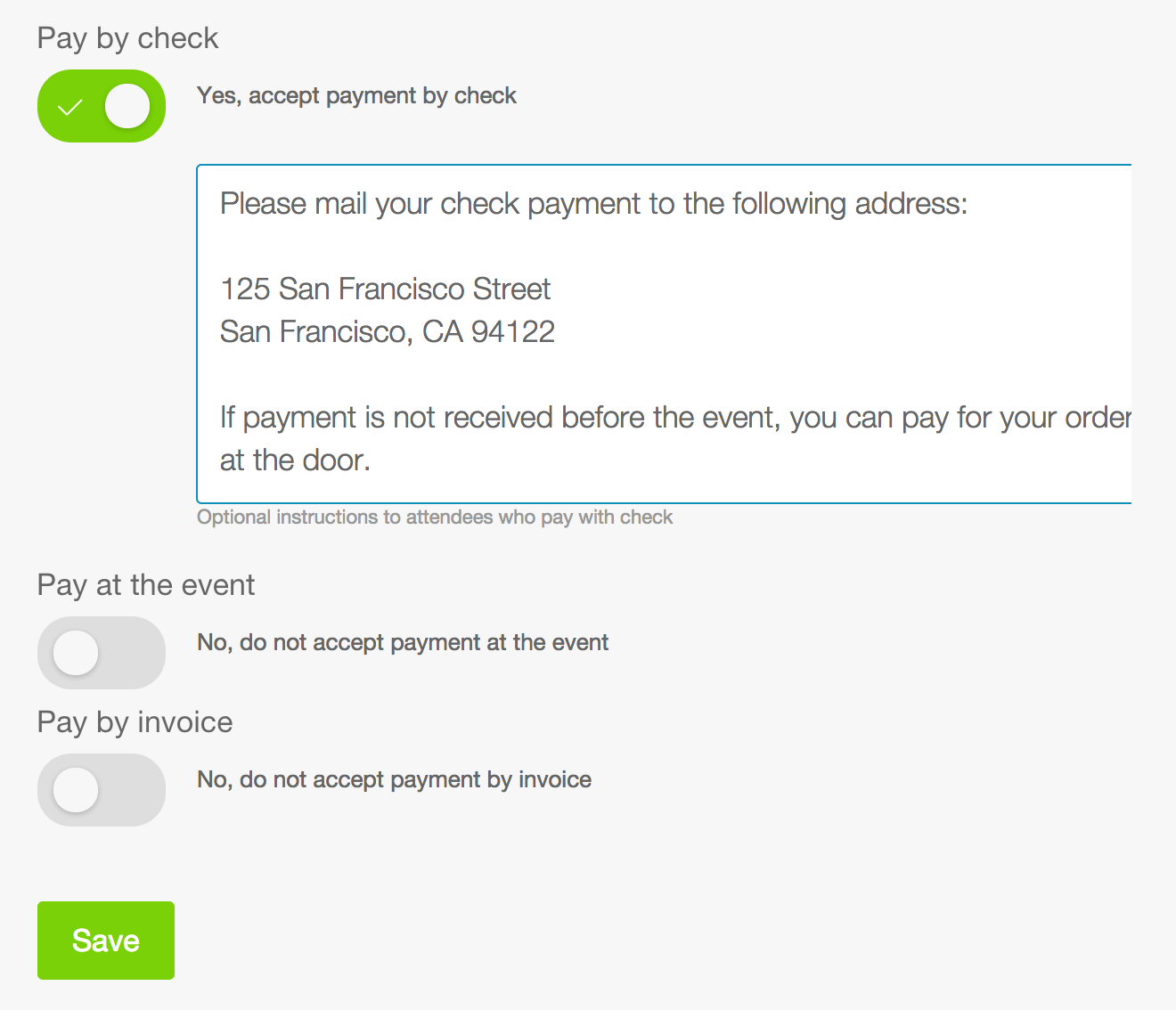 Example: Tracy is accepting payments by check, so she selects Pay by check to enter an address for attendees to mail payments.
5
Save your changes.
Choose Save to add the additional payment options to your registration form.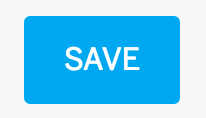 6
Attendees can register online and pay you offline.
When attendees visit your event page, they can pay by credit card or choose to Show other payment options, which displays the option to Pay Offline.
After choosing Pay Offline, attendees complete their registration by reading your payment instructions and then selecting an offline payment method (if you've offered more than one).

Note: If attendees don't select a number of tickets before choosing Pay Offline, they'll receive a message saying, Invalid quantity. Please enter a quantity of 1 or more.
7
Mark payments as "Received."
When you receive orders with offline payments, the order will be classified in your Orders report as Payment Not Received. You can mark the payment as received by selecting Mark as Received.
Example: Tracy receives a check in the mail for this payment, so she finds the order from the Orders report and marks the payment as received.
Tip: You can export a report of all the orders that haven't been marked as received from the Orders report. Using the drop-down menu under Order Type, just choose Offline Orders - Payment Not Received.
Pro Tip: You can also email your attendees through Eventbrite to remind them to mail in their payment or bring it to the event.

8
Optional: Use Neon to collect payments from attendees who haven't paid.
If you're checking in attendees with our Neon iOS mobile app, you'll see a message that lets you know when payment is due for attendees who haven't paid yet.
At this point, you can easily use Neon to collect payments from those attendees and mark those orders as paid right from the app.