How to create and send email invitations for your event
Updated: Mar 31, 2015
You can send up to 2,000 free email invitations per day from the Email Invitations section of an event's Manage page. After you make your event live, you can customize the look/feel of invitations you send, send to contacts from outside mail programs, upload contact lists, and view performance of your invitations (e.g., open and conversion rates post-send).
Create and customize invitations
1
Go to your Manage page.
After logging in and creating an event, click or tap on your event from the My Events page, then select Manage.
2
Go to Email Invitations (under Invite & Promote).
If you haven't created any invitations yet, you'll be taken straight to the Create email invitations page.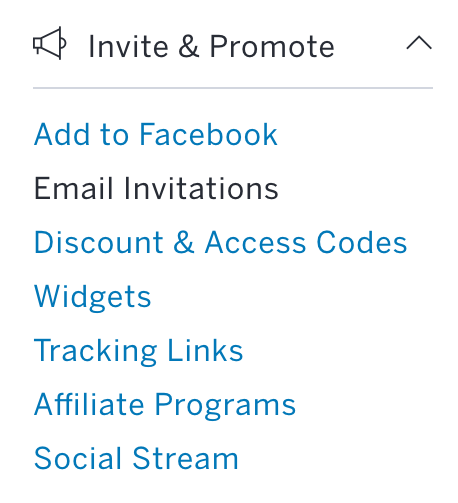 3
Update the fields above the invitation preview.
Select the fields above the invitation preview to do the following:
- Change the Invitation Template (choose between formal or modern)
- Update the Name of Sender
- Change the Reply-To email address
- Edit the Subject Line of the message
Tip: Looking for even more flexibility with your invitations? Check out our integrations with MailChimp and EventKingdom.
4
Select "Customize."
In the Customize Invitations window, you can:
- Change the invitation colors
- Show your event logo/ image
- Add social network sharing buttons
- Change the salutation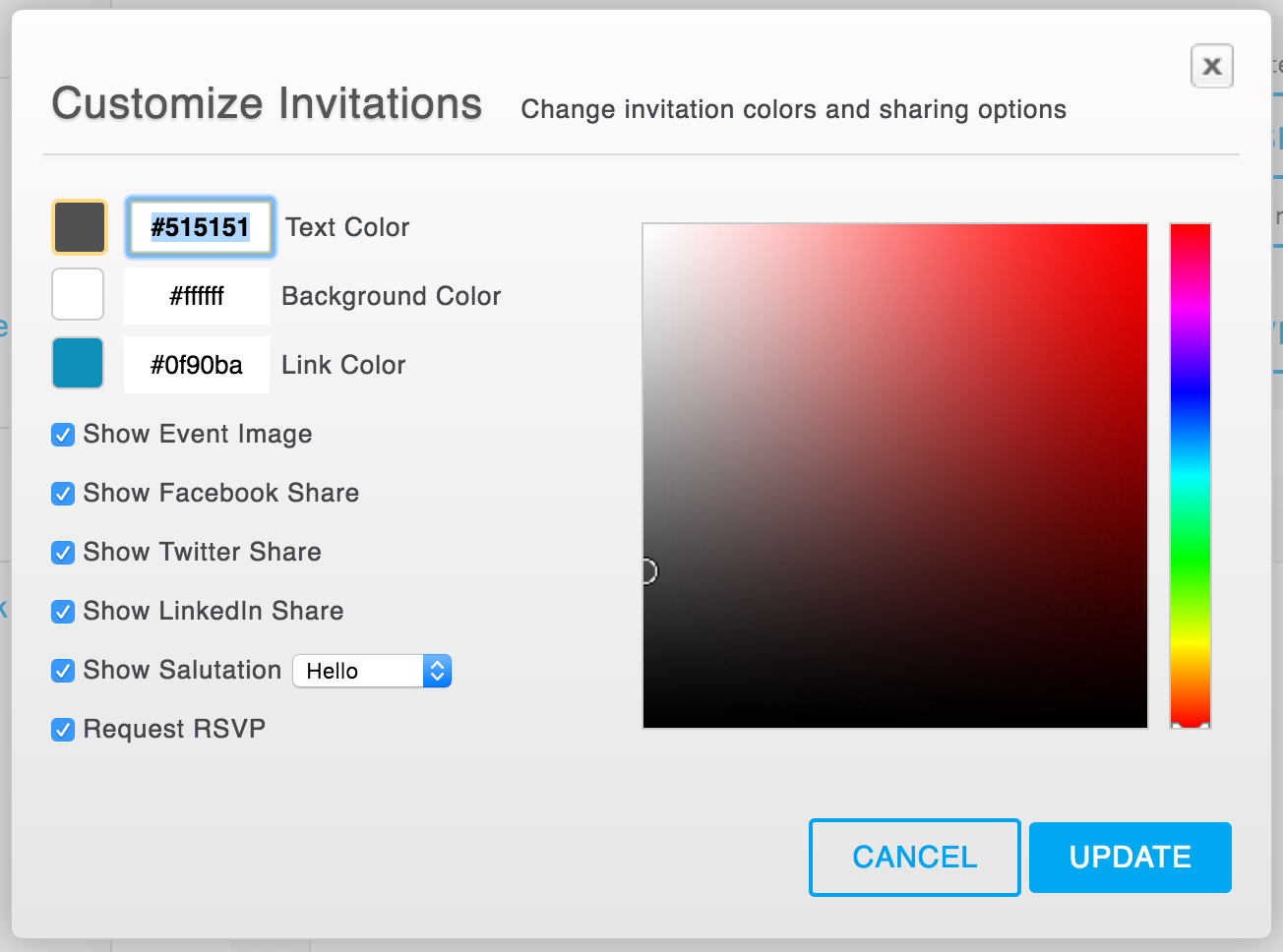 Tip: If you're trying to match a color from another web page, check out ColorBlender, a free online tool for color palette design.
5
Select "Edit Message."
Choose the Edit Message button to customize the text and add images.

Note: Selecting Update under Edit Message does not save your invitation in its current state. To save the invitation for later, you must select Save as Draft at the bottom.
From there, select Email Invitations and then Edit to the right of your "Draft" invitation when you're ready to retrieve and continue working on the saved version.
Add guests to send to
1
Choose "Add Guests."
The Add Guests button is located in the Who should come? section.
2
Choose who you'd like to send invitations to.
You'll have a variety of options to select recipients:
- Import contacts from existing contact lists
- Import emails from a Gmail account
- Add email addresses manually
- Create an email list from attendees of a past event
- Upload emails from a file (Excel, .csv, or .txt files)

Note: Make sure to list individual, rather than listserv, email addresses as recipients of your invitation. For example, send to johndoe@myexampledomain.com and not marketing@myexampledomain.com.
3
Edit or delete contacts.
Click or tap on a guest's name to edit their contact information or remove them from the guest list.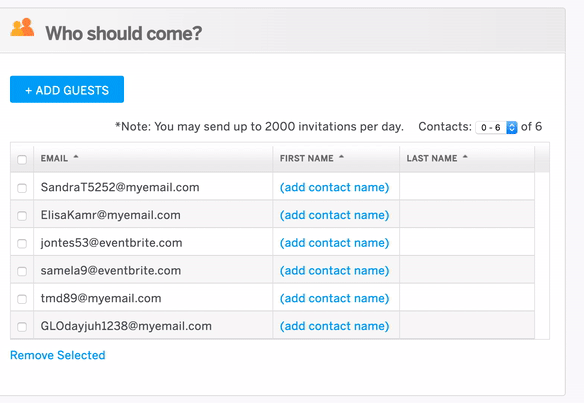 Tip: You can delete multiple contacts at once by checking the box next each email address, and then choosing Remove Selected.
Schedule, send, and manage your invitations
1
Select when you'd like to send your email invitation.
You have four options:
- Send immediately
- Send on a specific date/time
- Send on a date/time in relation to the event start date
- Save the email invitation as a draft to not send and save it for later.
Tip: Before sending to your recipients, send yourself a test invitation using Send a test invitation to:. You can either send to the email address that displays or send to an alternate email address.
2
Go back to "Email Invitations."
From the options menu, choose Email Invitations to access the Manage Email Invitations page after you've sent or scheduled your invitation.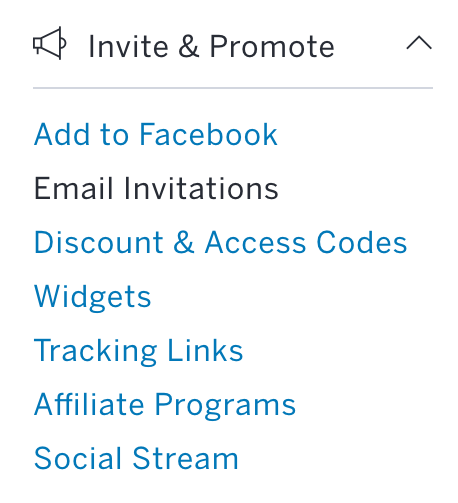 Note: The Manage Email Invitations page will not appear under Email Invitations until you have scheduled or sent an invitation, or saved an invitation as a draft.
3
Manage previously-sent invitations (view, copy, and edit prior to re-sending).
Once you've sent your email invitations, you'll be taken to the Manage Email Invitations page where you can view and manage any email invitations you have sent, including this one. Email invitations are saved here for easy viewing, copying, and editing.
Pro Tip: Be sure to review the meaning of each invitation status.

Note: Each recipient will receive an invitation to only their email address. They will not be able to view anyone else's email address. Create contact lists for easier invitation sending.