Email invitations
Updated: Jun 26, 2014
Send up to 2000 free email invites per day
Customize the look/feel of your invites
Send to contacts from outside mail programs or upload contact lists
View performance of your invites (e.g., open and conversion rates)
Note: You must first Publish/Make Live your event before you can use our Invitations feature.
1
To get started, first sign up for a free Eventbrite account or log in to your existing Eventbrite account and create an event.
To send email invitations for your event, click My Events at the top of the screen and then click on the name of your event to go to that event's Manage page.
Click on Email Invitations, found on the features menu on the left side of your event's Manage page.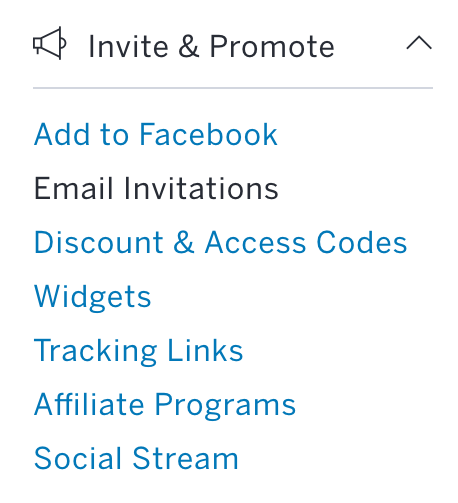 A preview is shown with the default invitation design, but you are free to customize from there!
Click Customize to change the color scheme, select which social sharing links to include in your invites, choose a salutation or enable the RSVP option. Click Edit Message to change the default text included below the Attend Event button.
You can also edit the Name of Sender, Reply-To email address and Subject Line of the email by clicking on the text next to each field.
Tip: If you're trying to match a color from another web page, check out ColorZilla, a handy Firefox add-on.
Note: If you'd like to save the changes that you've made to the invitation you're working on make sure to click on the Save as Draft button found on top and bottom left of the page. You can retrieve and continue working on the draft by clicking on the Manage Invitations link found on the left side of your event's Manage page.
3
After you've perfected the design, now choose whom to invite. Click Add Guests and select the recipients from a variety of different options. You can:
- upload emails from a file (.csv or .txt);
- import emails from an email address book;
- import contacts from existing contact lists;
- create an email list from attendees of a past event;
- or manually add email addresses.
Note: Make sure to list individual, rather than listserv, email addresses as recipients to your invitation.
Note: If you have 2-factor authentication enabled for your Gmail account, you should first create an Application Specific Password in order to import contacts from Gmail to Eventbrite. For step-by-step instructions on setting this up, click here.
Note: If you receive a message stating: "Warning: Google prevented a suspicious attempt to sign in to your account. Was it you?," click "Was it you?" to be redirected to a page where you can verify the activity and grant Eventbrite access. After you've verified this, wait a few minutes and you should be able to import contacts from Gmail to Eventbrite. For more information on this process, click here.
4
Now select when you'd like to send your email invitation. You have four options: send immediately, send on a specific date/time, send on a date/time in relation to the event start date, or you can save the email invitation as a draft and don't send.
5
Once you've sent your email invitations, you'll be taken to the Manage Invitations page where you can view and manage any email invitations you have sent, including this one. Email invitations are saved here for easy viewing, copying, and editing.
Note: Each recipient will receive an invitation to only their email address. They will not be able to view anyone else's email address. Click here to learn how to create contact lists for easier invitation sending.