How to create custom ticket types
Updated: Apr 23, 2015
When you create an event, you can customize your tickets by name, price, when ticket sales start and end, how many of each type can be sold, and more! Just choose "Create Event" and locate Step 2: Create Tickets to get started.
Pro Tip: No tickets required for your event? No problem! Just add one ticket (free or paid) and attendees can register or RSVP.

Note: For every paid ticket you sell using Eventbrite, we charge a service fee and payment processing fee. If tickets are free and you're not charging, Eventbrite is free to use!
1
Start creating a new event.
After signing up or logging in, select Create Event at the top of the page. This brings you to the first part of creating your event, called Edit.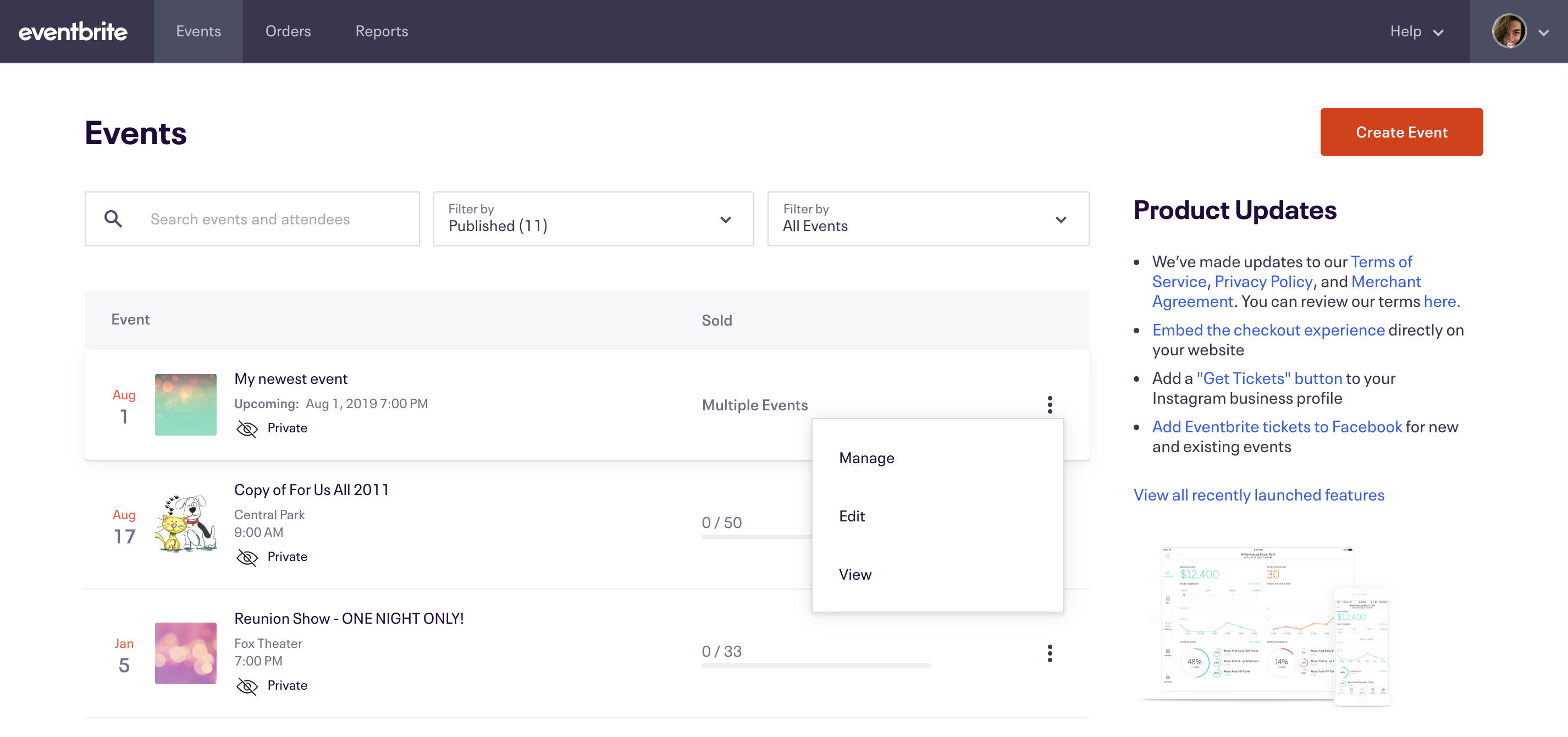 Tip: If you've already started creating an event, just find your event on the My Events page, then select Edit.
2
Choose what type of tickets you'd like to create.
Scroll down to Step 2: Create Tickets and click or tap the ticket buttons to create ticket types. Add any combination of the following:
- Free ticket: Create a ticket type that won't cost any money to register. Free tickets are useful for volunteers, for example.
- Paid ticket: Create a ticket type that will cost money to register. Paid tickets are good for attendees who want admission to your event, for example.
- Donation: Create a ticket type for attendees to enter an amount and pay what they'd like. Donation tickets are useful if the cost of your event runs on a sliding-scale, or if you want to fundraise for a cause of your choice.
Tip: If you've already created one or more tickets, you can create more by selecting the type of ticket you want under Ticket name. A new row will appear for a brand new ticket type.
Pro Tip: You can create access codes that attendees can enter to reveal a hidden ticket type.

Note: You can create a maximum of 150 ticket types for each event. You can sell up to 500,000 tickets of each ticket type you create.
3
Edit your ticket types.
You need to enter all of the following to create each ticket:
- Ticket name: Create a custom name for your ticket type. This name appears on your event page, in your sales reports, and on the PDF/mobile tickets attached to an attendee's order confirmation email.
- Quantity available: This indicates the number of tickets available of just this ticket type. You can change this number at any time, even after publishing your event.
- Price: This is the cost of your ticket, not including any fees. Your ticket can also be free (no fees are charged for free tickets) or donation format.
Example: Riley creates a ticket she calls Early Bird with a quantity of 50 at a price of $50 each.
Tip: If you want to change a ticket to a different type (like from free to paid), you'll want to delete or hide the ticket type, and then create a new one by selecting the ticket button.
Pro Tip: You can see a breakdown of the fees on each ticket type by hovering over the icon next to Buyer Total.
Note: Once you sell a paid ticket, you won't be able to change the price of that ticket type. However, you can hide the ticket type and then create a new paid ticket at the new price.
4
Edit each ticket's custom settings.
Under Actions, select the settings icon to reveal the additional options for that ticket type. You're free to edit the following:
- Ticket description: Enter more details about the ticket type and explain what attendees will receive (like what you get with a General Admission versus a VIP ticket). This description will appear as smaller text below the name of your ticket type, and you can choose to display this text to attendees automatically.
- Sales channel: Where will your tickets be on sale? Any ticket types you create can be sold online (via your Eventbrite page and the Eventbrite mobile app for iPhone and Android) and/or on-site with our Eventbrite Neon and At The Door mobile apps.
- Fees: Select whether you or the attendee will be paying the fees. By default, fees are passed on to the attendee, but you can pay the fees yourself (or split fees if you're using Eventbrite Payment Processing). Just hover your mouse over the icon next to Buyer Total to see the fees on a ticket.
- Ticket sales start/end: Use the fields under Ticket sales start and Ticket sales end to start or end your sales on a specific date and time. If you have more than one ticket type, you can also start your sales when sales end for another ticket type (like having general admission tickets go on sale when early bird tickets sell out).
- Ticket visibility: You have control of which ticket types attendees can see. You can even add a ticket auto-hide schedule to a ticket type so that it's automatically hidden based on a custom date/time, or when another ticket isn't on sale (like automatically hiding early bird tickets when general admission ticket sales start).
- Tickets allowed per order: Set the minimum and/or maximum number of tickets that can be ordered in a single order to a value between 1-100. For example, you can set a maximum of 1 ticket per order, so attendees can only purchase one ticket at a time.
Tip: Make sure to set your event's time zone under Step 1: Event Details so your sales start and end times are accurate.
5
Optional: Change your currency.
Your currency is automatically set based on the region of your Eventbrite account, but you can select Edit to choose a different currency.
Note: If you're getting paid in a country that's different from your currency, you'll be automatically defaulted to use PayPal to process orders. However, you can also change your payout country when selecting a different currency.
6
Save your changes.
Your changes aren't saved automatically, so make sure to choose Save while making edits and when you're done. Just select Preview or View to see how the tickets appear on your event page.
Tip: If you're collecting registrations instead of tickets, you can change the terminology on your event page to reflect that.
Pro Tip: Once you've created your ticket types, the next step is to customize the design of your event page. Learn some design tips for creating a cool, engaging event page.