How to add additional event managers to an Eventbrite account
Updated: Jul 13, 2015
You can add additional users to your Eventbrite account (commonly referred to as "subusers") and grant them access to your events without sharing login information. Just go to your Settings page, then select "Multi-User Access" under Settings. The primary account holder is still responsible for paying invoices, but you'll have control over the events each subuser can access, the actions they perform, and emails they receive.
Note: You can only add someone as a subuser if their email address isn't associated with an existing Eventbrite account. Check out this article if you're getting an error message that the subuser you're trying to add already has an Eventbrite account.
1
Go to Settings.
After logging in and creating an event, access the account menu, then select Settings.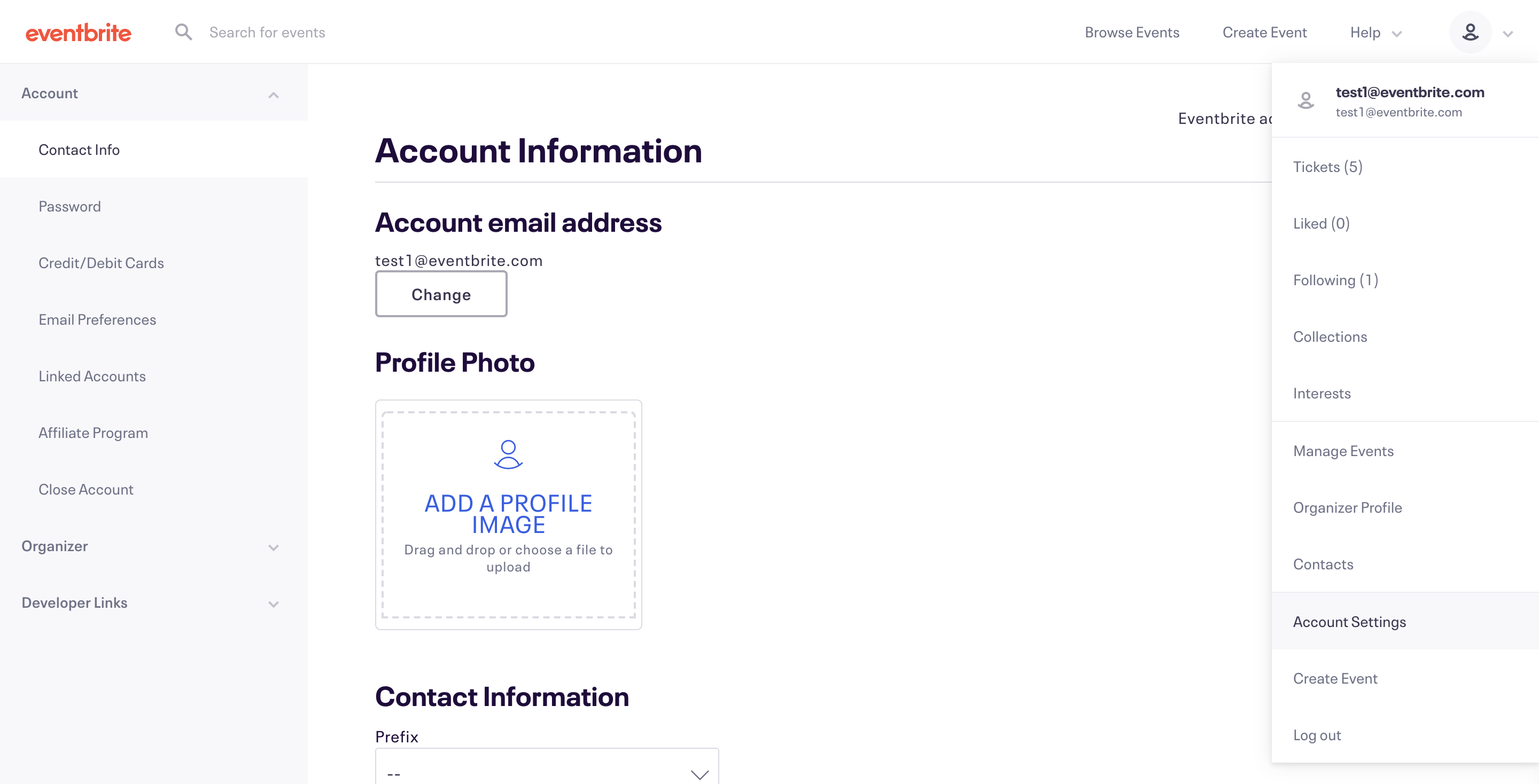 2
Go to "Multi-User Access" (under Settings).
From the options menu, scroll to the Settings section.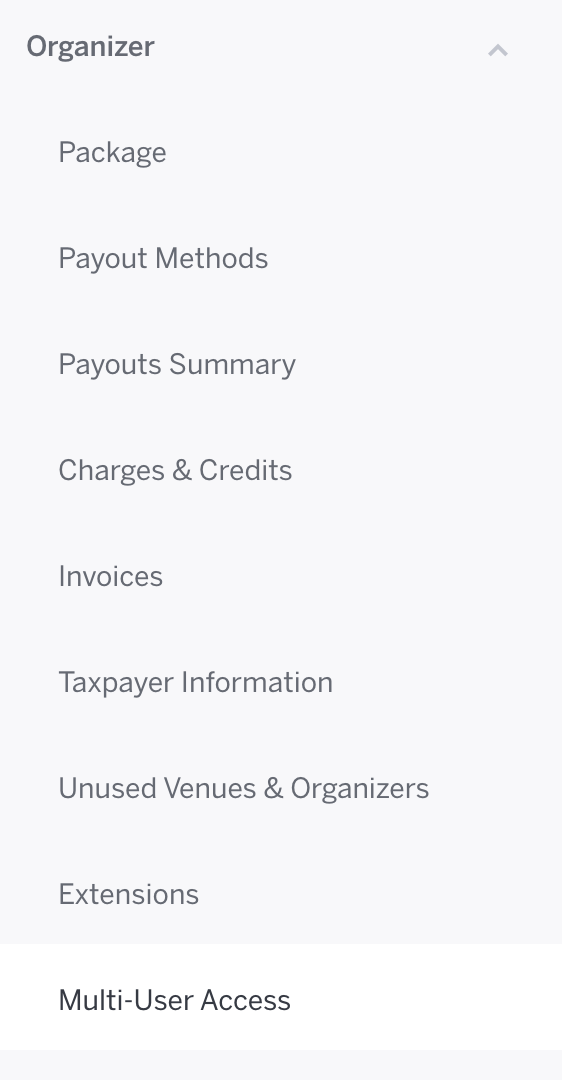 Note: You must create an event before Multi-User Access appears under Settings.
3
Select "Add Email Address."
Choose the Add Email Address button under your administrator email.

Pro Tip: Learn how to make an existing subuser the administrator on your account.
4
Enter the subuser's email address and set their permissions.
Enter the new subuser's email address, which they will use to log in to Eventbrite. Then indicate the level of access and permissions you want to give this person.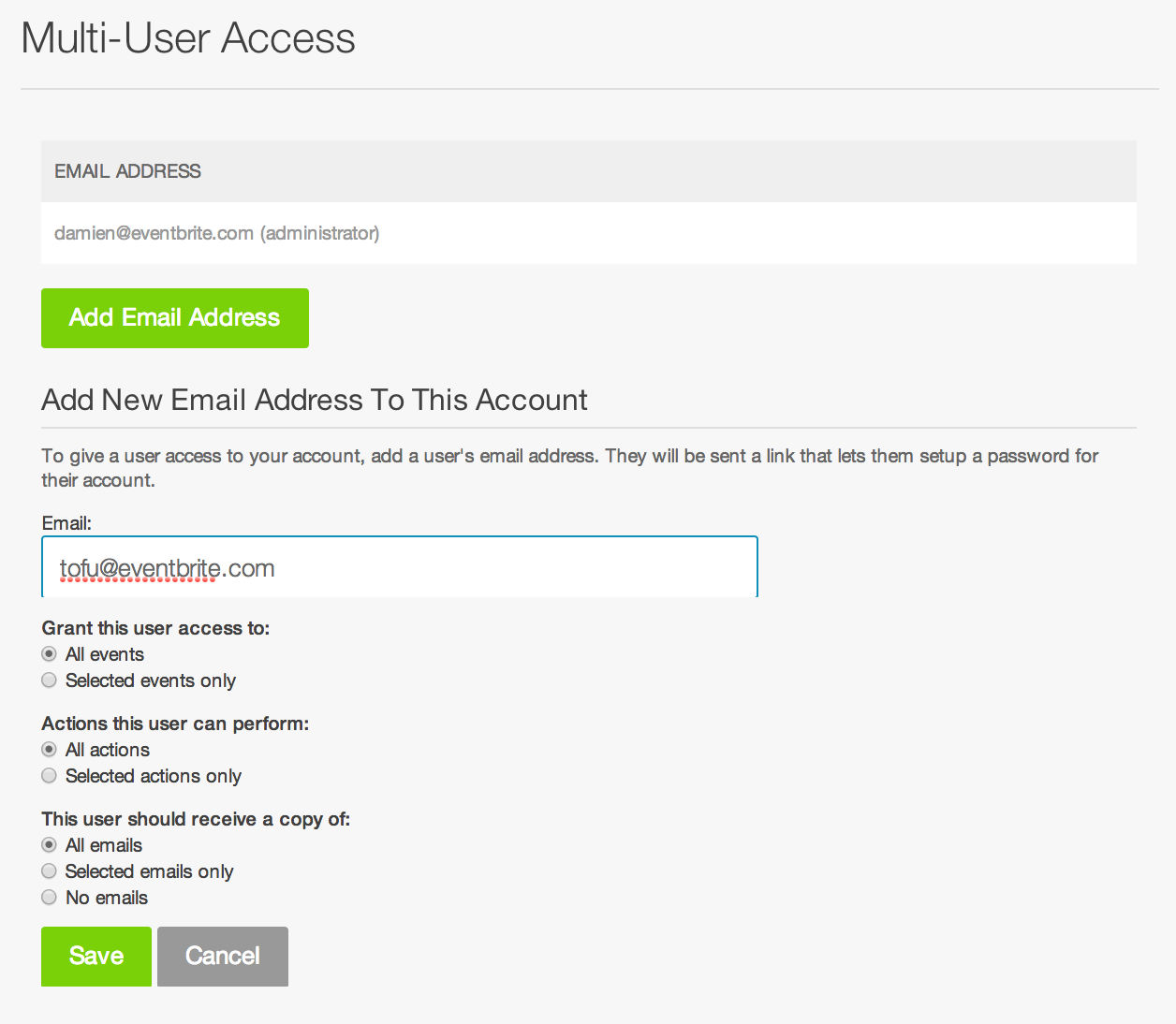 Tip: By default, subusers will be able to access all your events, perform any action, and will receive all emails.
Pro Tip: You can grant a subuser access to our Eventbrite Eventbrite Neon app for Apple devices and limit the actions they can perform.
If you want subusers to sell tickets with Eventbrite Eventbrite Neon, make sure to select Sell tickets at the door. If you want subusers to check in attendees with Eventbrite Eventbrite Neon, just select Check in Attendees.
Note: If you grant a subuser access to a repeating event, they will have access to all of the individual events in your schedule.
5
Save your changes.
After choosing Save, you will see a message indicating that the subuser has been added, and their email address will be added to the list of email addresses with access to your account.
At this point, the subuser will be emailed a link that they can use to set up a password for their new account.