How to join the Eventbrite organizer referral program
Updated: Jul 13, 2015
With the Eventbrite Referral Program, you can promote Eventbrite to other event organizers with a custom referral link. When new event organizers sign up for Eventbrite using your link, you'll earn 25% of the Eventbrite fees they generate from their events for a full year. To create Eventbrite referral links, head over to your Settings page, go to Referrals, and select "Eventbrite Referral Program." You can create as many referral links as you want and use it to promote Eventbrite on your website, blog, or by email.

Note: You'll begin earning referral payments as soon as your referrals start selling tickets. Eventbrite referral payments are initiated on the 20th of every month for the prior month. You'll only be paid after your balance has reached $5.00 or higher.
2
Go to "Eventbrite Referral Program" (under Referrals).
From the options menu, scroll to the Referrals section.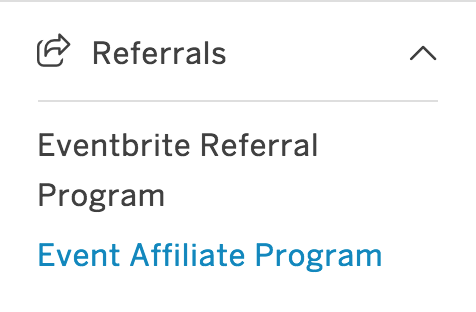 3
Create a referral link.
Create a unique referral link that you can use to promote Eventbrite. You can use a combination of letters and numbers, just no special characters (like $ signs).
Once you're ready, choose Create to generate your referral link.
Tip: You can create as many personal referral links as you like, and each referral link will have its own set of data.
4
Promote your Eventbrite link.
Your Eventbrite link will appear under Referral Link. Now it's time to copy that link and post it on your personal website, send it out in email invitations, add it in the order confirmation emails attendees receive, and more.


Note: Make sure to copy your Eventbrite referral link exactly as it appears in the field under Referral Link. Your referrals have to sign up using this link in order to see account signups and get credited for sales.
5
Enter your payout email.
Click or tap in the text field under New PayPal email address to enter the email address associated with your PayPal account. Make sure to enter this email correctly—this is how you'll receive the money for your referral sales!

6
Save your changes.
Choose Save to save your PayPal payout information. As soon as your referrals begin selling tickets on Eventbrite, you'll see account signups, the revenue generated, and the funds paid to you.
Pro Tip: Want to increase ticket sales for your own event? You can create an affiliate program to turn your attendees into promoters and drive more traffic to your event page.

Note: You'll earn 25% of the Eventbrite fees the event organizer generates for a full year. However, our base fees may vary based on our agreement with the applicable event organizer and don't include additional amounts (like taxes, royalties, payment processing, and other service fees).