How to email your attendees through Eventbrite
Updated: Aug 25, 2014
Communicating with your attendees about event details (parking, weather plans, etc.) helps ensure your event goes smoothly. You can send emails to your already registered attendees in the Manage section of your event.
1
Go to your Event Dashboard.
After logging in, find your event in My Events and click Manage.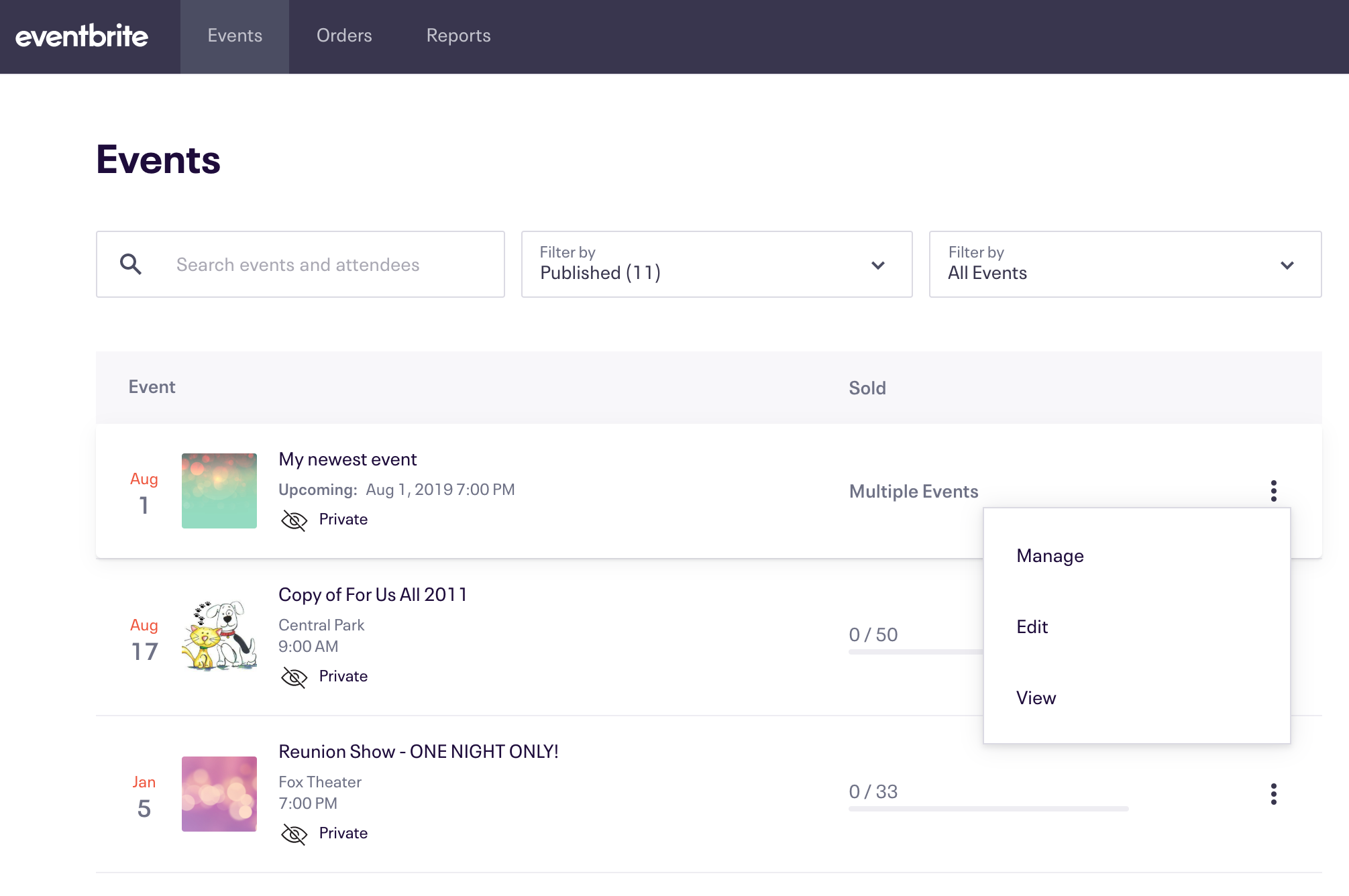 2
Click Emails to Attendees (under Communicate).
On the left-hand menu, scroll down until you see the Communicate section, second from the bottom.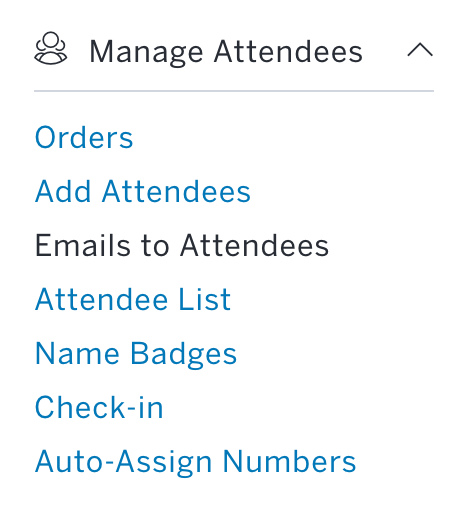 Tip: To send an email to those invited but not yet registered, feel free to send out additional email invitations (part of Invite & Promote).

Note: If you have a repeating event, you can email attendees for individual events in your repeating event schedule. Just choose a date from the Individual Event Selector at the top of the page.
3
Click Create New Attendee Email.
On the main Emails to Attendees page, you'll see any scheduled emails you have set up. You can set up several emails from here to stay in touch with your attendees before and after the event.

Pro Tip: By default, Eventbrite sends a 48-hour reminder email to your attendees (except for repeating events). While you can't edit this text or copy this email, you can delete it and replace it with a reminder email of your own design.
4
Customize your email.
You can customize the Name (who the email appears from), the Reply-To Email (where any replies to your email will go), and the Subject (being specific here can increase your email open rate).
The To: drop-down menu lets you select who you want to message, and your options include: all attendees, all attendees who registered after a specific date, specific attendees you can select, attendees with certain ticket types, and attendees paying offline.
Feel free to delete the pre-filled text in the Message field for a completely custom message to your attendees. We recommend keeping things short, simple, friendly, and direct.
Tip: We highly recommend using the "Include event details and link to tickets" checkbox to give attendees easy access to PDF and mobile tickets (this is checked by default).
Pro Tip: Although you can't attach files directly to an email to your attendees, you can upload them to an outside site (like Google Drive or Dropbox) and include a link to download the files in the email.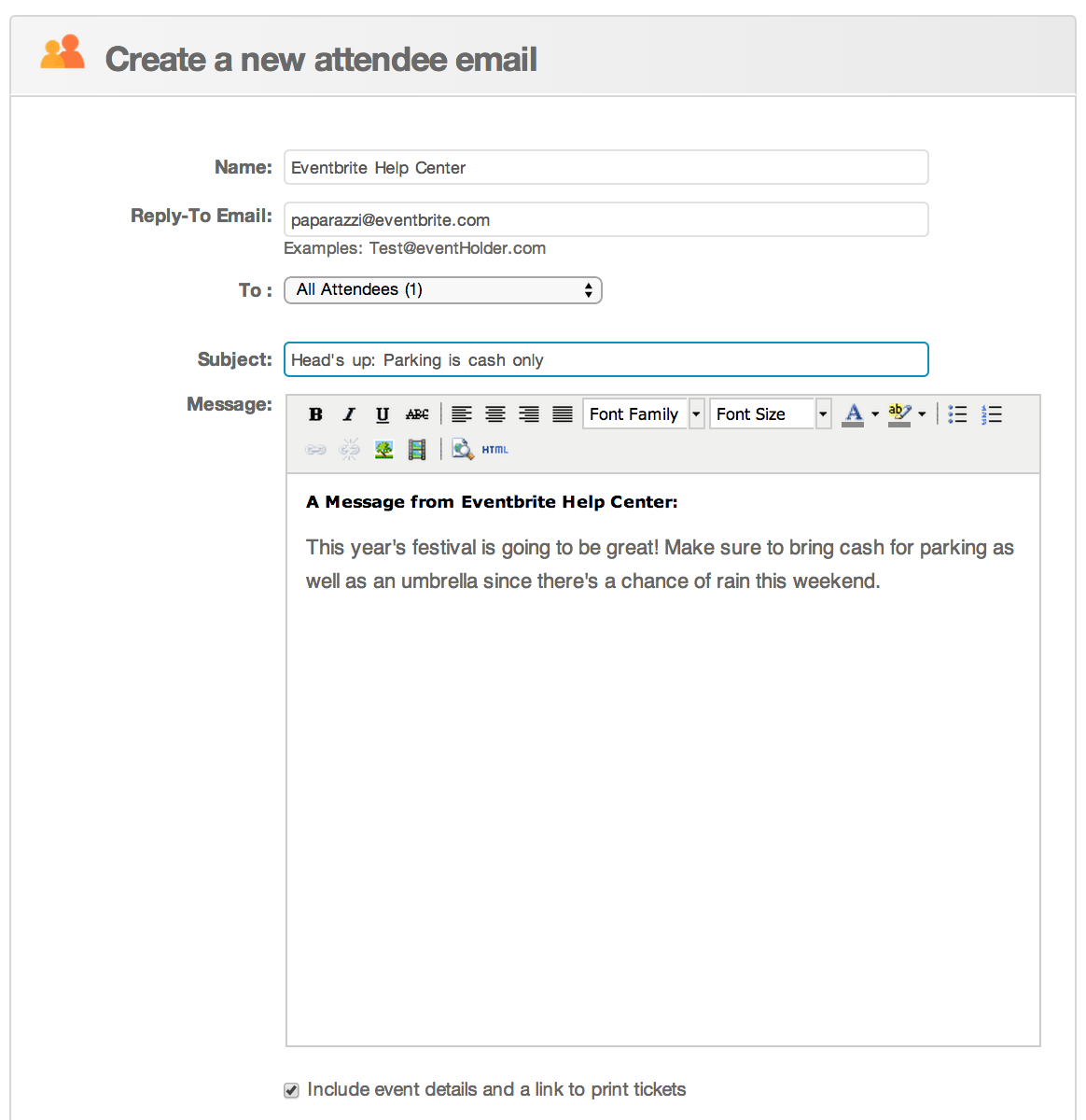 5
Test your email.
Put in your own email address and click Send Test to see what your email will look like.

Tip: Keep in mind all email clients and browsers are unique, so your email might look slightly different to each of your attendees.
6
Send or schedule to send.
In the Send Email section at the bottom, choose when you'd like to send the email: right away, on a specific date/time in the future, or on a date/time relative to the start of the event.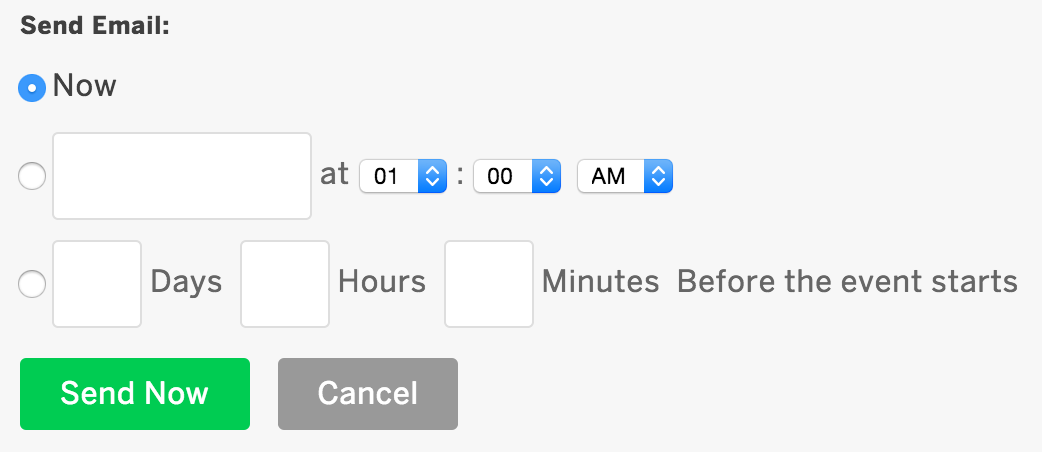 Example: Schedule an email reminding attendees to check the weather and dress accordingly 24 hours before the event starts.
7
Review your emails.
Back on the main Emails to Attendees screen, you can easily Copy or Delete any email that you have created and scheduled to send.
When you view the Emails Sent tab, you can see what the email looked like and who received it.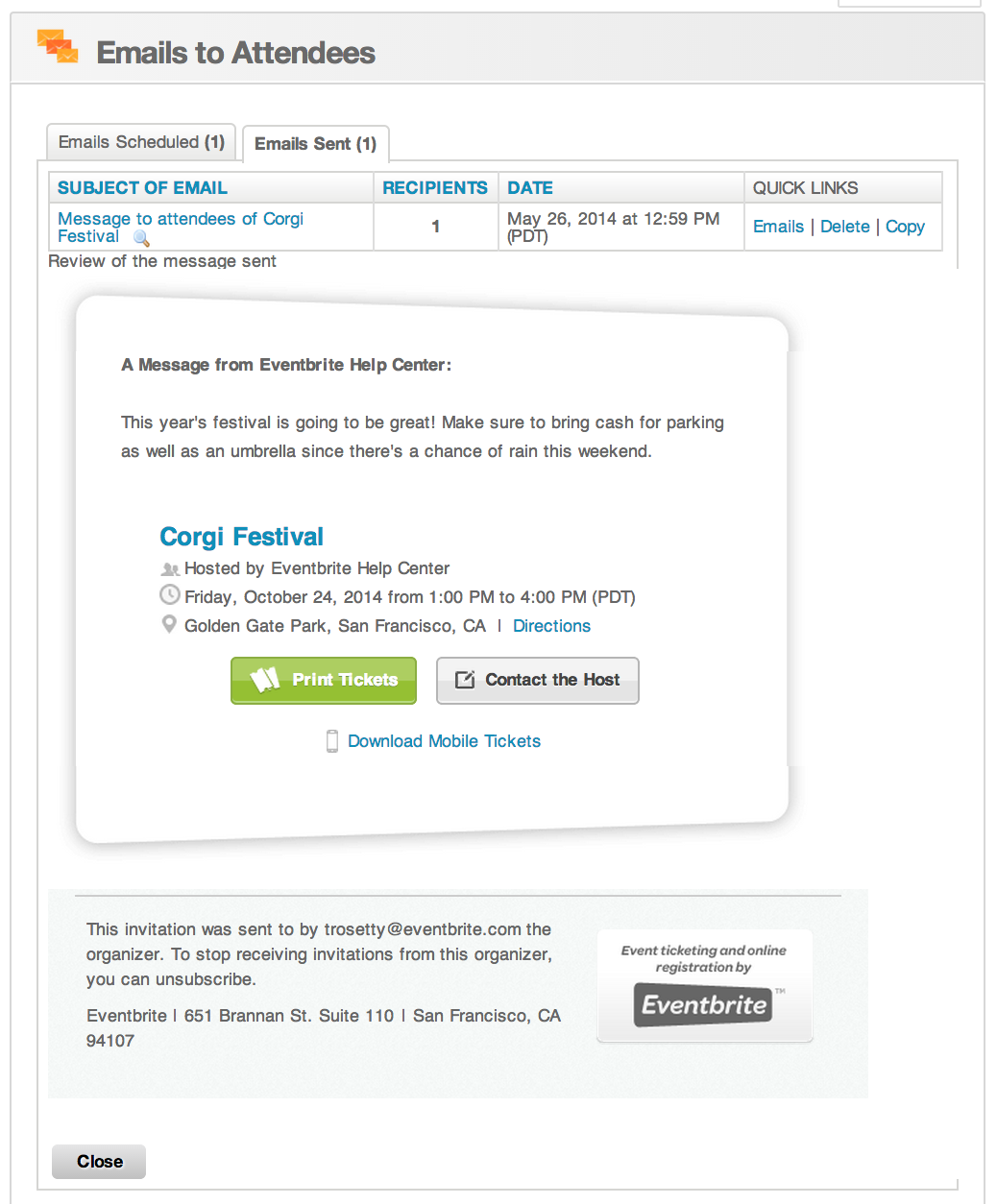 Pro Tip: If you need more robust email capabilities, you can use Eventbrite's integration with MailChimp or EventKingdom.