Resend and manage sent invitations
Updated: Jul 05, 2013
Track invite stats, such as opens, clicks, and registrations
Resend invites--e.g., to only those who opened the invite but didn't respond
You can edit the invite before resending
Tip: The Manage email Invitations will not appear under Email Invitations on your event's Manage page until you have scheduled or sent out email invites. In Manage email Invitations, you'll see a status shown for each of your recipients. Click here to learn more about what each of these statuses means.
1
To view the recipients of your sent invites, go to your event's Manage page by clicking on My Events at the top of the page, and then clicking on the name of your event. Once on the Manage page, select Email Invitations on the features menu on the left side of the page.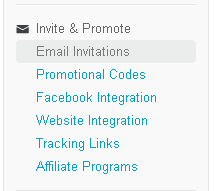 2
Each batch of invitations you send will show as a separate line item. You'll see the subject of the email invite, the number of recipients, and the date it was sent. If you click Copy, you'll be able to edit your invite before sending it out to more invitees.
If you've sent multiple rounds of invitations, click View all invited guests in the lower right to show the statuses for all recipients of all rounds of invites.
To resend an invite to all recipients or a subset of recipients--e.g., those who haven't responded--first use the Filter invites dropdown menu and then click the Edit and Resend Invites link. At this point, you'll have the opportunity to edit the invite and recipient list before sending it out.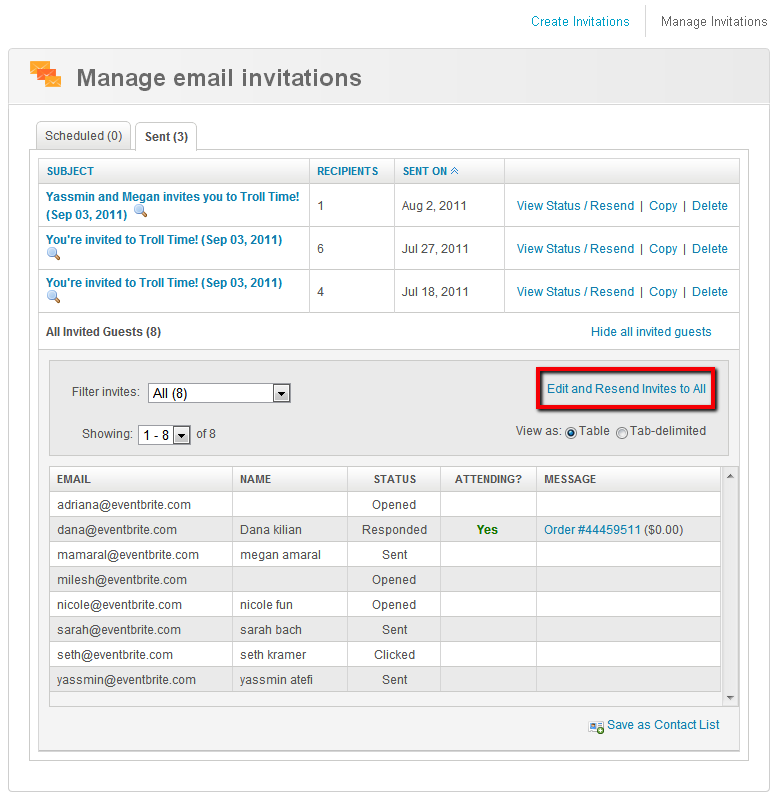 3
You can also track invitations that you have scheduled to be sent at a future date by clicking the Scheduled tab. You can preview, edit, copy, or delete any scheduled invites.