Waitlist setup
Updated: Feb 24, 2013
Waitlist automatically kicks in when triggered
Trigger can be ticket type selling out or reaching event capacity
Not available for repeating events
Note: This feature isn't currently available for repeating events.
If you have already enabled and set up a waitlist for your event, go here to learn more about managing that waitlist.
1
From the My Events page, click on the title of your event to go to the Manage page for that event. On the Manage page, select Waitlist from the features menu on the left side of the page.
2
Select Enabled and then set your Waitlist Trigger. The Waitlist Trigger can activate your waitlist when a particular ticket type sells out or once total event capacity is reached.

3
If you would like to limit the waitlist to a maximum number of people, enter your Maximum Waitlist Size. Leave the setting at "0" if the waitlist can be an unlimited number of people.

4
Select the information you would like to collect from a waitlisted attendee when they sign up for the waitlist by checking the appropriate boxes in Attendee Information Collected.

Finally, you can customize the Auto-Response Message a waitlisted attendee sees when they secure a spot on the waitlist, as well as the Waitlist Ticket Release Message that appears in the email a waitlisted attendee receives once you release a ticket to them.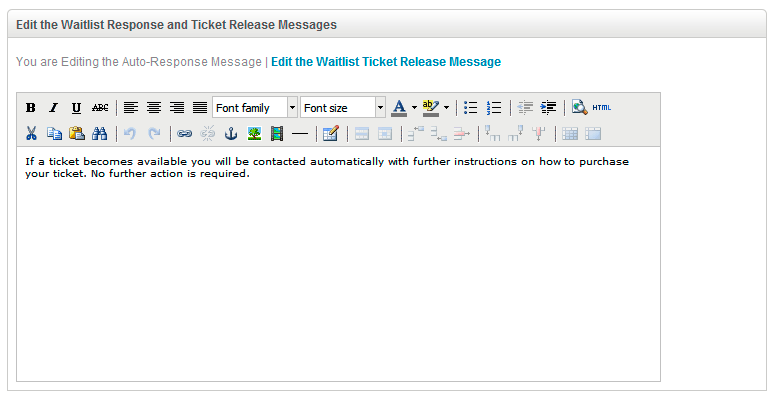 You can also set the maximum amount of time a waitlisted attendee has to register or buy tickets for your event after you release a ticket to them.