Can I get a refund?
Updated: Aug 18, 2015
First, check the event page to see if the event organizer set a refund policy. To request a refund, reach out to the organizer of your event by replying to your order confirmation email. They should respond within 2 business days and once initiated, refunds can take up to 5 business days to show on your account (7 business days outside the U.S.).
1
Check the event's refund policy.
Eventbrite lets organizer set their own refund policies so in most cases, you'll want to check the policy first before reaching out to the organizer or Eventbrite. The organizer can choose to list their refund policy within the event details, ticket descriptions, order confirmation messages, and/or PDF tickets.
Note: Since Eventbrite can't issue refunds on behalf of organizers, our goal is that organizer and attendees resolve any refund requests on their own.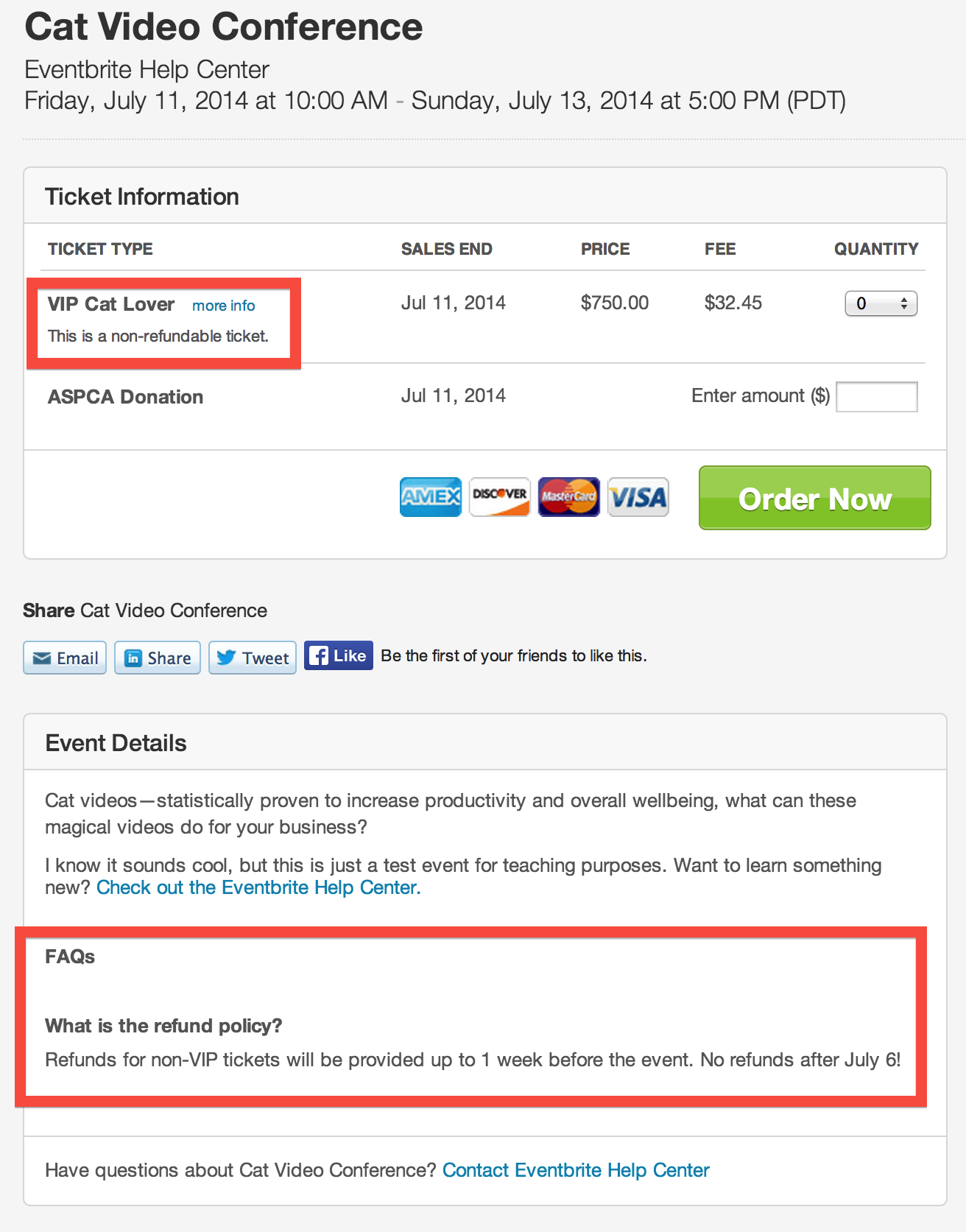 2
Use Request a Refund from your Order Details.
After logging in, go to your Current Orders by clicking My Tickets.
When you find the order you want to refund and click on it, look for a button to Request a Refund and fill out the short contact form. When you're done writing your message, just click Send message and your message will be sent directly to the event organizer.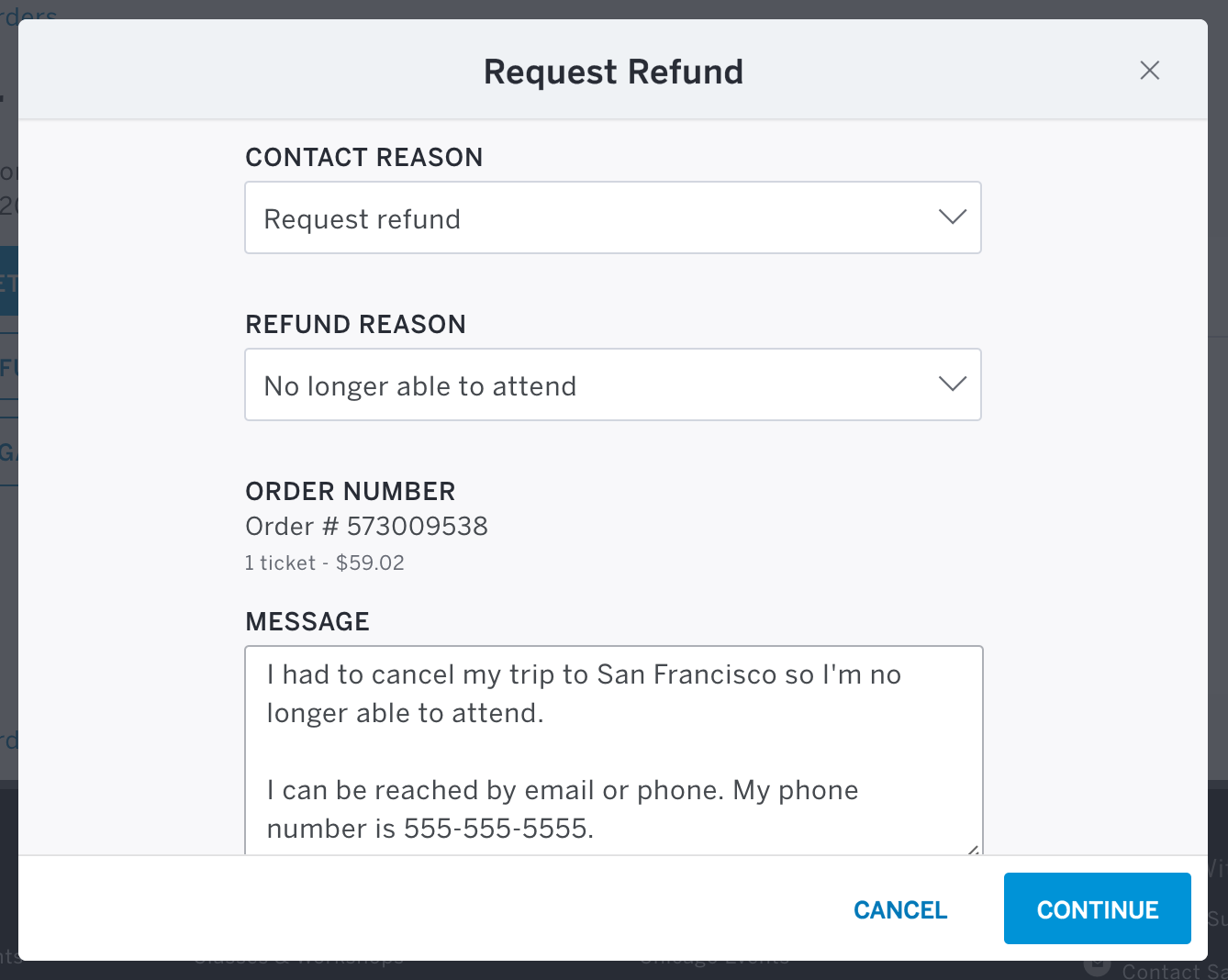 Tip: We recommend including your order number and phone number in the message to make it easier for the organizer to process your request.
Pro Tip: If you don't see the Request a Refund button, it's likely that the organizer has disabled this feature and may not be granting refunds. You can, however, reach out to them using the information detailed in Step 3 below.
Note: Free orders will just show a button to Cancel Order instead of Request a Refund since there's no money to refund.
3
Contact the organizer.
You can contact the organizer by responding to your order confirmation email (or any other email from the event organizer).
You can also click Contact the Organizer from the event page to fill out a short contact form.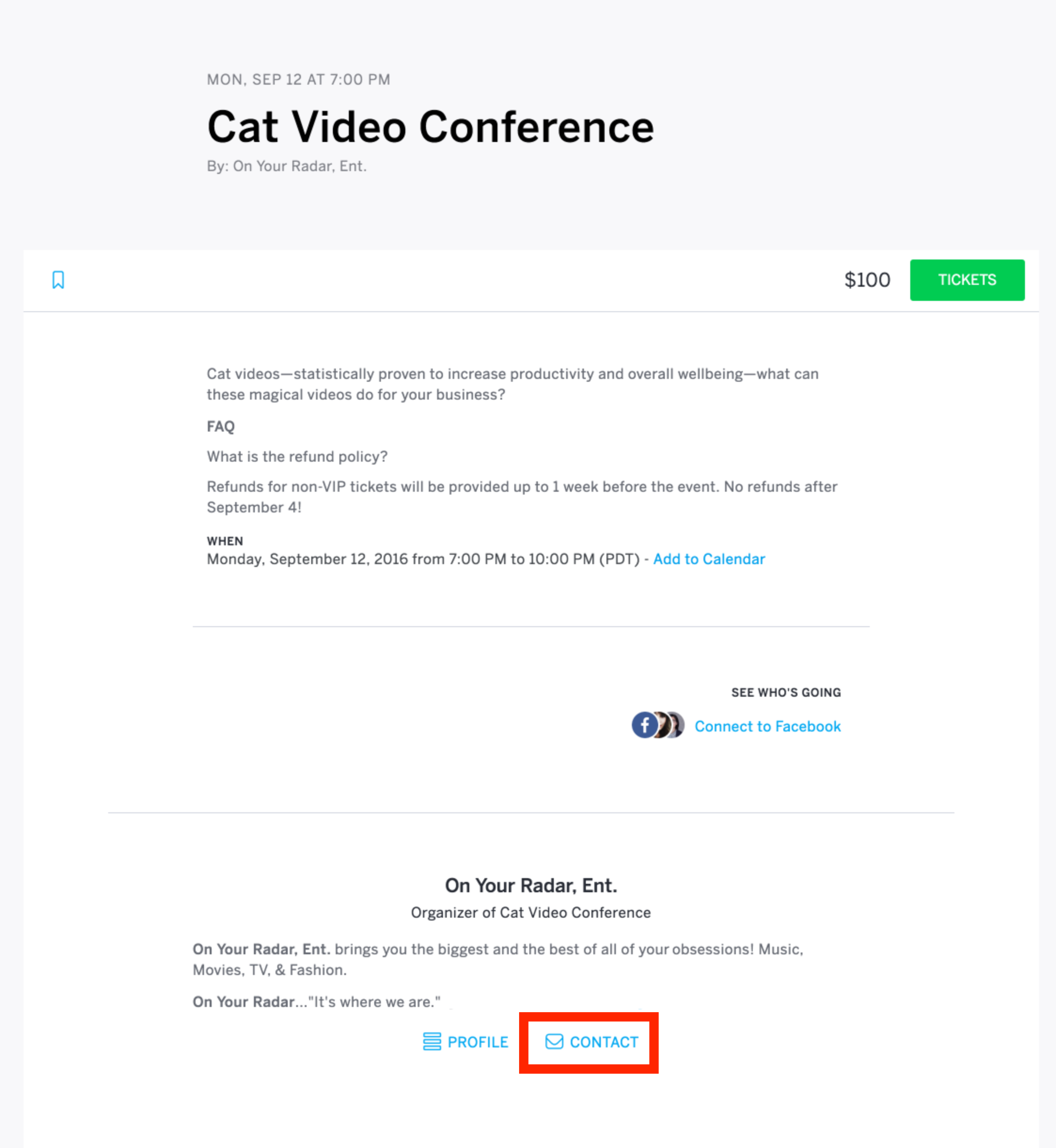 Tip: If you prefer to call the organizer, check their event page for a contact phone number to skip the email process.
4
Wait 2 business days.
Organizers should respond to your request within 2 business days.
5
Reach out to us with more information.
If you haven't heard back from your organizer, you can reach out to us and we'll do our best to connect you so the issue can be resolved. You can contact us 24/7 by phone or email.
When contacting Eventbrite about a refund request, please let us know the following: if and when you reached out to the organizer, your email address and order number, why you're requesting a refund (no one was there, event canceled or postponed, performer didn't show, denied entry, etc.).
When you contact us about a refund request, we contact the organizer on your behalf (you will be copied on the message). If you still don't hear back 2 days after this message is sent, let us know (otherwise we'll assume things have been settled).
6
Wait up to 5 business days to see your refund, once issued.
Once a refund is initiated, it can take up to 5 business days to show up in your account (7 business days internationally), depending on the bank.
If you still don't see the refund after this time, contact the organizer to confirm that they processed it.