How to cancel an event
Updated: May 05, 2015
If you have to cancel an event, it's important to communicate with your attendees and provide refunds. Once you've completed these first steps, select the "Cancel" link on the Event Dashboard to cancel your event in the system. Note that the "Cancel" option won't appear until you've refunded all paid orders and canceled or deleted all free orders.
Tip: You don't have to cancel your event if you're just changing the event's date. Instead, you can simply change the date in Step 1: Event Details on the Edit page of your event. Email your attendees to let them know!
Email your attendees
1
Go to your Manage page.
After logging in and creating an event, click or tap on your event from My Events, then select Manage.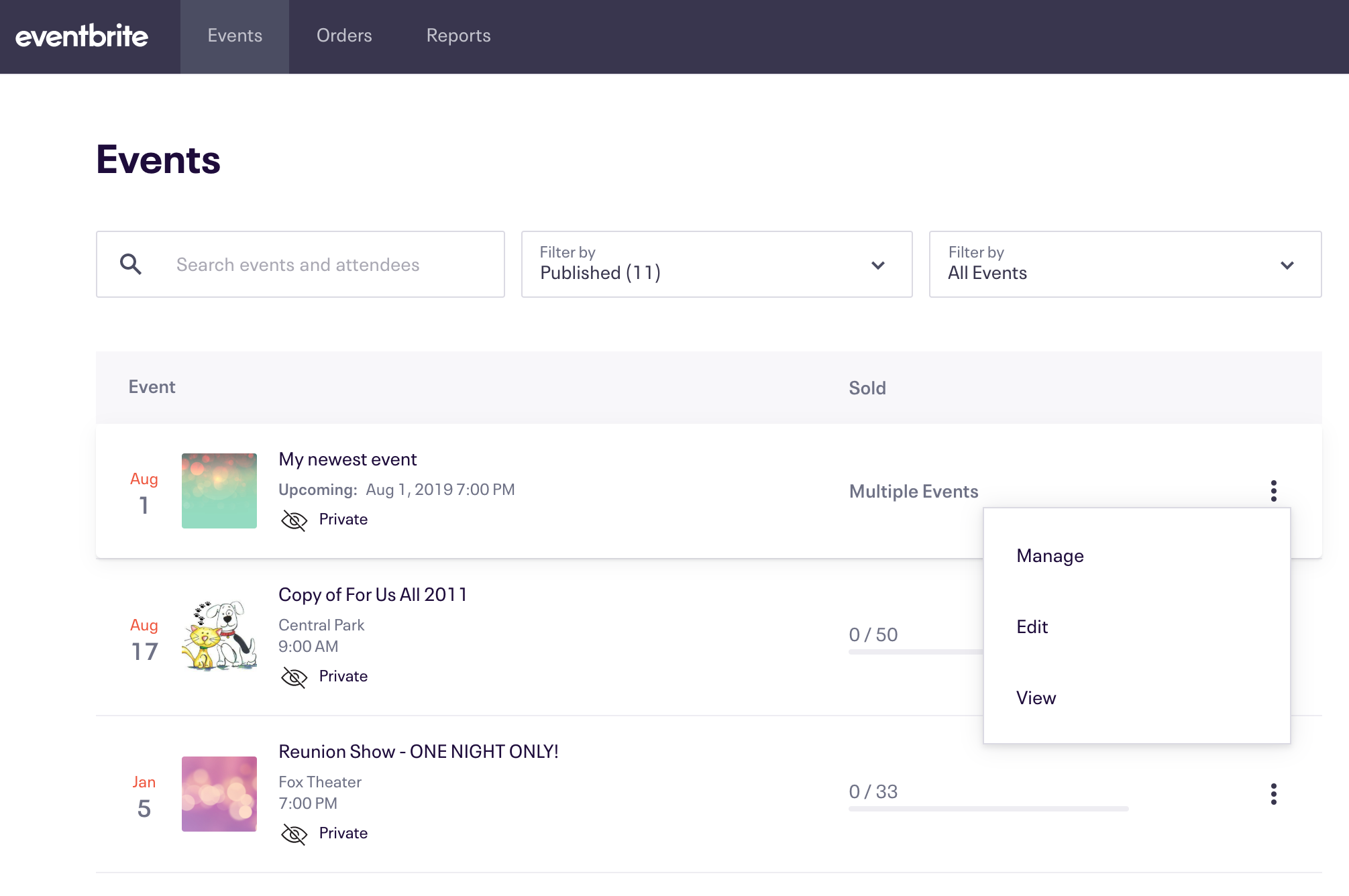 2
Go to Emails to Attendees (under Manage Attendees).
In the options menu, scroll down until you see the Manage Attendees section, second from the bottom.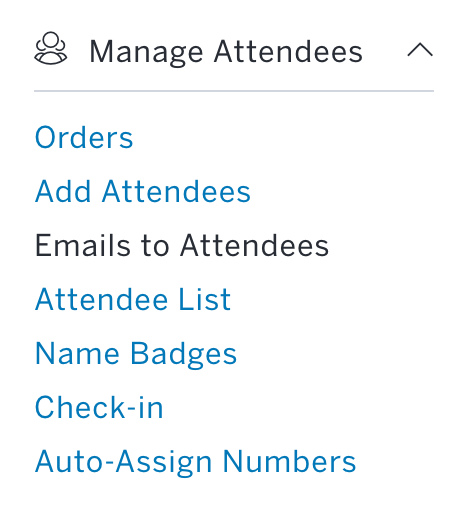 3
Select "Create New Attendee Email."
Choose Create New Attendee Email to pull up a new blank email.

4
Email your attendees to let them know about the cancelation.
Let your attendees know about expectations for refunds, who they can contact with further questions, or if you plan on re-scheduling the event date.
Once you've finished customizing the email, you can send the email immediately or schedule it to be sent later.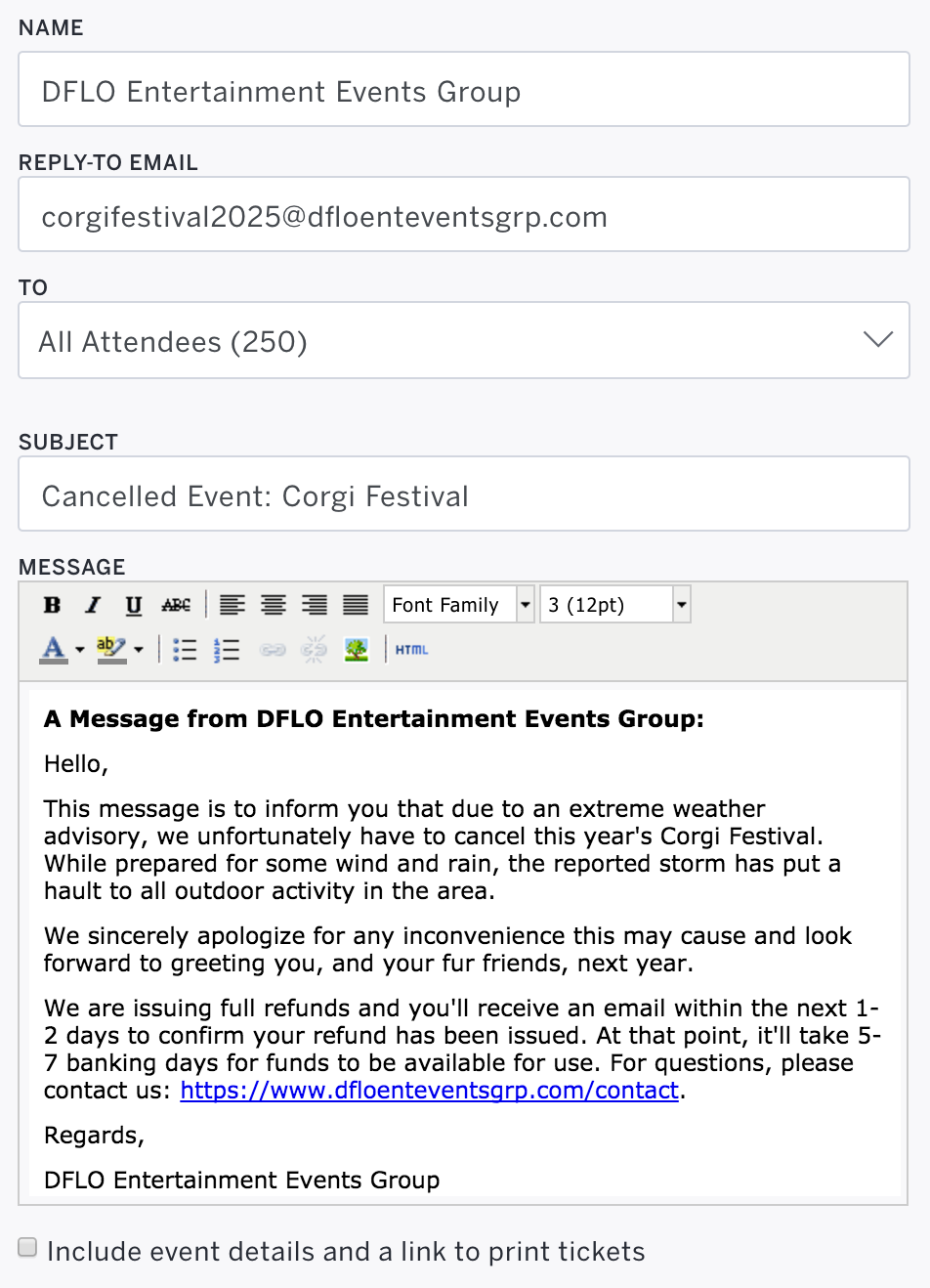 Tip: Uncheck the box next to Include event details and a link to print tickets so that your attendees don't receive another PDF ticket.
Pro Tip: Before sending, send yourself a test email using Send test message to:. You can either send to the email address that displays or click to update and send to an alternate email address.
Refund all paid orders
1
Go to Orders (under Manage Attendees).
Manage Attendees is the last section in the Options Menu.
2
Use "Refund this Order" from Quick Actions.
Locate the order and select Refund this Order from the top Quick Actions drop-down menu.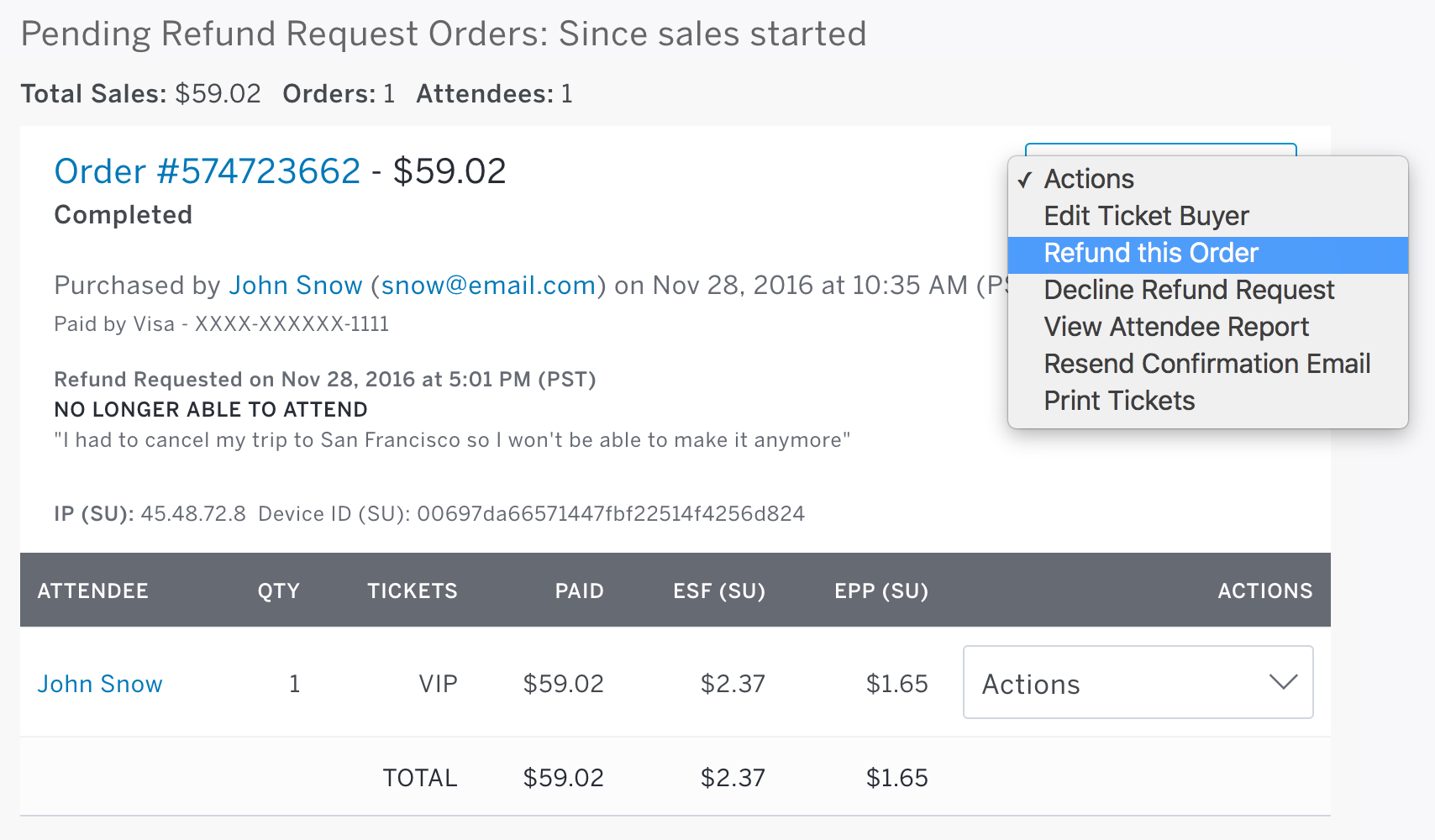 Tip: At this point, you'll also want to cancel or delete any free orders from Quick Actions.

Note: If you're using PayPal for payment processing, you'll be redirected to PayPal to complete the refund at this point. Any refunds you initiate in your PayPal account automatically updates orders in your Eventbrite account.
3
Issue a full refund.
You must refund the full amount on each order before the Cancel option appears on your Event Dashboard.
Once you select Issue Refund, your attendee will automatically receive an email notification that they've received a refund. You'll want to do this for each completed paid order in your event.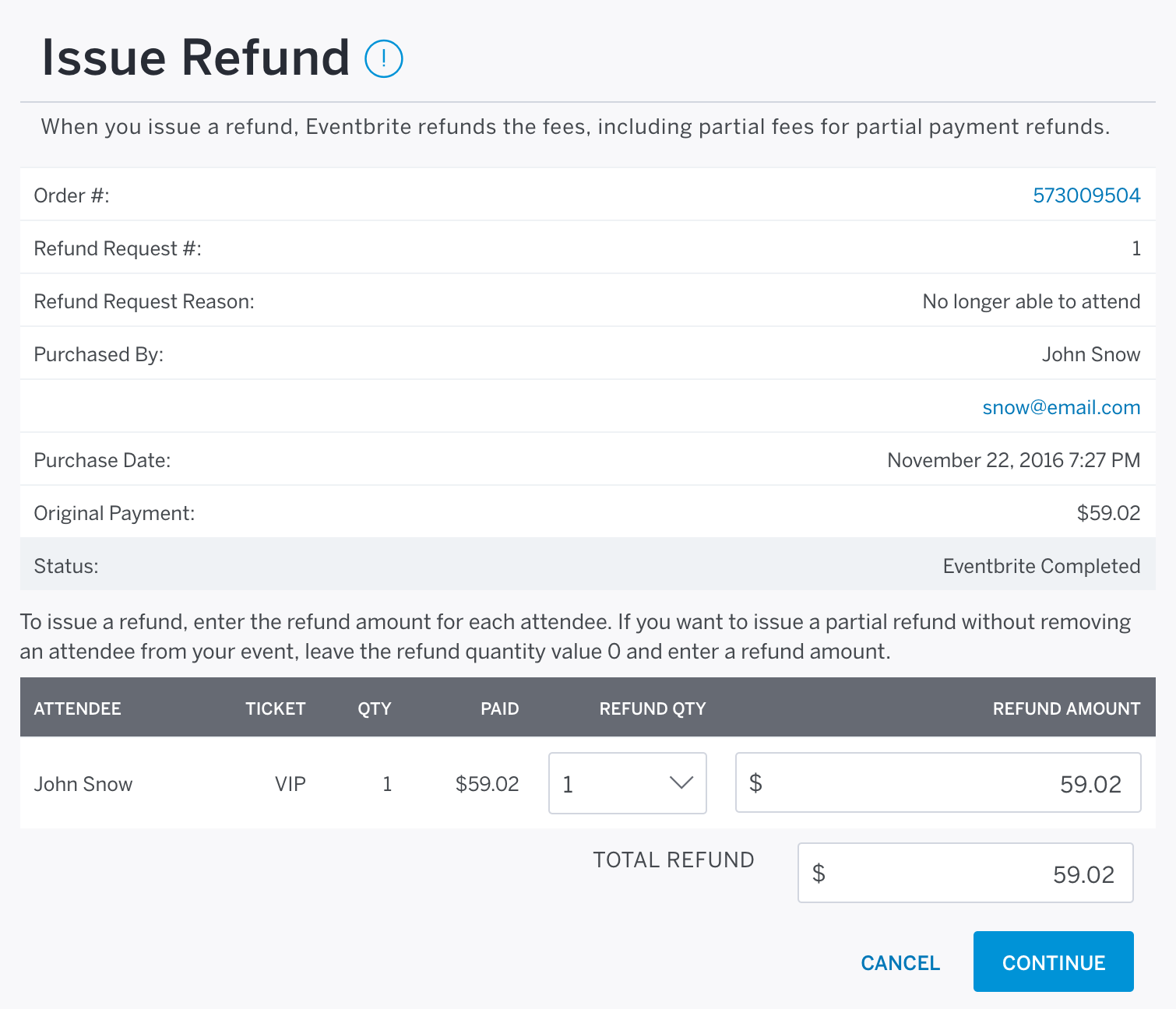 Tip: Use the Note to Buyer text field to add a message that appears in the email that the attendee automatically receives when the order is refunded. We especially recommend including a note since the attendee didn't initiate the refund request.

Note: You must issue individual refunds, as there is no bulk refund option.
Cancel your event
1
Go to your Event Dashboard.
Select Manage to go to your event's dashboard.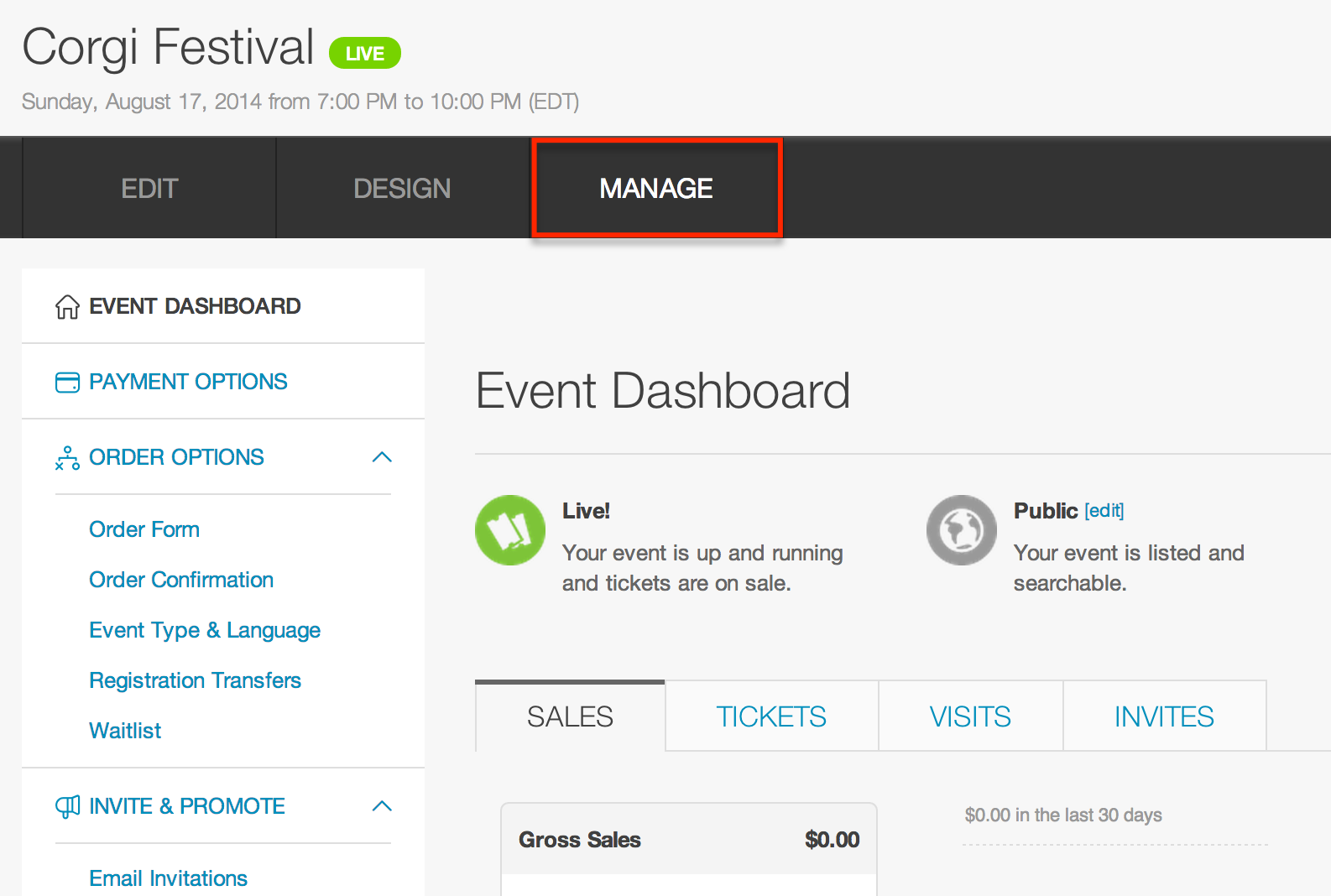 2
Select "Cancel."
Look for a Cancel link near the top of your Event Dashboard. The Cancel choice is grouped with the options to Unpublish, Copy, or Delete.

3
Choose "OK" to confirm the cancelation.
You'll be brought back to the My Events page, and your canceled event will be listed in the Past tab.

Note: If you'd like to delete your event page after refunding, canceling, or deleting all orders and canceling the event, select Delete from your event's Manage page. However, be careful—deleting your event will delete it entirely from your Eventbrite account.