How to set up event payout details
Updated: Apr 13, 2015
To make sure you get paid for your ticket sales, it's crucial to enter your payout details. You can be paid by direct deposit, check (USD only), or PayPal, and payouts are initiated 5 business days after an event ends. To get started, just head over to your event's Manage page and select Set Payment Options.

Note: You may be asked to fill out additional information that you haven't had to provide before. Providing all of these details helps ensure your payments are delivered on an accurate and timely basis and we meet the requirements of our payment processing partners.
1
Go to your Manage page.
After you log in and create an event, find your event on the My Events page, then select Manage.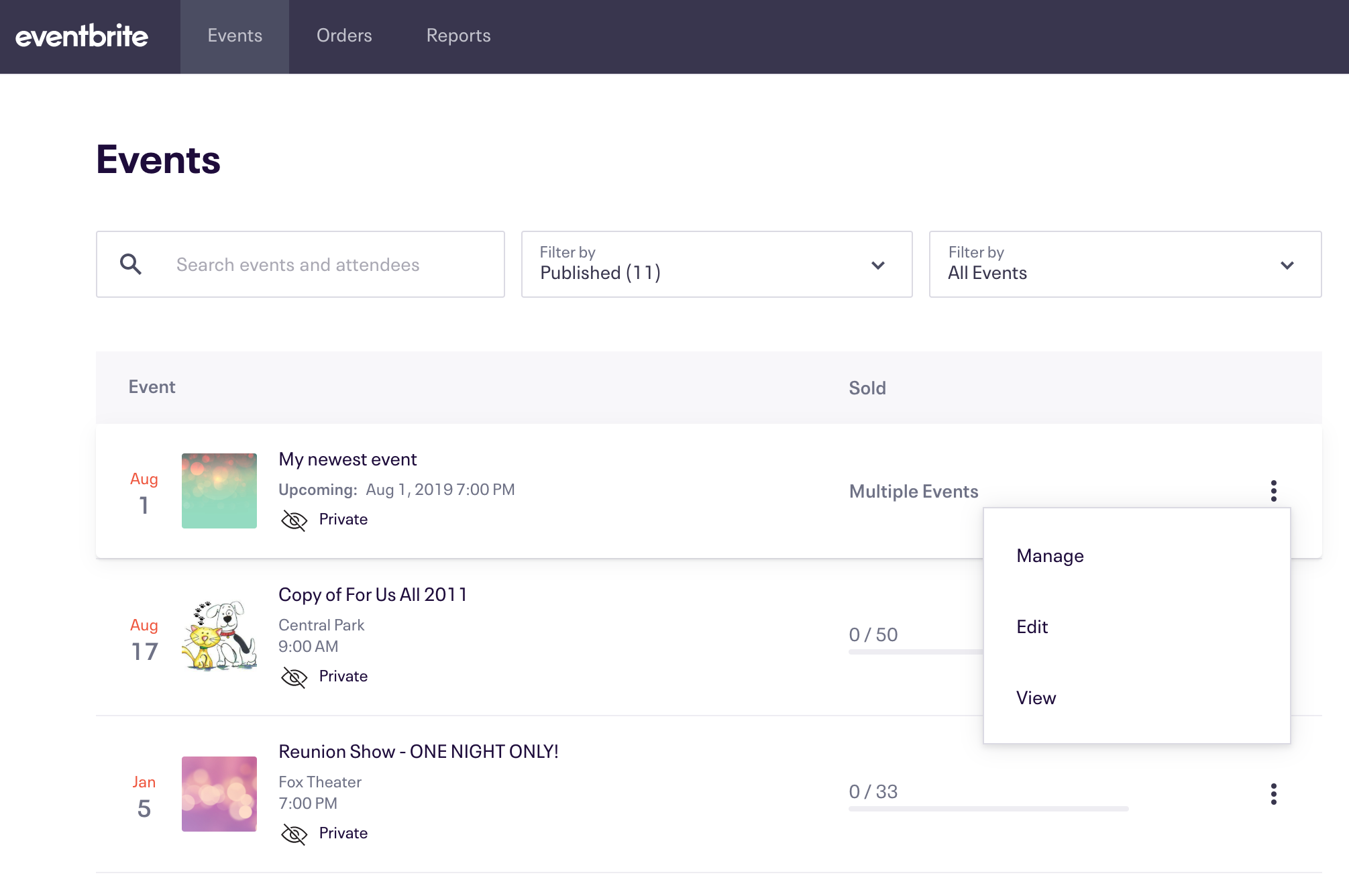 2
Go to Set Payment Options.
Set Payment Options is located in the top of the options menu.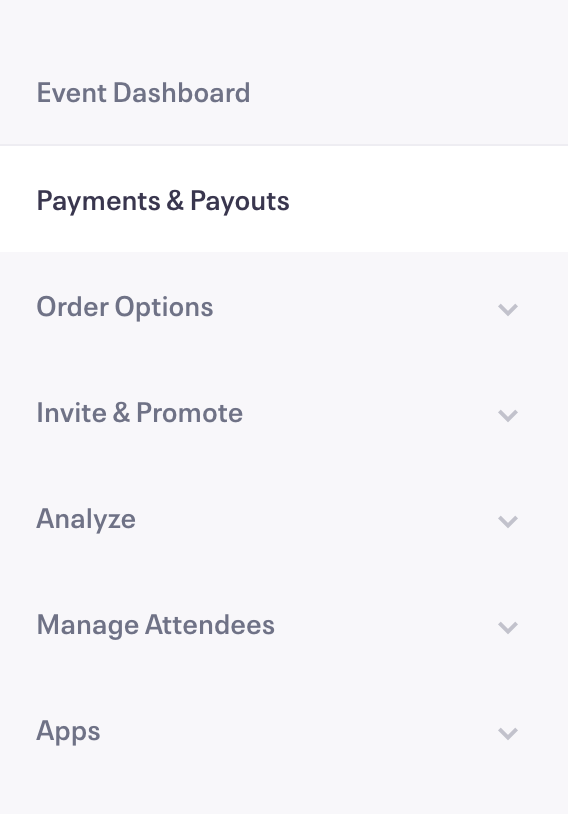 3
Select a payment processor.
Eventbrite Payment Processing is the default processor and usually the best option in terms of cost to organizers.

Tip: You can change your event's payment processor any time before your first sale.
4
Provide payout details.
You have three options for how to get paid:
• Direct deposit (the fastest)
• Check mailed to you for events in U.S. dollars (we just need your U.S. mailing address)
• PayPal (only for events using PayPal as the payment processor, which requires paying Eventbrite fees separately when we invoice you)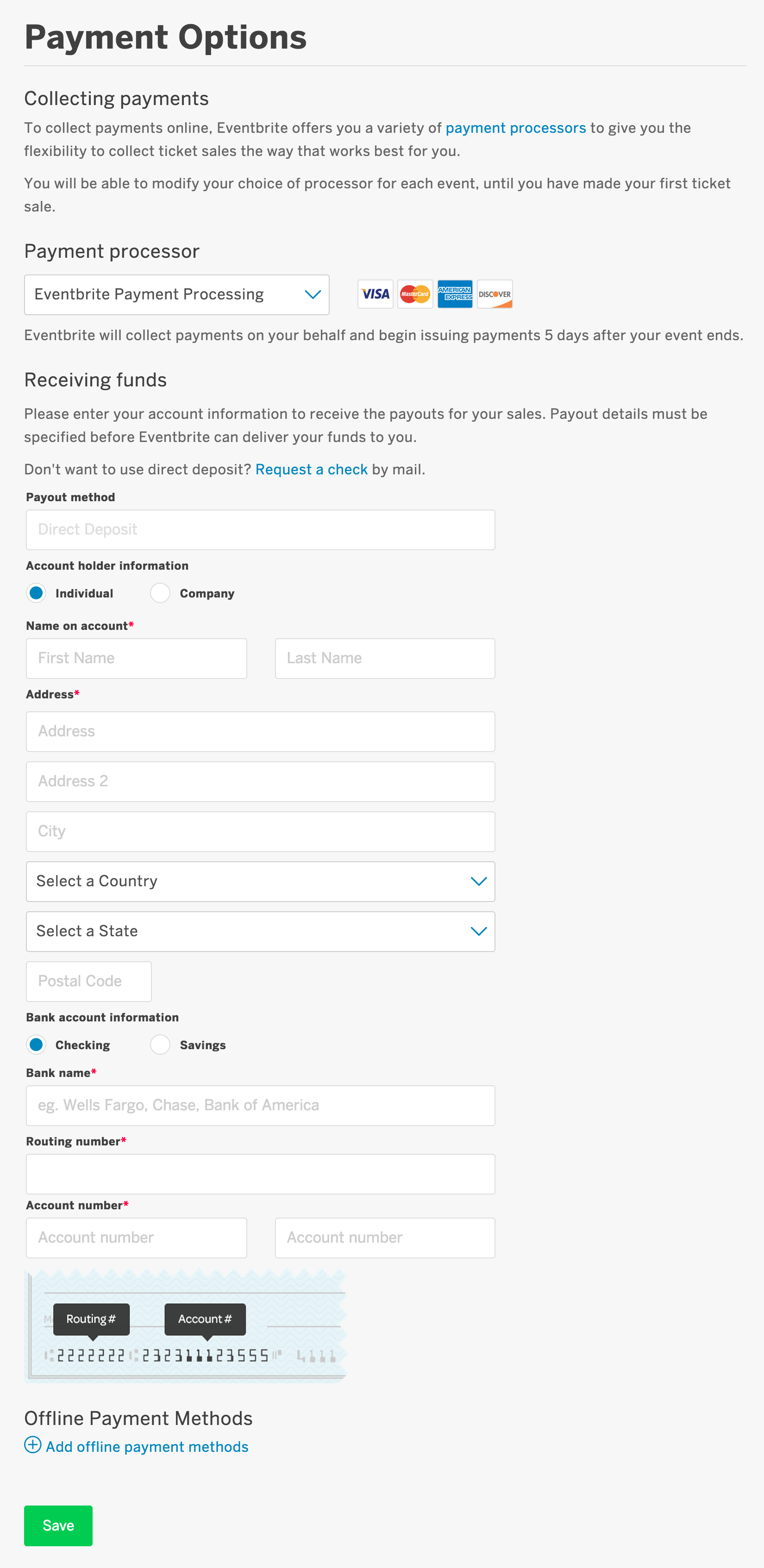 We can deposit funds directly into an individual or company account if you provide this information:
• Name on the account
• Physical address (sorry, no P.O. boxes can be accepted for security reasons)
• Bank account type
• Bank name
• Routing number
• Account number
• IBAN and BIC numbers for events in non-USD/CAD currencies

​Please enter all of this information carefully to avoid any delays on your payout.
Tip: If you're updating your payout details for SEPA compliance, check out these instructions.
5
Save to finish.
When we have everything we need, you'll see the Payment Options button change on your Event Dashboard.
Payouts are issued 5 business days after an event ends, and can take up to 5 business days to show up in U.S. accounts (up to 7 days for non-U.S. accounts).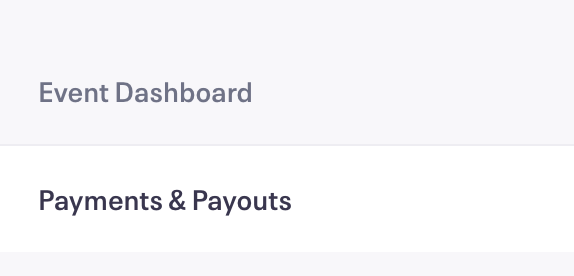 Tip: You'll be paid in the currency you used to collect payment from your attendees, and your bank must be located in the country/region supporting the currency in order for your funds to be processed.
You can check your currency settings on the Edit page for your event, under Step 2: Create Tickets.
Pro Tip: You can also offer your attendees offline payment options, like pay by check, invoice, or at the event. Fees still apply with these options.

Note: If it's been more than 45 days past the end date of your event, your payout will need to be manually processed. Get in touch with our support team and we can help you out.