Add PDF to event page
Updated: Nov 13, 2013
Convert PDF to image file for easiest insertion
Tip: These are a few ways you can convert your .pdf file to an image file for use in your event page. If someone designed a .pdf flier for you, you may also contact them to see if they can provide you with an image file (.jpeg, .jpg, .gif, or .png) instead. For more on inserting images into your event details, click here.
1
Option 1 (the easiest): convert your PDF into an image file
There are several ways to convert a .pdf into an image file. One way is a free web-based service called Imgur that will allow you to convert your .pdf to an image.
The first step is to upload your .pdf to Imgur. Once it's uploaded, right click on the preview image and click save as to save the image to your desktop. This will save your new .jpg file to your computer's hard drive. To give it a try, click here.
Once you have your .jpg file, go here to learn how to insert it into your event details.
3
Option 3 (advanced): use a web tool to embed the PDF in your event details
The final and slightly more involved option involves the use of a web tool to produce HTML code for including in your Event Details section. There are many free online services that let you upload .pdf files and then auto-generate the HTML code you need in order to embed .pdf files in your event page.
- Once you've located the HTML code for your newly uploaded .pdf file, copy the embed code, then go back to Eventbrite and bring up the Edit page for the event you are working on. In Step 1: Add your Event Details, click on the HTML button in the toolbar above the Event description section.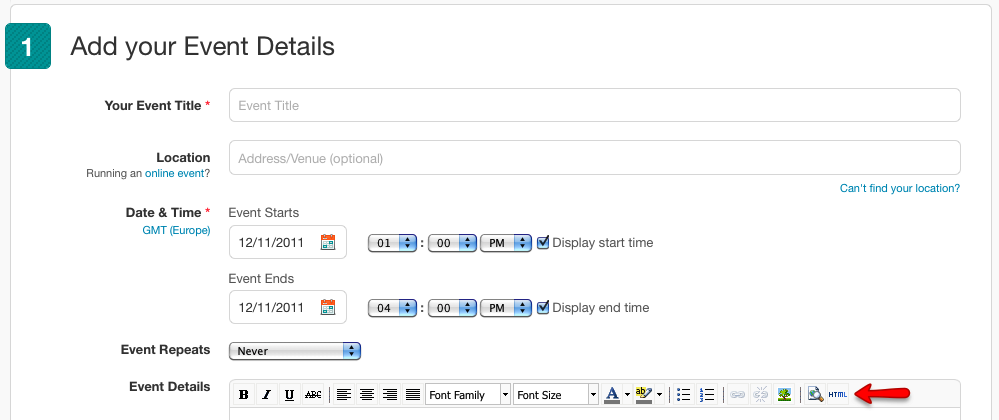 Once the HTML Source Editor window opens, paste the embed code from your clipboard into the HTML code for your page. Now click Update at the bottom of the HTML Source Editor. Remember to click Save to save your changes before leaving the Edit page!