"Registration" vs. "ticketing" terminology
Updated: Nov 25, 2013
Use 'registration' instead of 'ticketing' terminology
Great for non-ticketed events like conferences, classes, and endurance sports
Changes the wording on entire attendee-facing registration flow
1
To get started, first sign up for a free Eventbrite account or log in to your existing Eventbrite account and create an event.
If you'd like to edit an already-created event, click My Events at the top of the screen and then click on the name of your event to go to that event's Manage page.
2
On your event's Manage page, select Event Type & Language from the features menu on the left side of the page.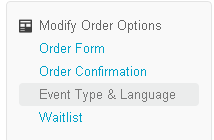 3
Select the Event Type for your event. Ticketed Event will apply terminology referencing 'tickets' to your event; Registration Event will apply terminology referencing 'registrations' to your event.
Your selection will affect the terminology on your event page and registration flow, and in all attendee-facing emails (e.g., the order confirmation email) and widgets.
Once you select your Event Type, the preview of your event page will reflect your selection. Make sure to click Save Changes once you're finished.
Note: You can change your Event Type selection at any point, even after your event is live! Your Event Type selection will automatically carry over for the next event you create, though you're free to change the selection.
4
You can always check out your actual event page by clicking View or Preview in the upper right of the Manage page.
If you selected Registration Event, you'll see that the box that was once labeled Ticket Information has changed to Registration.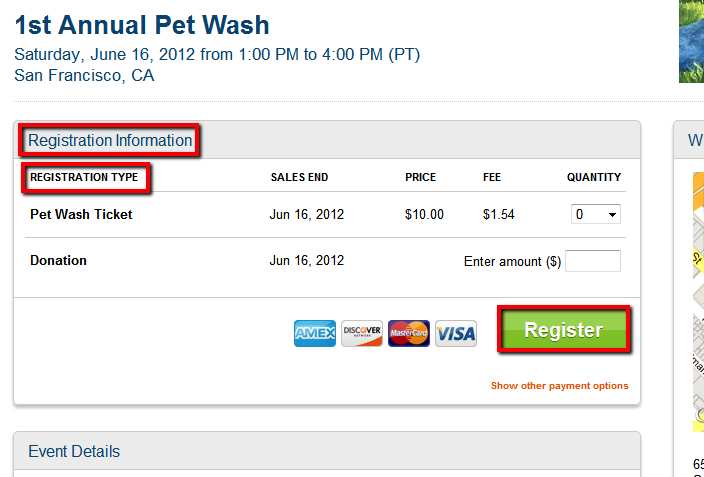 And if you selected Ticketed Event, the box is now labeled Ticket Information, instead of Registration.