How to create an event
Updated: Apr 16, 2015
Our event creation process is designed to be lightweight—you can get an event live on Eventbrite, for free, in just 3 main steps on the Edit page (Event Details, Create Tickets, and Additional Settings). Just choose "Create an Event" to start setting up your events. We also have robust customization options so you can get the most out of your Eventbrite page.
Note: To get started, sign up or log in to your Eventbrite account and select Create an Event. This brings you to the first part of creating your event, called Edit.
Step 1: Event Details
1
Add a title, and set the date and time.
We only require an Event Title (keep it under 75 characters) plus the Date & Time (make sure your time zone is correct) to get started.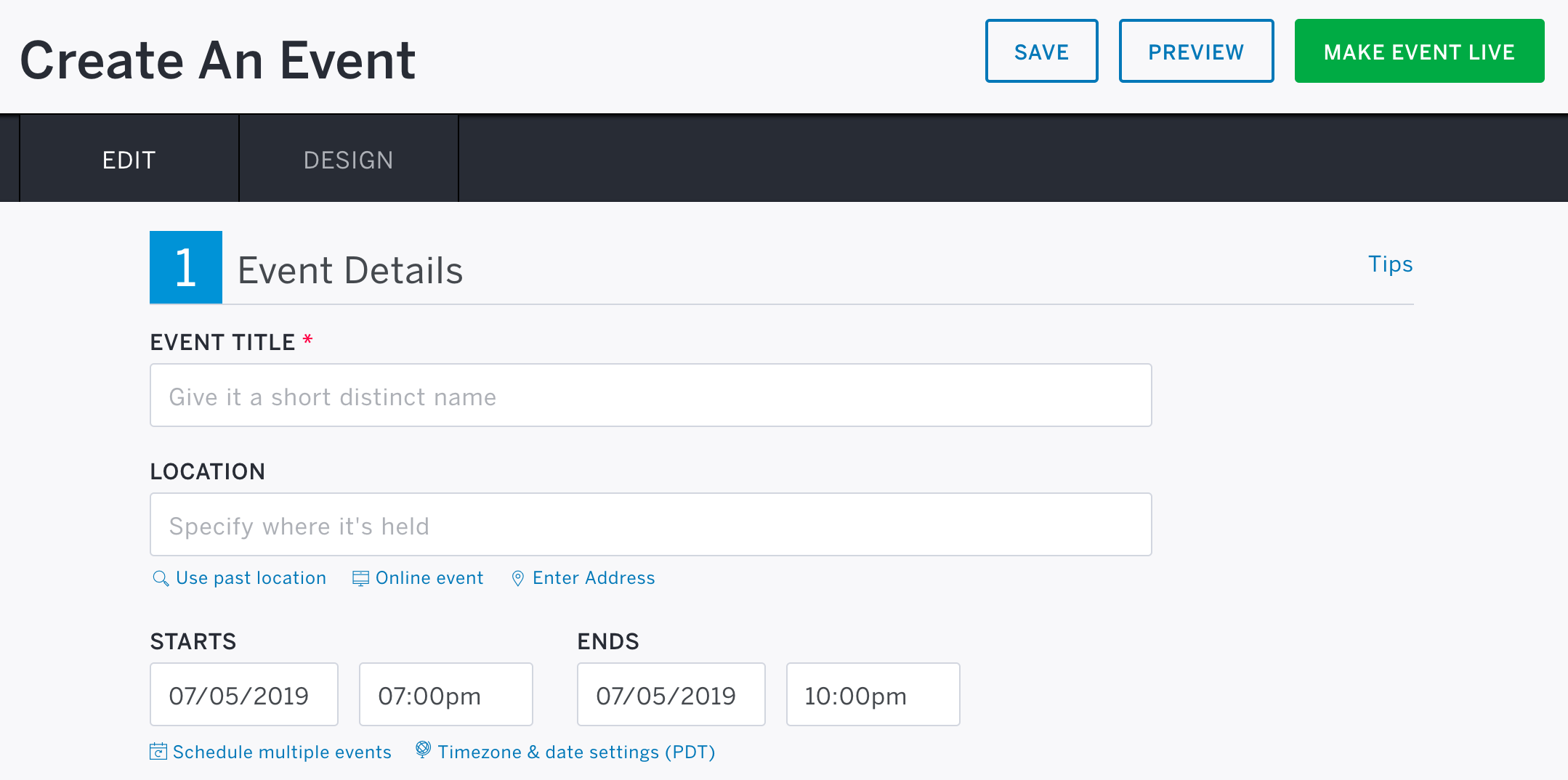 Tip: At any point you can choose to Save your event and return later or Preview to see what it looks like so far. You can update Event Details at any time, even after publishing.
2
Set the venue location.
If you're not sure what your venue will be, you can enter just a city and state in the address field (or start typing for predictive completion). Your location will show up on a Google map below, which shows up as you see it here on your event page by default (uncheck to remove it or zoom to adjust).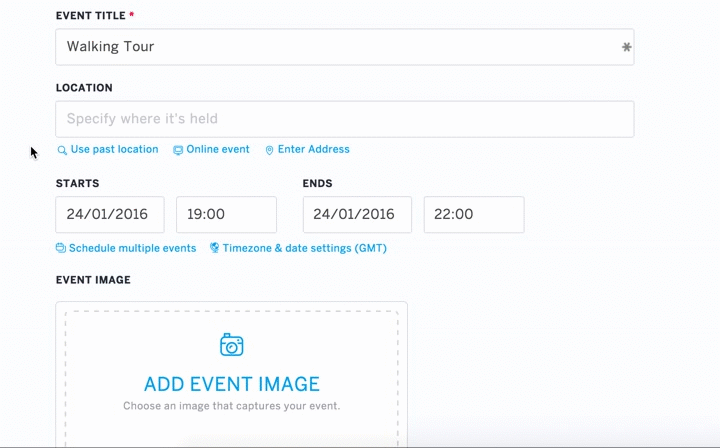 Tip: You can also manually enter an address if Google doesn't recognize your location (Can't find your location?), or Use a Past Location.
Pro Tip: You can designate your event as online only by selecting the link Online Event under theVenue Name field.
Use the Reset Location link to start fresh if your address isn't right.
3
Upload a logo.
Select Choose File to upload an image from your computer to make your page recognizable to attendees more quickly (this also shows on PDF tickets).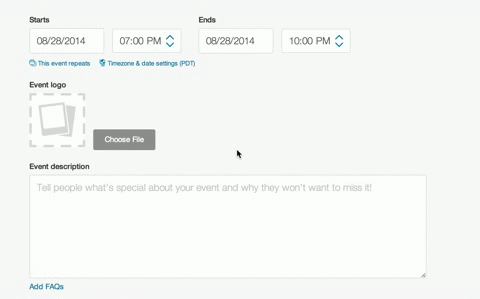 4
Share details and other important information about your event.
Sell your event! Include info like a solid description of what your event is about, who it's for, your contact information, and your refund policy. You can also customize the styling of text here, add images, and add video.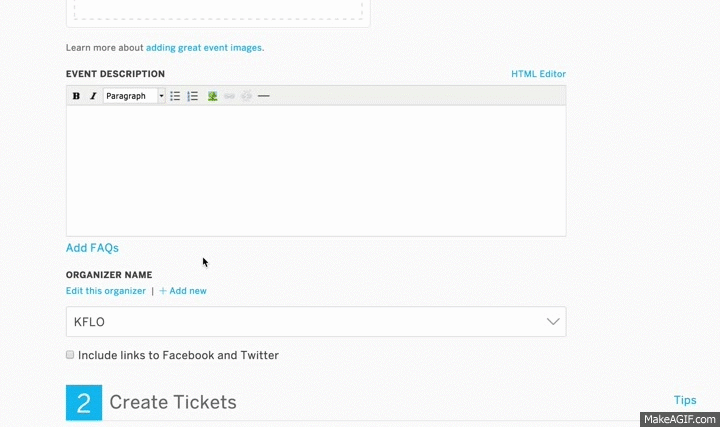 5
Add information about the event organizer.
This information can be automatically pulled from My Organizer Profile, where you add all the details that populate your organizer page. You can also edit or add organizer information here for this event only. Including social media links can help promote your group as well.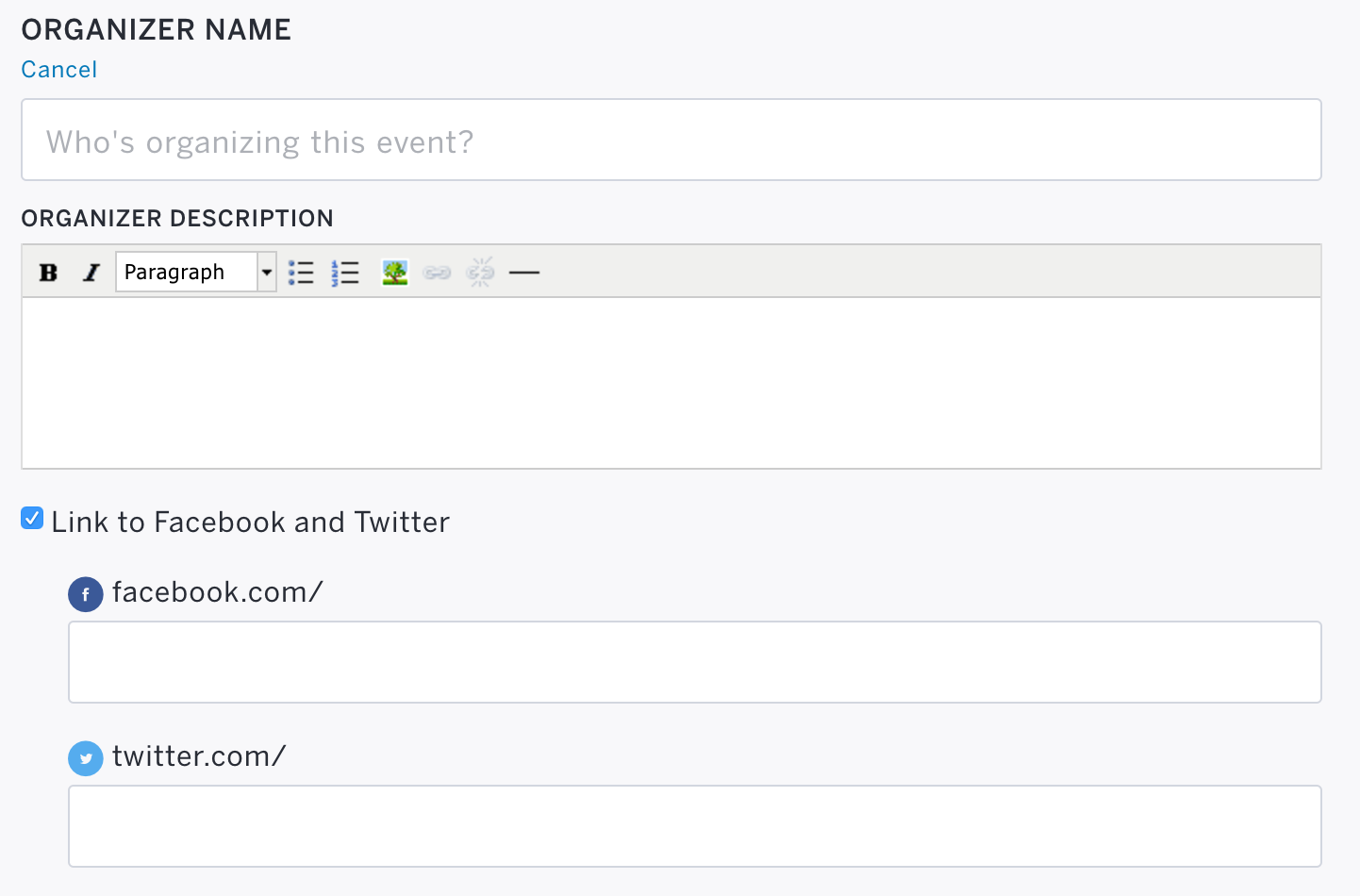 Step 2: Create Tickets
1
Create free or paid tickets.
For each ticket type you want to sell, all you need to do is give it a Ticket Name and Quantity Available, but you can also customize settings for each type. By default, your ticket sales start immediately and end an hour before your event.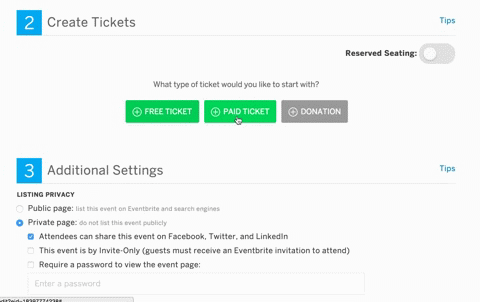 2
Set the price for paid tickets.
When you enter a price for ​paid tickets, you will see the Buyer Total below. By default, fees are passed on to the attendee, but you can choose to absorb or split these fees.
3
Set the total capacity for the venue.
The Total Capacity field adds up the total number of tickets you've created, but you can change this.
Example: Your venue has a total capacity of 200 people. You want all of those spots to be available as a general admission ticket and you want to offer 50 VIP tickets. Your total capacity would add up to 250 when you create these ticket types, but you can edit that to keep the total ticket sales to 200.
4
Add a donation ticket to collect donations.
To add a Donation option, you don't have to set a quantity (it's unlimited by default when the quantity field is left blank).
Step 3: Additional Details
1
Mark your page as public or private.
Public pages appear on Eventbrite and are accessible to search engines while Private pages are not.
Pro Tip: To keep things exclusive, you can even make your event invitation only, password protect the page, and/or add a special access code to reveal hidden tickets.
2
Choose an event type and topic.
Select an Event type and Event topic to help people find your public event.
3
Show the number of tickets remaining (if you'd like).
Choose whether to show the Number of Tickets Remaining on the registration page (this can help drive orders as tickets run out).
Once you've completed all three steps, you can choose to Make Your Event Live or Choose a Design.
Tip: We have 15 pre-built themes to choose from, you can design your own and you can add a custom header/footer in the Design section.
Pro Tip: You'll also want to check out the Manage page of your event, especially to make sure you've selected the payment option you want for processing transactions, receiving your payout, and collecting custom information from attendees.