How to send a survey to attendees with Eventbrite's SurveyMonkey integration
Updated: Apr 14, 2015
After the event ends, you can gather feedback from attendees and send a customized survey through our partnership with SurveyMonkey. The integration imports attendee email addresses right into your SurveyMonkey account, and you can benefit from SurveyMonkey's easy-to-use features and survey analytics. From your event's Manage page, go to Extensions and select "SurveyMonkey" to get started. After giving SurveyMonkey permission to access your events, you can use one of the templates on Eventbrite, create your own survey, or copy a survey from your SurveyMonkey account.
Tip: If you've already sent a post-event survey and want to view your survey results, just select Manage your surveys and analyze responses under 2. Send template to SurveyMonkey. You'll be taken to SurveyMonkey to log in if you haven't already.
Pro Tip: If you want to choose which specific attendees receive the survey, you can integrate your event with Survmetrics instead. You can schedule surveys to get sent right after the event ends or a week after it, and only send it to those that attended.

1
Go to your Manage page.
After logging in and creating an event, find your event on the My Events page, then select Manage.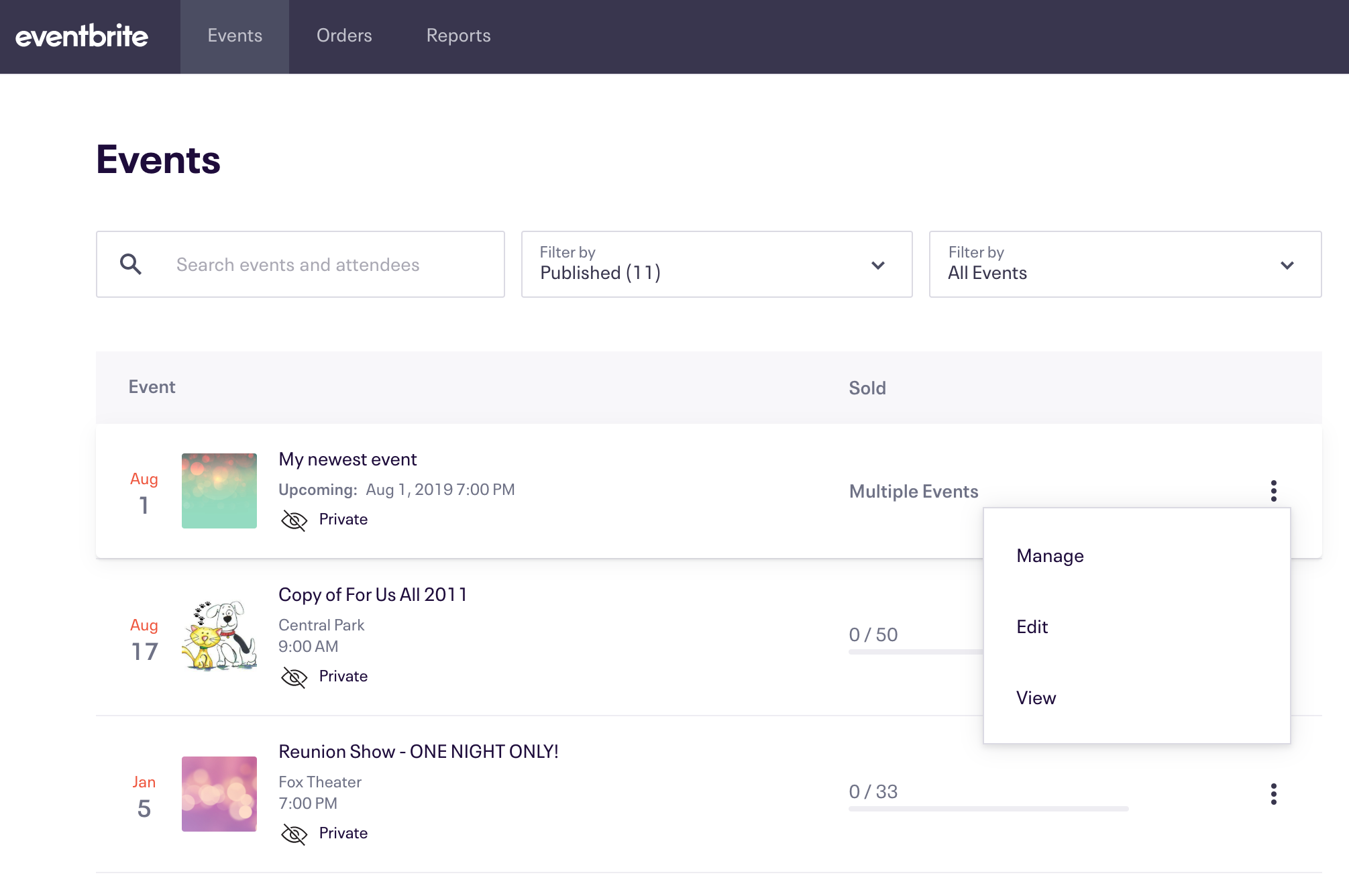 2
Go to "SurveyMonkey" (under Communicate).
Extensions is the last section in the options menu.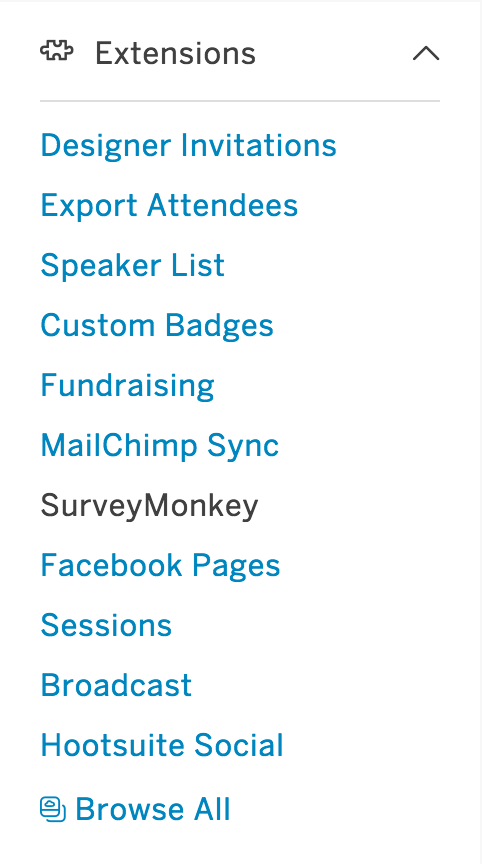 Note: If you have a repeating event, you can only send a post-event survey for an individual event in your schedule—not all events at once. To get started, just choose a date from the Individual Event Selector at the top of the Manage page.
3
Choose "Install App."
You'll see a full description of our integration with SurveyMonkey. Just select Install App to get started.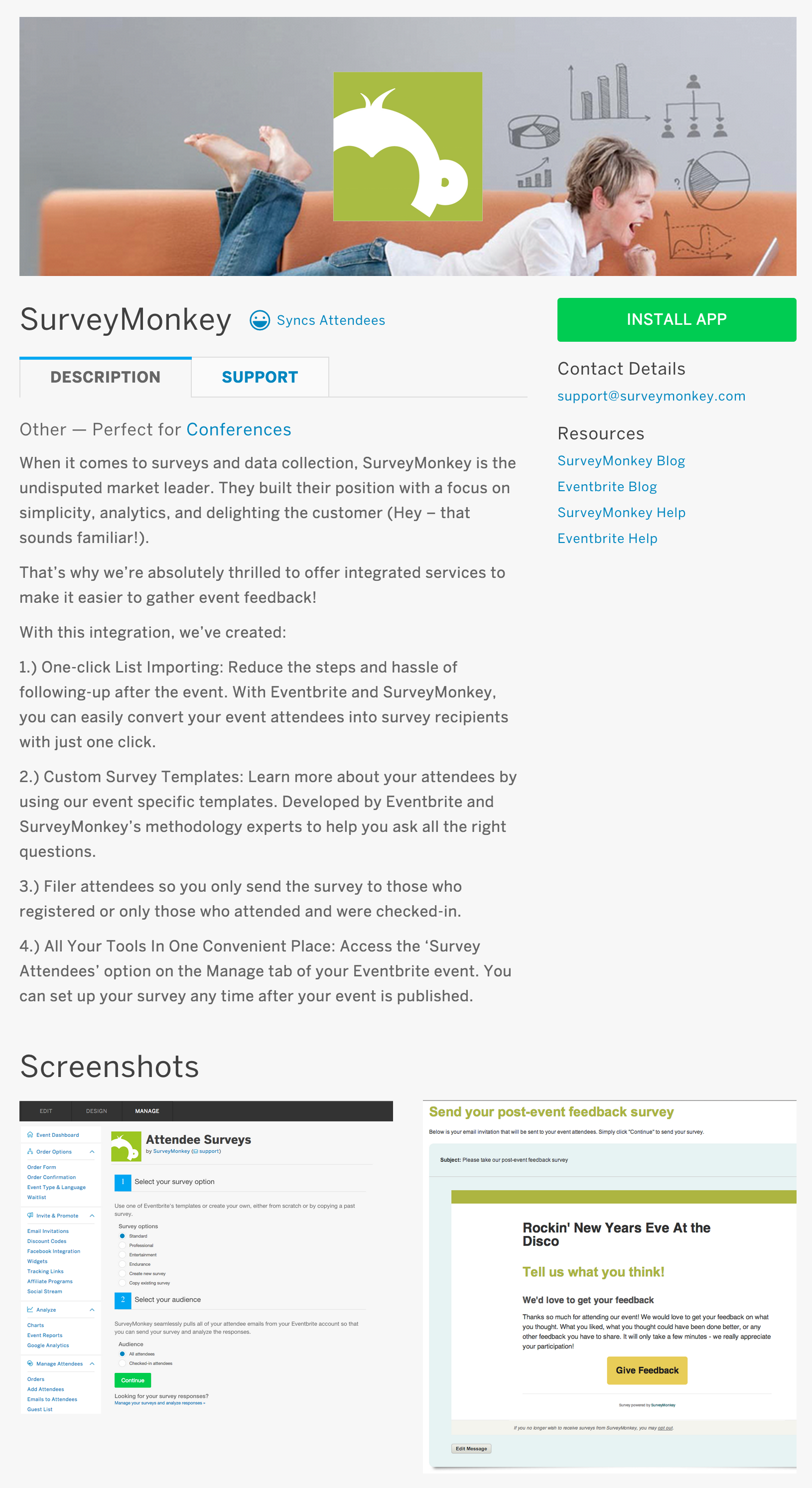 4
Allow SurveyMonkey to access your Eventbrite account.
Choose Allow to integrate your Eventbrite account with SurveyMonkey. Once authenticated, you'll be brought back to your event's Manage page.

5
Select your survey option in Eventbrite.
You'll be set up with Eventbrite's standard template by default, but you have several options to choose from:
- Standard: You can see an example of Eventbrite's standard template under Preview. These questions can't be edited or customized.
- Professional: The professional template is a good option for conferences or business events. When you select professional, the word professional will be added in front of the word event in your survey questions.
Example: The first question in the Standard template says, "Overall, how would you rate the event?" When you choose the Professional template, the question will change to say "Overall, how would you rate the professional event?"
- Entertainment: Choose the entertainment template for events like concerts or plays. Similarly, the word entertainment will be added in front of the word event in your survey questions.
- Endurance Sport: Want to find out how attendees liked your 10K? The endurance sport template is a great choice, and the words endurance sport will be added in front of the word event in your survey questions.
- Create a new survey: With this option, you can create custom questions for your survey right in SurveyMonkey.
- Copy an existing survey: If you already created a survey in your SurveyMonkey account, you can choose this option to copy that survey and send it out to your attendees.

Tip: Eventbrite loves surveys, too: check out what we've learned about endurance sports participants and music festivals.
Pro Tip: It's always good to tell attendees what you're doing with their survey responses. Check out SurveyMonkey's best practices on collecting data.
6
Select your audience.
The survey will be sent to all your attendees by default, but you can choose to send it to only those who've been checked in to the event.

7
Choose "Continue."
Choose Continue to send your survey template to SurveyMonkey. You'll be asked to log in or create a new SurveyMonkey account.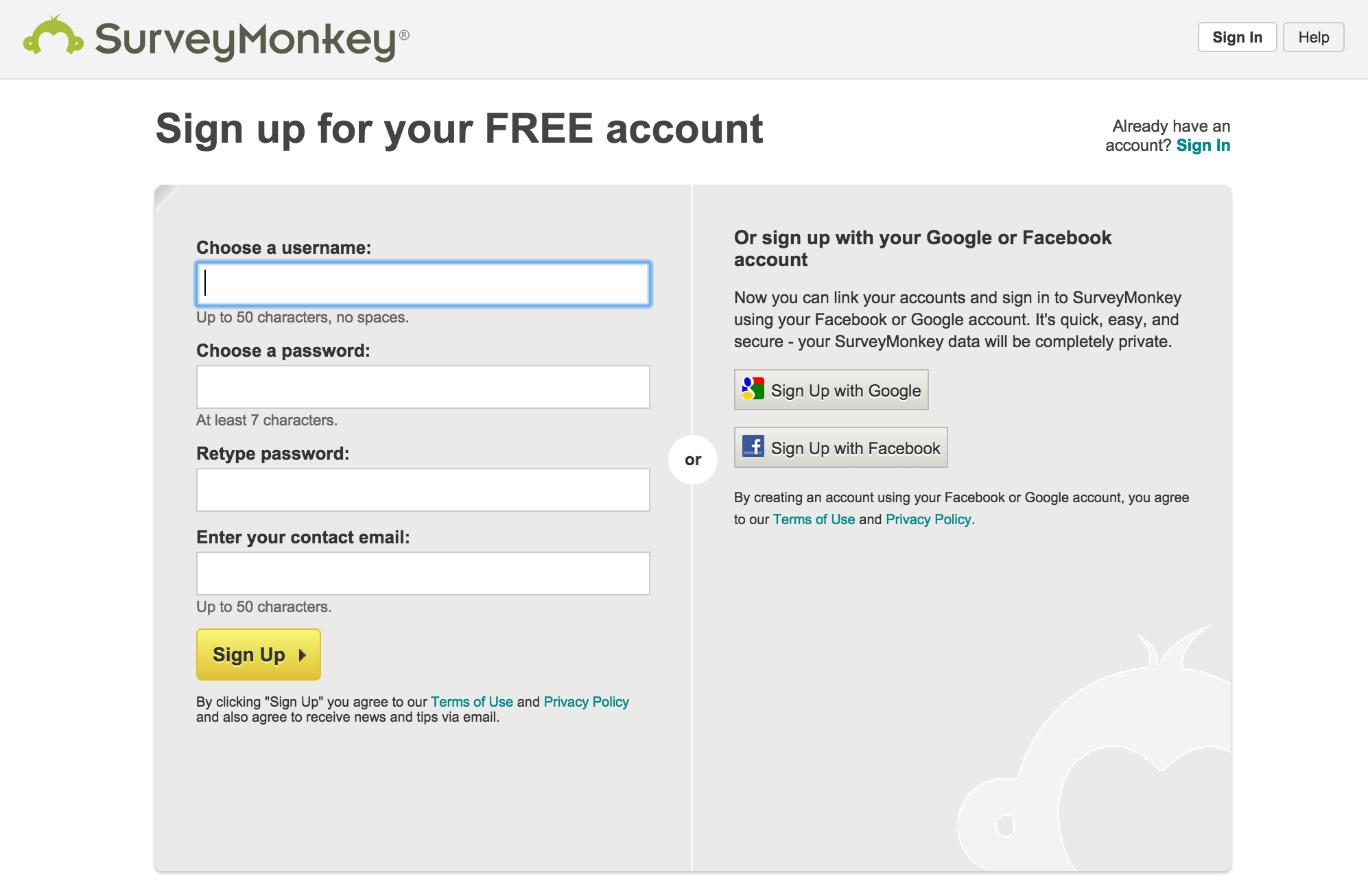 8
Select "Continue" to send now or "Schedule Later Delivery" to schedule and send later.
SurveyMonkey automatically converts all of your attendees' email addresses into recipients, and you'll see a preview of the email message attendees receive.
Choose Continue to send the survey immediately or Schedule Later Delivery to send the survey at a later date and time.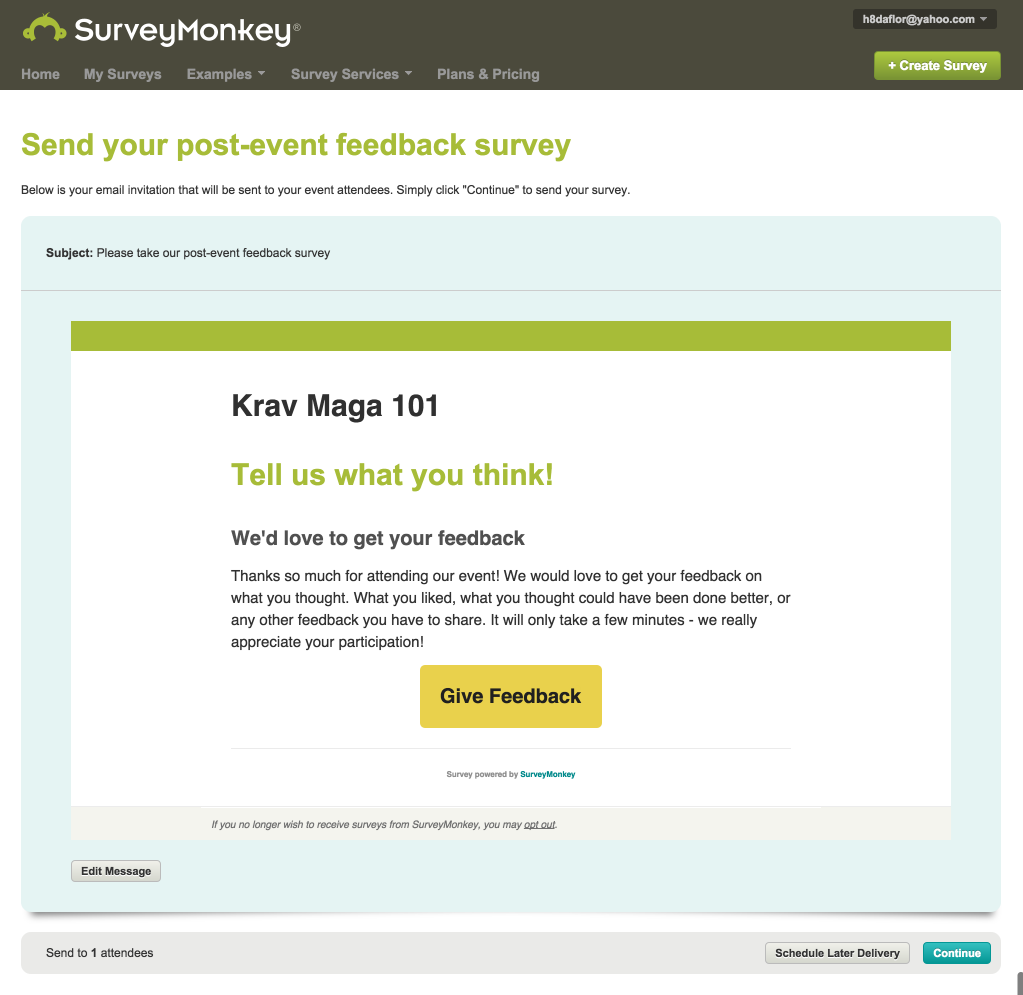 9
Attendees will receive your survey from SurveyMonkey.
When attendees receive the email, they just choose Give Feedback to go to SurveyMonkey's website to complete your survey. Once they're finished, all they have to do is select Done to submit their answers.
10
Analyze your survey results in SurveyMonkey.
You can analyze your survey results in your SurveyMonkey account and view all your survey data in one place (like how many attendees completed your survey versus how many haven't).
You can even send a reminder email to the attendees who haven't replied, and view individual and open-ended responses.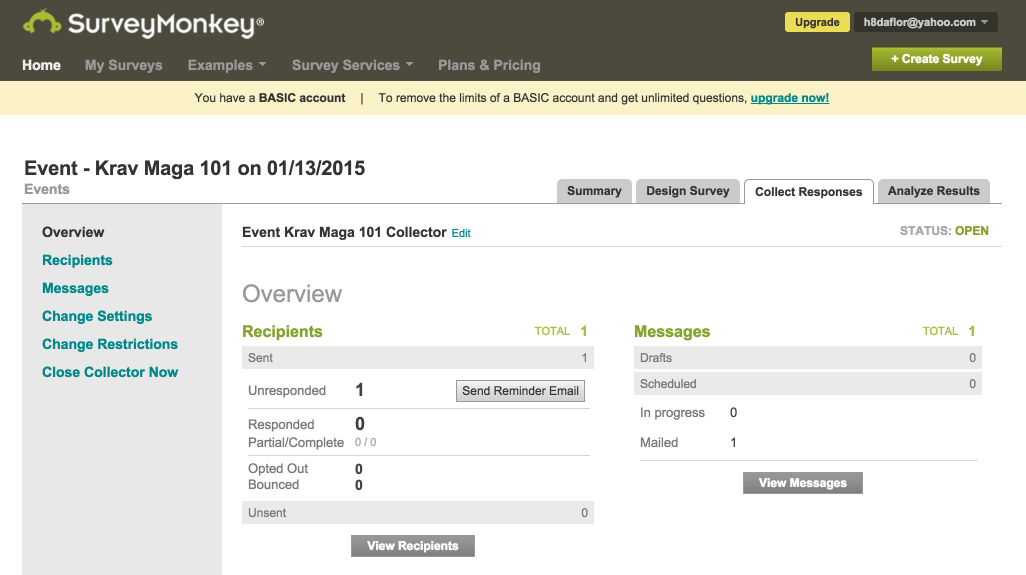 Tip: Many of your attendees may complete your survey on their iPhone or Android mobile device. Check out SurveyMonkey's best tips on designing your survey for mobile devices.
Pro Tip: Learn more about SurveyMonkey's best practices on building and managing contact lists.