Eventbrite and SurveyMonkey
Updated: Mar 11, 2013
Automatically import Eventbrite attendees into your SurveyMonkey account with just one click
Use event-specific templates developed by Eventbrite and SurveyMonkey
Benefit from SurveyMonkey's full survey expertise
1
To use SurveyMonkey to send invites for an event, first create and publish your event in Eventbrite. Now click on My Events at the top of the page, and then click on the name of your published event to go to its Manage page. Select Attendee Survey from the features menu under Communicate on the left side of the page.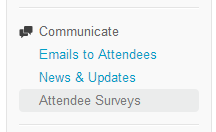 2
Under Select your survey option, choose from one of the four survey options available. Alternatively, you can choose to create a new survey or copy an existing survey.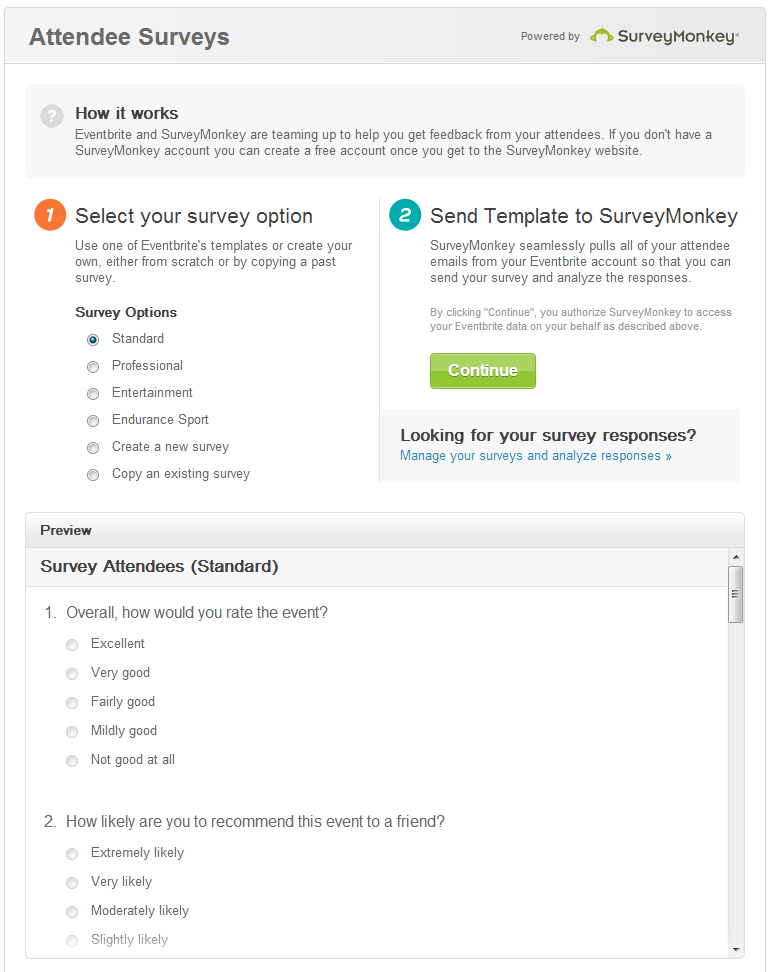 Note: To be able to copy an existing survey, you should already be a SurveyMonkey user and have generated surveys within their system in the past.
3
To Preview your survey, look to the bottom of the Survey Attendees section. Next, clicking the Continue button under Send Template to SurveyMonkey will complete this portion of the process and prompt you to sign into or set up a new SurveyMonkey account!
4
When logged in to SurveyMonkey, your attendees will have already been automatically converted into recipients of the survey. However, the survey will not send until you finalize the survey's details within your SurveyMonkey account. Here, you'll have full access to all of SurveyMonkey's functionality within their world class platform!