How to add social media to your event page with Eventbrite's Social Stream
Updated: 24/02/15
With Eventbrite's Social Stream, you can show a feed of Instagram and Twitter posts right on your event page to really get attendees excited for the big day. To set this up, head over to your event's Manage page, go to Invite & Promote, and select "Social Stream." After you connect your social media account, you can enter custom hashtags that are associated with your event. When people post on Instagram and Twitter using those hashtags, your Social Stream on your event page will update with their posts in real time.
1
Go to your Manage page.
After logging in and creating an event, find your event on the My Events page, then select Manage.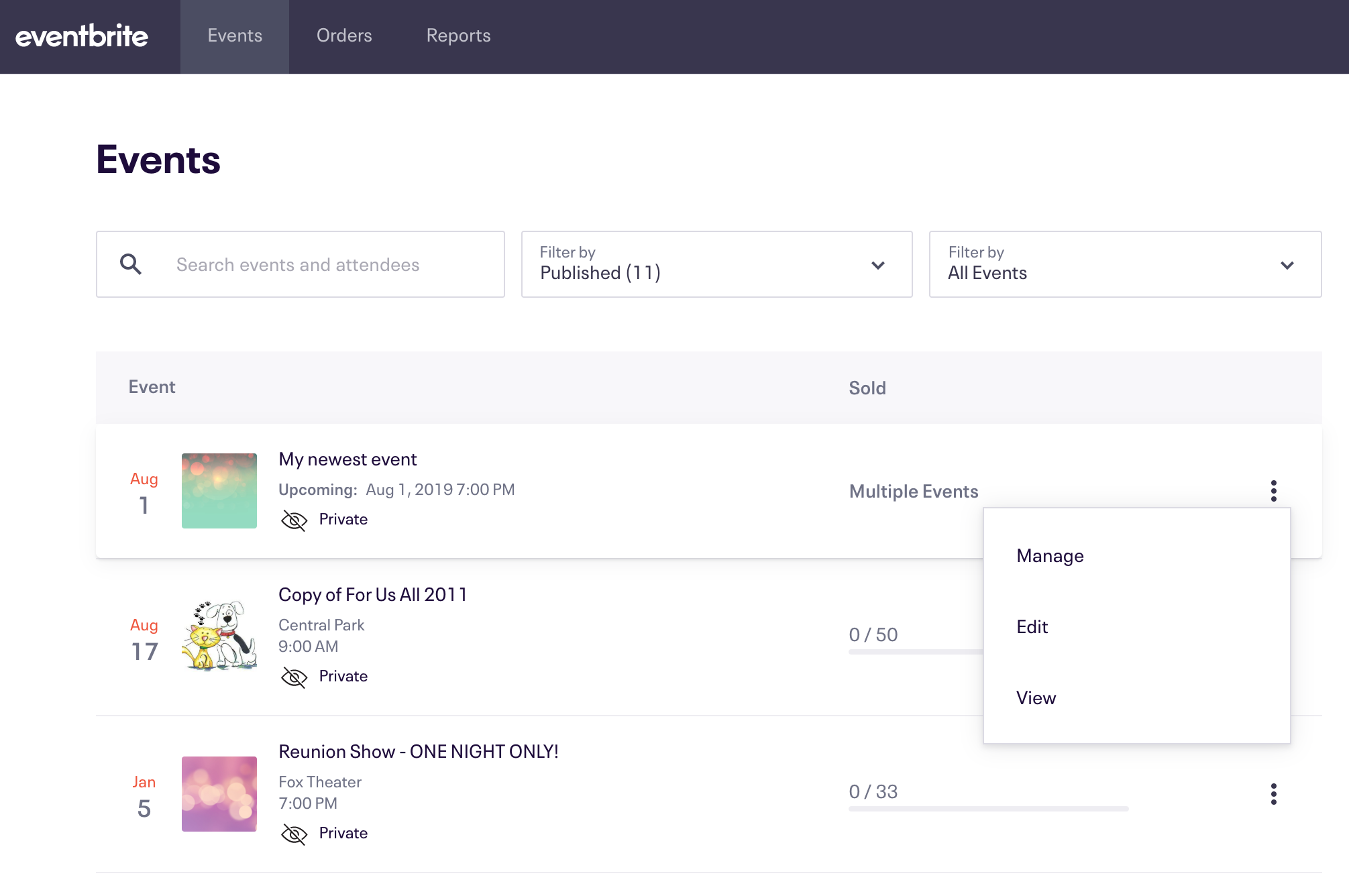 2
Go to "Social Stream" (under Invite & Promote).
From the options menu, scroll to the middle until you see the Invite & Promote section.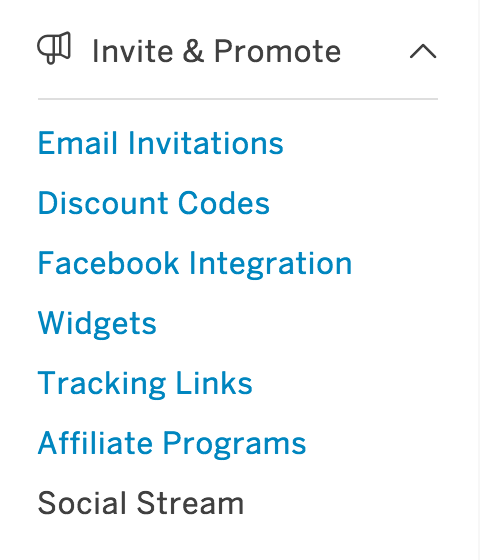 Tip: The Social Stream feature, along with some our other promotional tools (like Email Invitations, Facebook Integration, and Widgets) will appear grayed out until you make your event live.

Note: If you have a repeating event, you can use Social Stream to show Instagram and Twitter posts for the parent event in your schedule. At the top of your Manage page, use the Individual Event Selector and select All dates.
3
Connect your Instagram and/or Twitter accounts.
You can connect your social stream with Instagram and/or Twitter. Just click or tap the switch next to the social media account you want to connect.

Tip: If you haven't already, make sure you sign up for Instagram and/or Twitter. You'll need a social media account in order to pull a hashtag feed.

Note: If you've already enabled Social Stream but want to hide Instagram or Twitter posts now, just use the switches next to the account. Disconnecting Instagram or Twitter from the Social Stream page will remove the content from that site from all of your events.
4
Allow Instagram or Twitter to access your Eventbrite account.
You'll be taken to Instagram or Twitter to log in. Just give their site permission to access your Eventbrite account, and you'll be brought back to your Manage page on Eventbrite.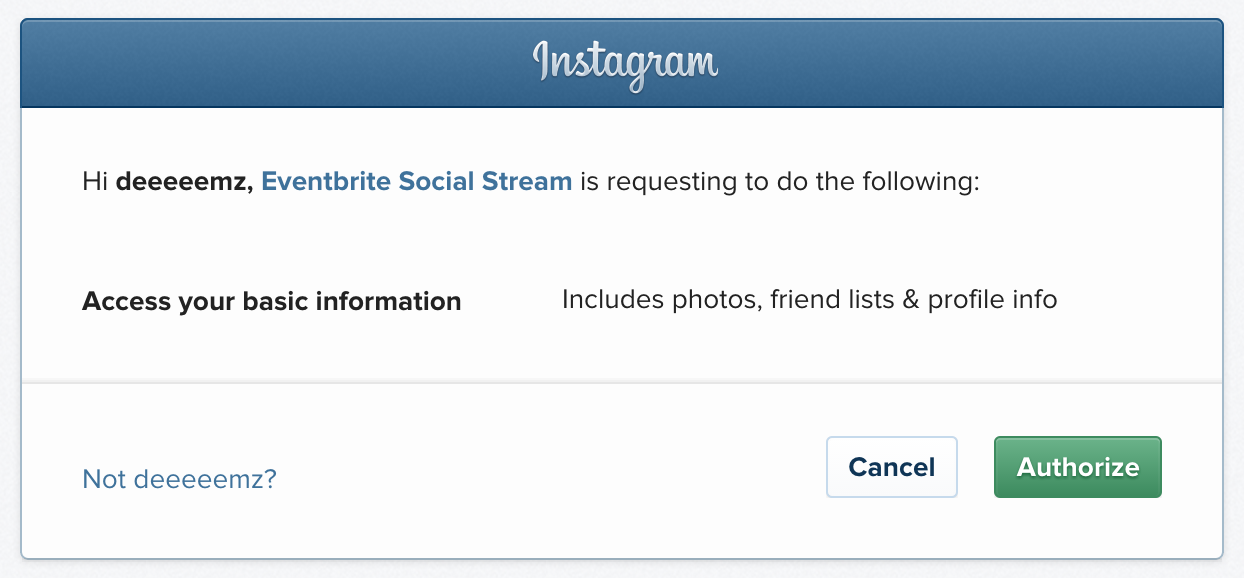 Note: By connecting your social media accounts, you're allowing Eventbrite to access general information about your Instagram or Twitter accounts (like photos, posts, and profile information). Eventbrite will only pull in posts using the hashtags you set up for your event, and we'll never post anything to your Twitter or Instagram accounts on your behalf.
Check out Eventbrite's Privacy Policy and Terms of Service for more information.
5
Select hashtags.
Add hashtags that are related to your event. You can add up to 5 hashtags for each event, and Eventbrite will pull the Instagram photos and Twitter posts that were shared using that hashtag.

Example: Brad has his annual Corgi Festival coming up, so he adds the hashtag #corgifest2015 so his attendee's social media posts appear on his page's Social Stream.
Tip: Attendees are more likely to use short, specific, and catchy hashtags that are relevant to your event and easy to remember. Check out our blog for more tips on using social media for your event (complete with video!).
6
Optional: Do a one-time pull of content for each hashtag.
If you don't want to wait to get your Social Stream started, you can do a one-time pull of content as you add each hashtag. Just select Yes to immediately pull photos and posts for the hashtag you added into your Social Stream.

Tip: This one-time pull of content only pulls posts that have been previously shared using the hashtag you added. Going forward, your Social Stream will update in real time.
Pro Tip: To delete a hashtag, just select the X next to the block for that hashtag.

Note: Don't worry—if you see something you don't like on your Social Stream, you can easily delete it (see step 9).
7
Select filters.
By default, your Social Stream is set up to pull posts up until one week after the end date of your event. However, you can filter your social stream to pull in posts that were shared in a more specific date range.
You can also filter your Social Stream to only show posts near a specific location (like your event venue).

Example: Brad's Corgi Festival is taking place in San Francisco, so he filters his Social Stream to only include posts near the San Francisco location.
Pro Tip: Now it's time to let attendees know what hashtags to use when posting about your event on social media. You can send out the hashtags in email invitations and the order confirmation email that attendees receive.
8
View your social stream.
Choose View Social Stream to go to your event page. Your Social Stream content will appear under the Organizer section.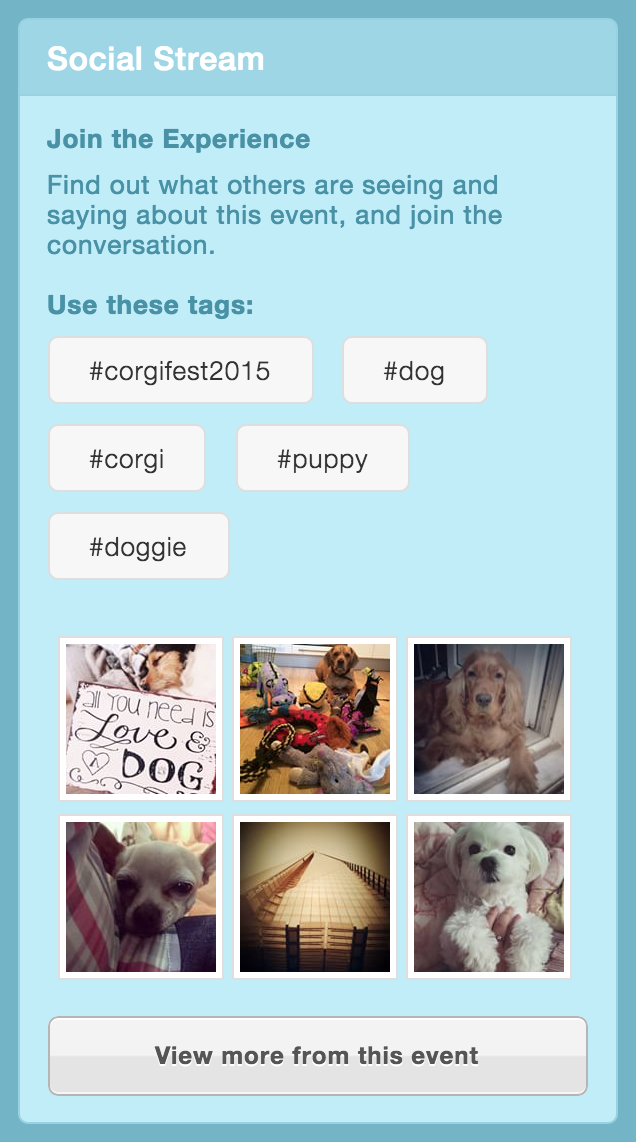 Tip: Social Stream posts are placed in chronological order, so the most recent posts shared using your hashtags will appear first.
9
View more posts from your event page.
Select View more from this event to go to a new page showing all the posts in your Social Stream.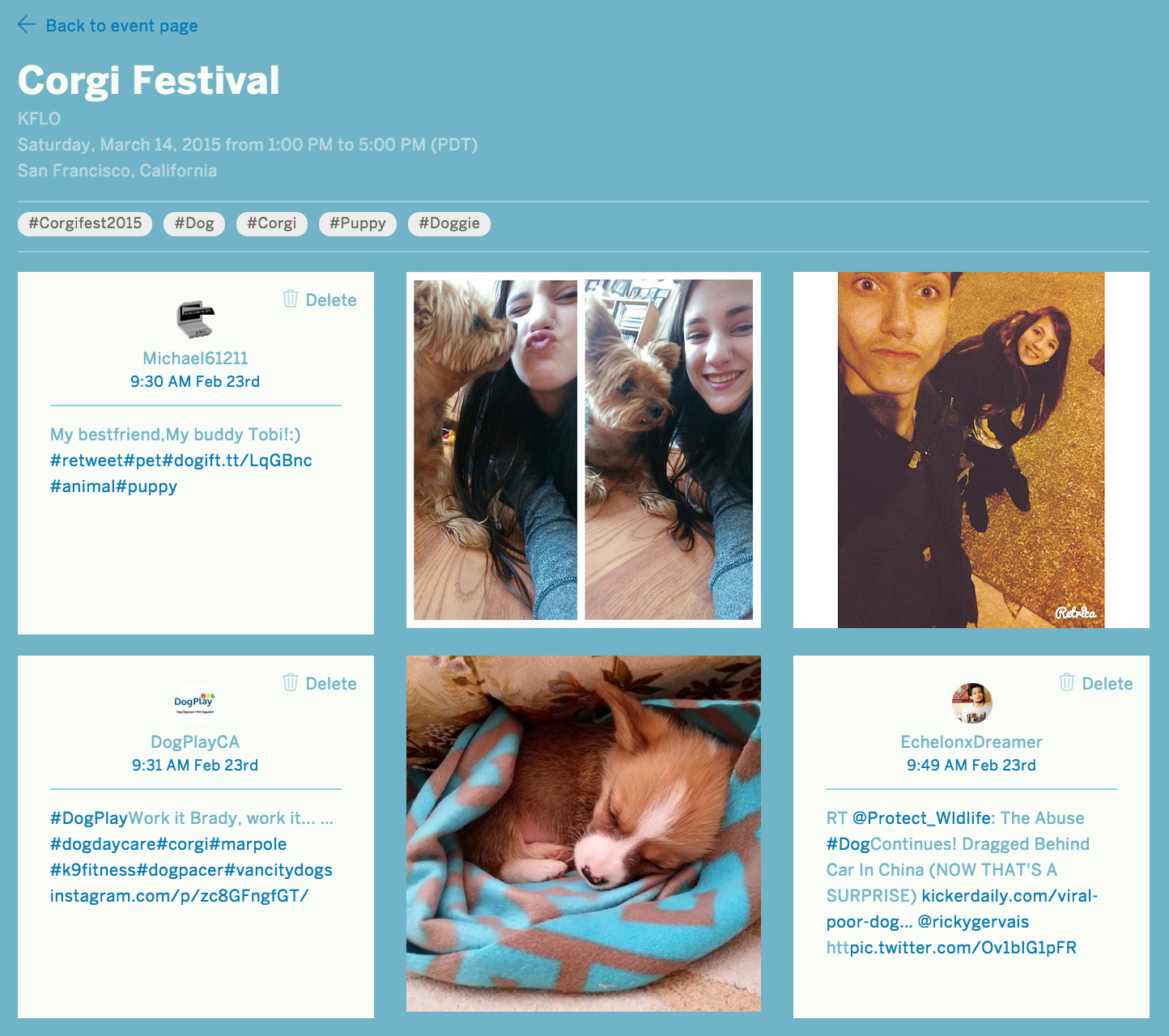 Pro Tip: The color of the posts in your Social Stream will match the color selected for the Event Title. If you want to change the color pallette, just go to your Design page, then select Event Title.
10
Optional: Remove posts from your Social Stream.
Choose Delete next to a social media post to remove it from your event's Social Stream. You can also reply, re-post, or favorite the post with the options at the bottom.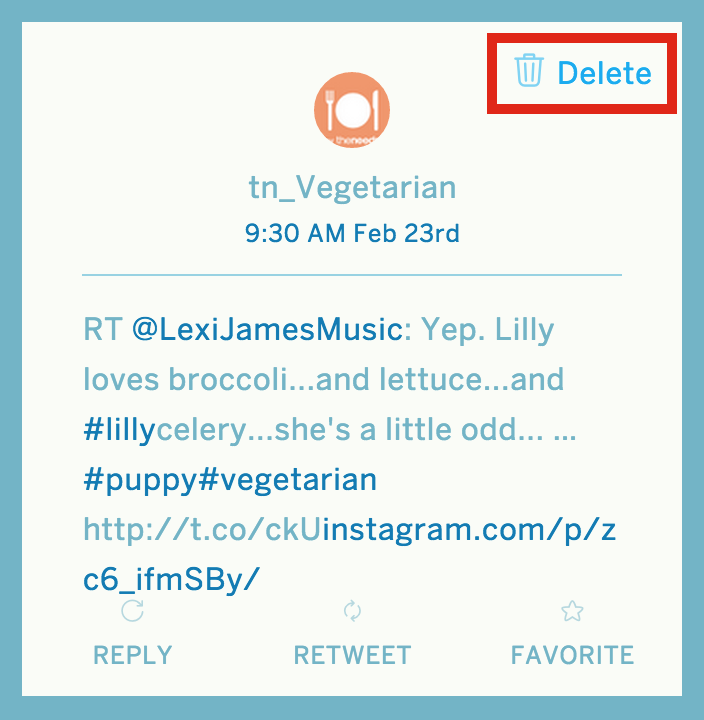 Tip: Your Social Stream will still appear on the event page after the event is completed. However, you can remove this content by turning off the switches back in your Eventbrite account.
Pro Tip: Having the right social strategy is key to get attendees talking about your event. Check out our Event Academy to learn more about how to keep your audience engaged.