How to set up a repeating event schedule
Updated: 25/08/14
If you're organizing the same event that repeats on multiple dates and times (like a class or tour), you can create a single registration page that lists all the events in your schedule. Just choose "Create Event" and locate the date and time on the Edit page. Then select "This event repeats" to start setting up your repeating event schedule.

Note: We just released some updates to the repeating events functionality and it's only available to some customers for now. But don't worry—we'll be rolling this out to everyone soon! Learn more about what's changing.
1
Start creating a new event.
After signing up or logging in, select Create Event at the top of the page. This brings you to the first part of creating your event, called Edit.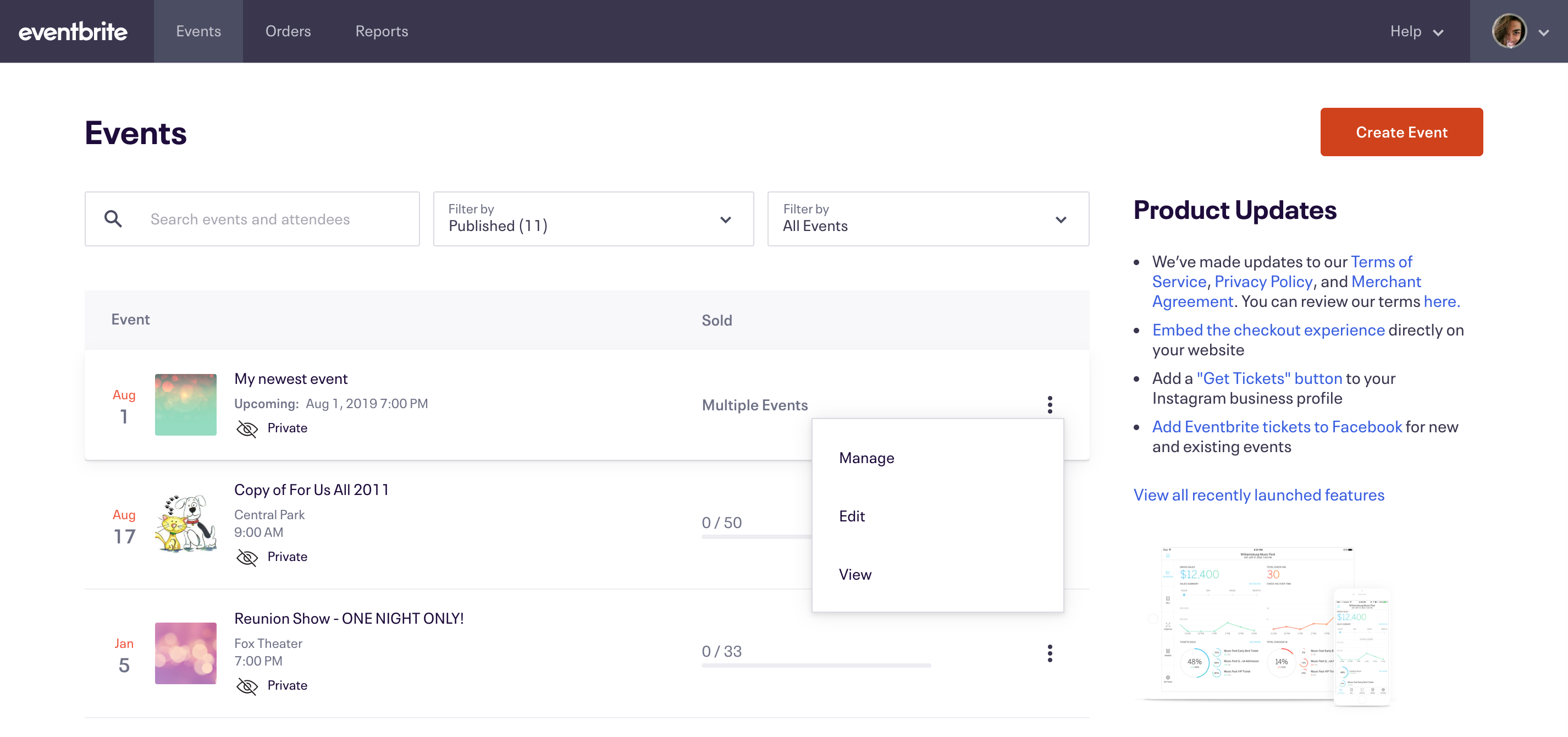 Tip: If you've already started creating an event, you can just select Edit next to it from the My Events page.
2
Select "This event repeats" under Step 1: Event Details.
Locate the date and time under Step 1: Event Details. You can skip past the date/time fields and just select This event repeats to create your repeating event schedule.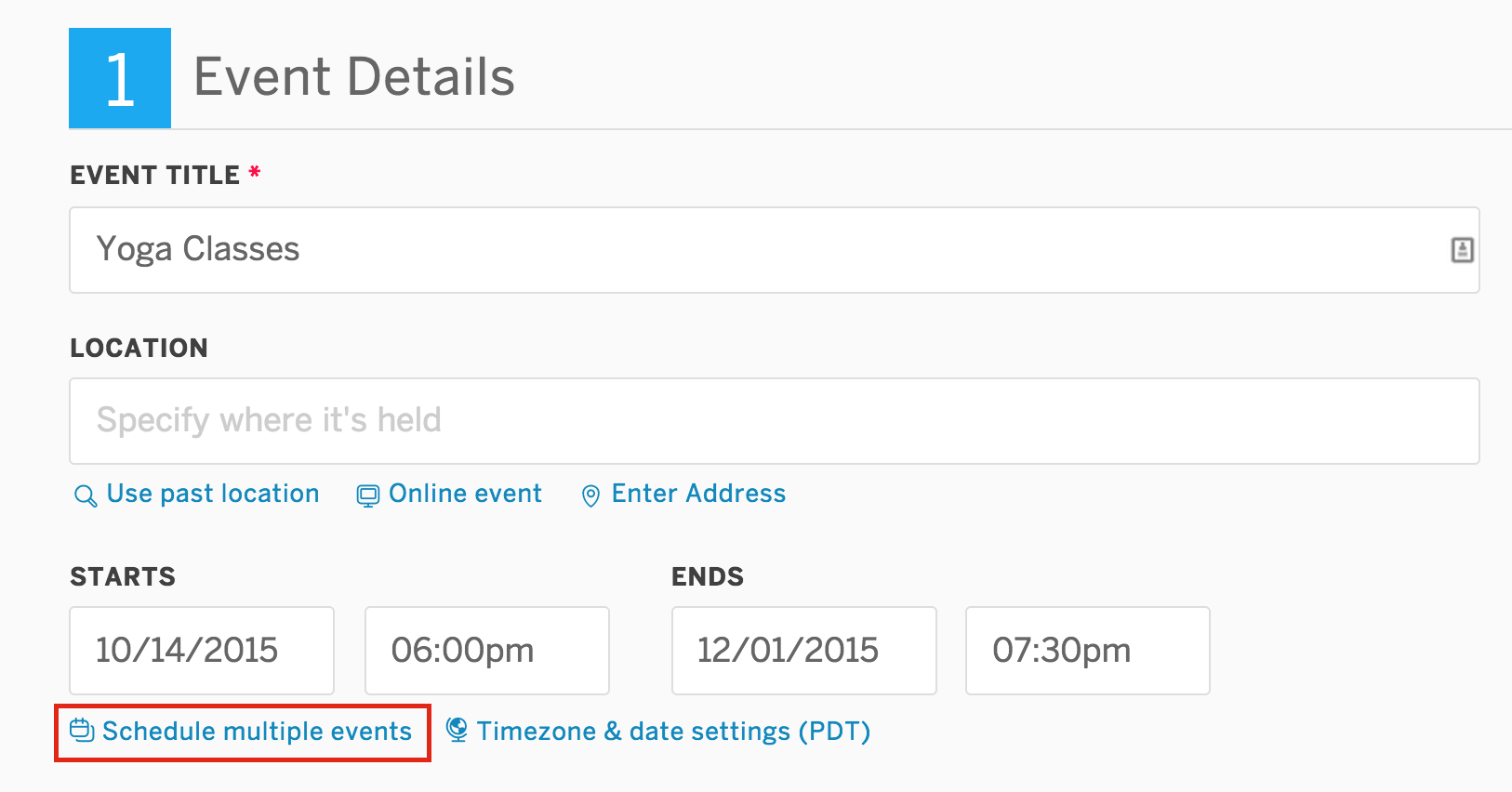 Tip: You can also set the time zone for your event by selecting Timezone & date settings.
3
Set the schedule for your repeating events.
Access the drop-down menu under Event repeats to select how frequently your event occurs. You have several options:
- Daily: your event repeats every day
- Weekly: your event repeats on one or more days every week
- Monthly: your event repeats on one or more days every month
- Custom: you'll be able to select your own repeating-event pattern (this is a great option if your event doesn't have a set schedule)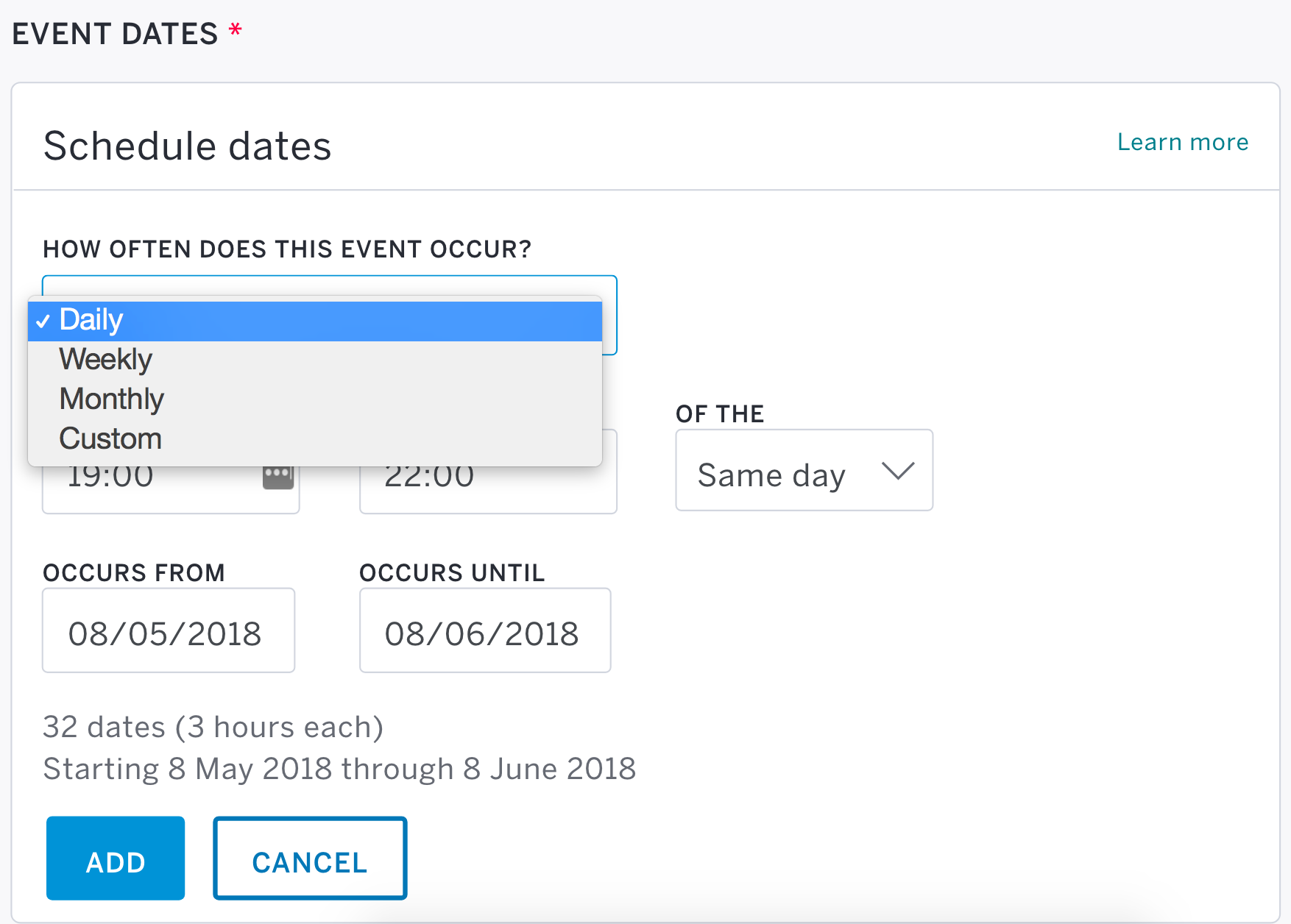 Tip: The start and end dates you set in the fields under Repeat from represent when the entire repeating event series will start and end.
Example: Sally's yoga class happens twice a week, so she's going to set up her event to repeat Weekly on Tuesdays and Thursdays.
4
Set the date and time.
Click or tap in the fields under From and Repeat from to set the date and time.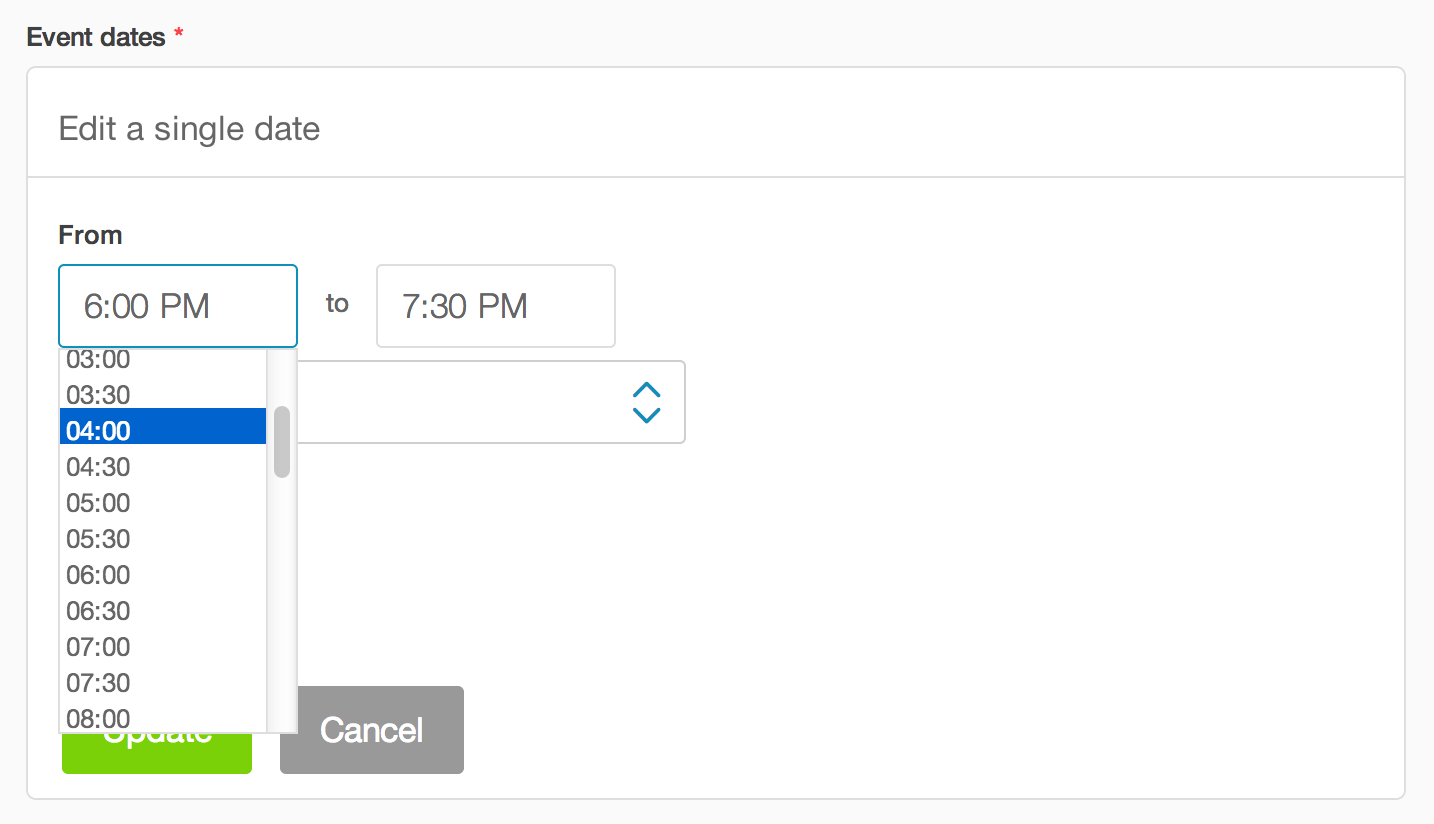 Pro Tip: Be careful about adding too many events up front, as this makes the drop-down menu next to Available Dates very long. There is a limit of 120 events in a repeating event schedule, and once one of your events has taken place, you can add a event to get back to 120 event limit.

5
Choose "Add."
Select the Add button to add in your repeating event schedule.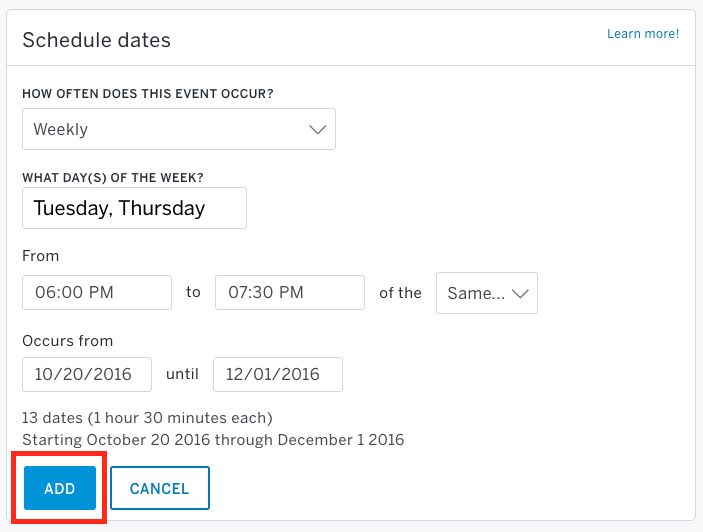 Tip: You can check that you have the correct number of events, dates, and time periods with the text above the Add button.
6
Save your changes.
You'll see your scheduled events listed under Event dates. Just select Save to save your repeating event schedule.

Tip: You can edit the date and time on an individual event at any time by choosing the list icon, then selecting the edit icon next to the date and time you'd like to change.
Pro Tip: You can also delete one of the events in your repeating event series by selecting the trash can icon next to that date and time. If the event you want to delete has sold tickets, you'll have to refund all paid orders before you can select the trash can icon.

Note: Choose Cancel repeating event schedule to restart.
7
Check out your event page.
Choose Design to preview your event page. When people visit your event page, they will be able to select a date to attend from drop-down menu next to Available Dates.
Pro Tip: If you want to include multiple public events with different descriptions on a single page, another option is to create several event pages, all with the same Organizer (set up in Step 1: Event Details). Then direct people to your organizer profile page listing all the public events for that organizer.
You can also use the organizer profile page to list multiple repeating event schedules.

Note: The Order Now button on your event page will be grayed out for attendees until they select a date and time to attend. Attendees will only be able to register for one event in the series at a time.