How to create custom questions for attendees
Updated: 23/04/15
You can collect any information you need (like meal preferences or T-shirt sizes) by creating custom questions for attendees to answer when they register. From your event's Manage page, go to Order Options and select "Order Form." All you have to do is select the "Create a question" button to get started.
1
Go to your Manage page.
After you log in and create an event, find your event on the My Events page, then select Manage.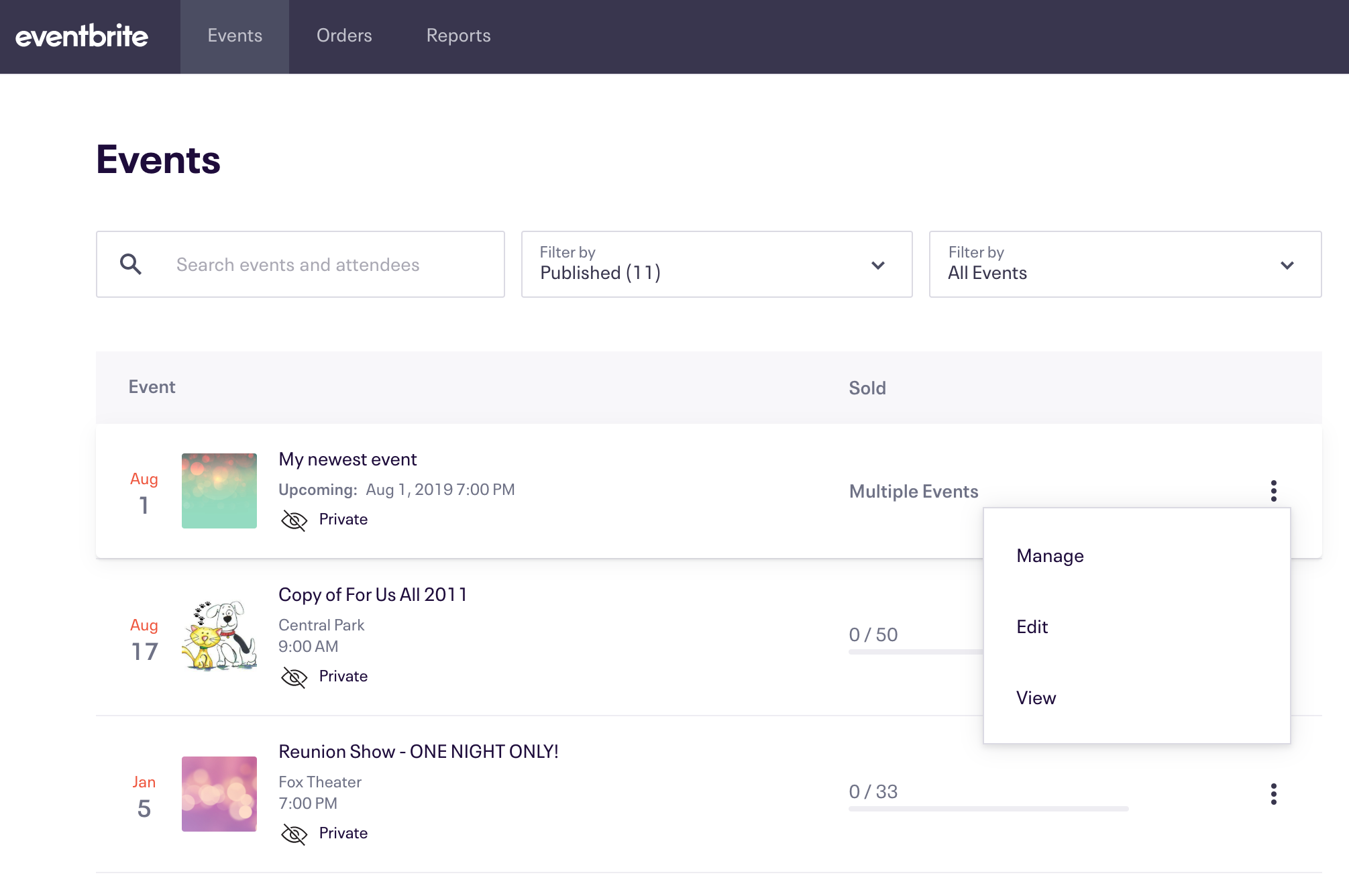 2
Go to "Order Form" (under Order Options).
Order Options is located in the top of the options menu.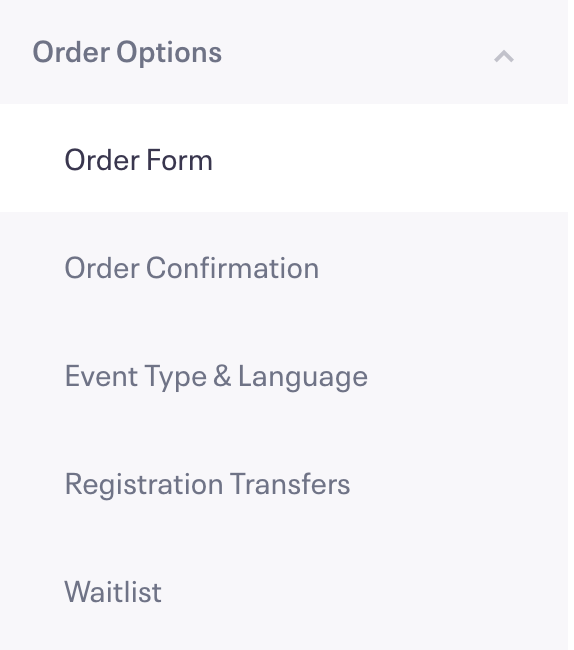 Note: If you have a repeating event, you can create custom questions for one or all of the events in your schedule. Just choose a date from the Individual Event Selector at the top of the Manage page to get started.
3
Collect information for the buyer only or for each attendee.
To create custom questions, you must collect information for the ticket buyer or for each attendee. Choose one of the following options under Collection type:
- Basic Information: By default, you'll collect just the name and email address of the person buying the ticket(s).
- Buyer Only: With this option, you'll collect information from just the person purchasing tickets.
- Each Attendee: Choose this option to collect information from each person attending the event.
Example: Terry wants to make sure that she collects information from each person with a ticket to her event—not just the ticket buyers. She collects information from Each Attendee so the person purchasing the tickets will have to fill out information for each person included in their order.
Tip: You can also collect additional information (like addresses, work information, and more) when you collect information from the Buyer Only or Each Attendee.
4
Select "Create a question."
Scroll down on the page and select the Create a question button. You'll be taken to a new page called Add a Custom Question.

Tip: You can also activate group registration from your event's Order Form and allow attendees to register as a group or team (great for endurance events!)
5
Enter your question.
Click or tap in the field under Question prompt to enter your custom question.

6
Choose a question type.
The Checkboxes option is chosen by default, but you can access the drop-down menu under Question type to choose a different answer format:
- Text: Use a text field to collect short, free-form answers to questions like "What speaker would you like to see at a future event?"
- Paragraph Text: Use a paragraph text field to collect longer free-form answers to questions like "What do you hope to learn?"
- Multiple choice (checkboxes, radio buttons, or dropdown): Use one of our multiple choice options to collect answers that you created, like "What T-shirt size would you like to select?"
- Waiver: Use a waiver form to collect consent to your terms and conditions, like a liability waiver for endurance events.
Example: Brian's event is 21 and over, and he needs all attendees to present a valid photo ID at the entrance. He's going to select the Waiver question type so that people can acknowledge and confirm that they're over 21 before completing their registration.
7
Optional: Display the question for specific ticket types or on the order confirmation.
Under Optional settings, you can choose to show this question for specific ticket types, or show the attendee the answer to this question on their order confirmation and PDF ticket.

Note: If you disabled paper tickets for your event, you can still show the attendee their answers to your custom question on their order confirmation page and email.
8
Save your changes.
Select Save to save your custom question. You'll be taken back to the Order Form, where you can choose whether you want this question to be Included or Required.

Tip: You can edit the question at any time by selecting the setting icon, or delete it by selecting the trash can icon.
Pro Tip: You can create more custom questions by selecting Add another question. Just remember—the fewer questions you ask someone to answer, the more likely they are to buy a ticket!

Note: The time limit to complete a registration is 8 minutes by default, so if you're asking a lot of questions on your order form, you may want to increase the registration time limit.
9
Check out your customized order form.
The custom question you created will appear on the order form as attendees are registering. If the question is required, a red asterisk will show up.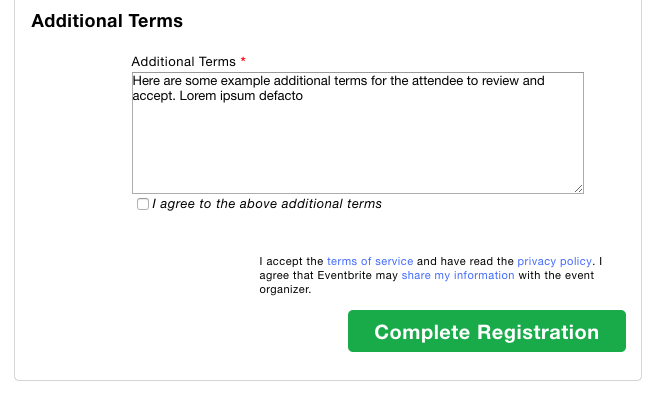 Tip: To view the answers to your custom questions, you'll want to run an Attendee Summary report, which you can easily export to Excel.
Pro Tip: You can also view event charts and graphs to see a visual representation of your attendee information.