How to sell Eventbrite tickets/registrations on your website using embeddable widgets
Updated: 31/03/15
You can sell tickets right from your personal website or blog by using one of our promotional widgets. It's a great way to drive ticket sales, and we have several options available for you to choose from (including Ticket Form, Countdown, and Calendar widgets). From your event's Manage page, go to "Widgets" and select one of our promotional widgets to get started.
Note: Your outside website must support iframes in order to embed these widgets. Wordpress.org users, for instance, will need install a plugin allowing you to embed iframes in your site. However, WordPress.com users can use the Multi Event and Single Event Themes. Also, widgets cannot be used if your event is invitation-only.
1
Go to your Manage page.
After logging in and creating an event, click or tap on your event from the My Events page, then select Manage.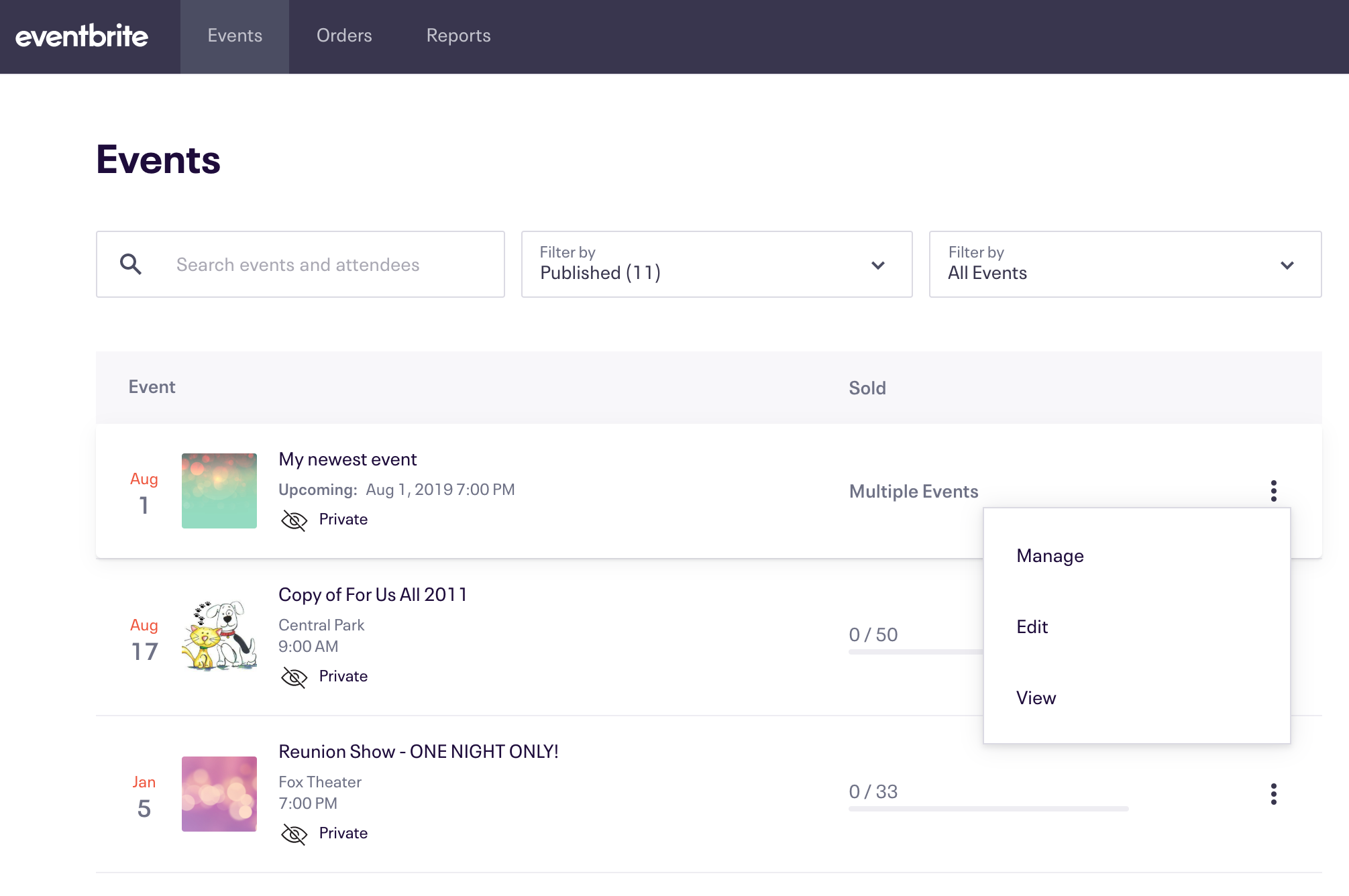 2
Go to "Widgets" (under Invite & Promote).
From the options menu, scroll to the middle until you see the Invite & Promote section.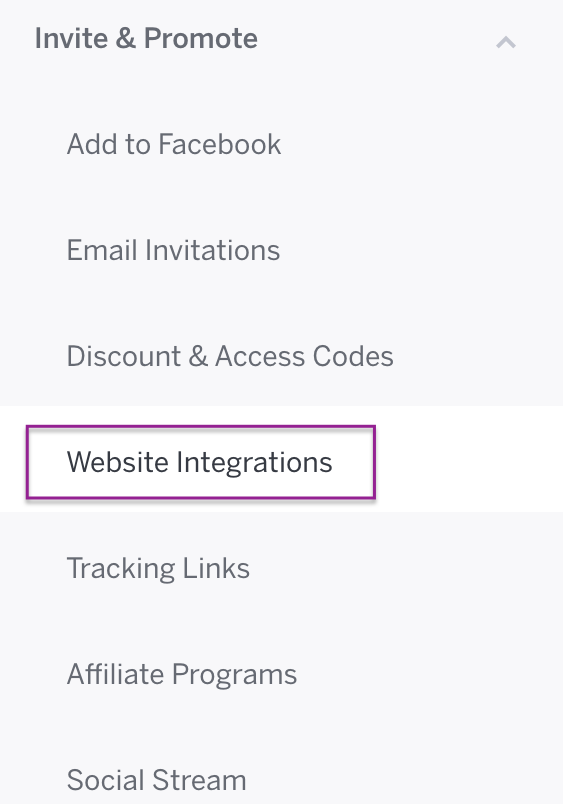 Note: If you're using our new repeating event feature, you can add a widget to your website and promote one or all of the events in your schedule. Just choose a date from the Individual Event Selector at the top of the Manage page.
3
Choose one of our widgets.
From the Website Integration page, you'll have several options available:
- Ticket Form: Add a ticket form so attendees can select their tickets and start the registration process from your website.
- Button: Add a button that will take attendees straight to your Eventbrite event page.
- Text Link: Add a custom link that will take attendees straight to your Eventbrite event page.
- Event Page: Integrate your entire registration page into your website. Attendees can start registering on your website, and then they'll be seamlessy taken to Eventbrite to complete their order.
- Event Calendar: Display a calendar that will show all your live upcoming events. Attendees can click on a highlighted date in the calendar to go that event page.
- Countdown: Display a timer that will count down the days until your event takes place. It will also have a link that takes attendees to your event page.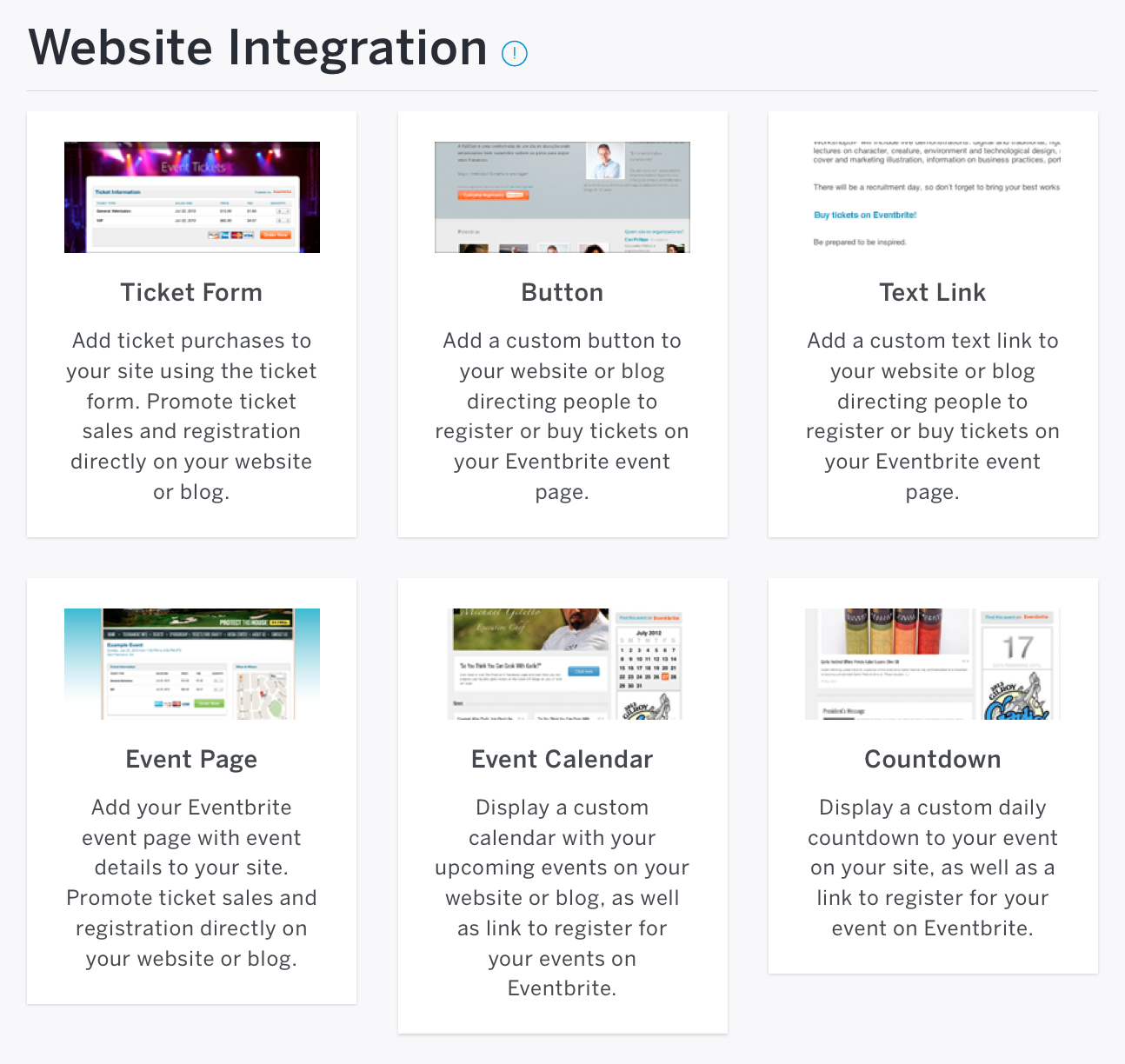 Example: Allison has several events happening over the next few months, so she's adding a Calendar widget to her website so people can easily get to those event pages.
4
Customize your widget.
You can choose what you want to display on the widget, choose what events are listed, and select a color scheme that matches your website.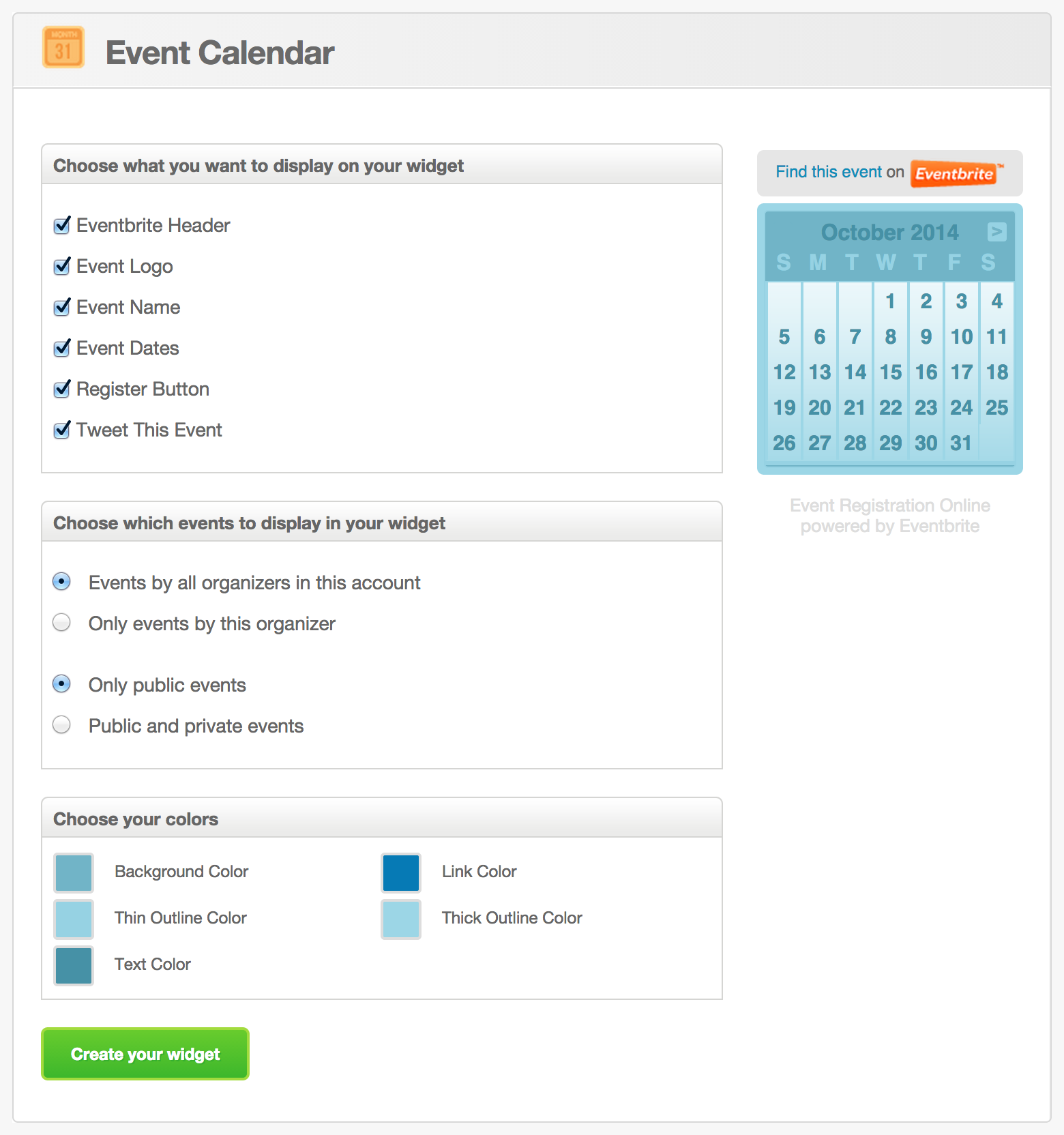 Tip: If you're trying to match a color from another web page, check out Palleton, a free online tool for color palette design.
5
Choose "Create your widget."
Click or tap the Create your widget button to add your customizations to the widget.

6
Copy the code that's generated.
Copy the HTML code that appears in the field under Copy and paste this code for use on a webpage. You can also select the Copy to Clipboard button to quickly copy the code.
7
Paste the code onto your website or blog.
Once the code has been copied, paste it into the HTML for your personal website or blog. The widget should now appear on your site, and visitors will be able to go straight to your event page!
Tip: Don't have your own website or blog? Set up your organizer profile page so potential attendees can see all your live public events on a single page.