"Event capacity" explained
Updated: Aug 20, 2013
Cap the number of tickets available across all ticket types
Guarantee you don't oversell your venue
Tip: The Event Capacity tool sets the maximum number of tickets--across all of your ticket types--that can be sold for your event. For example, this feature lets you create two or more ticket types--each with its own Ticket Quantity--and allows you to cap the total number of tickets sold for the event across all ticket types.
1
To get started, first sign up for a free Eventbrite account or log in to your existing Eventbrite account and create an event.
If you'd like to view or edit the Event Capacity for an already-created event, click My Events at the top of the screen and then click on Edit to the right of your event's name.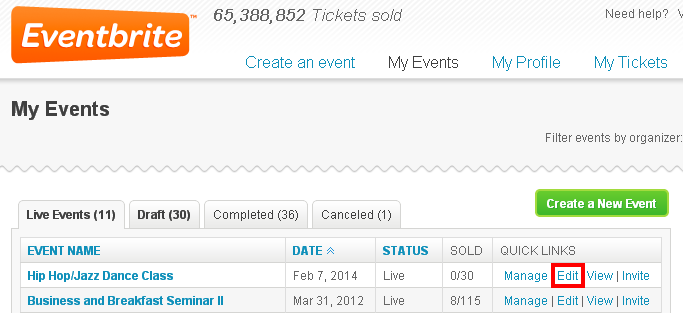 2
On your event's Event Details page, go to Step 2: Create Tickets. The Event Capacity field is located to the right of the Add Ticket button.

When creating ticket types, you'll notice that the Event Capacity field will automatically update to reflect the sum of each Ticket Quantity that you set for your ticket types.

3
You can always change your Event Capacity if your event has two or more ticket types and you'd like to set the total number of tickets available to a number less that the default sum. To change the Event Capacity, click into the Event Capacity box and then make the change. (To make another change in the future, simply click the edit link found next to the Event Capacity box.)
As an example, let's say you have a venue with a total capacity of 100 people. You're selling two ticket types--General Admission and VIP--and don't care about the combination of ticket types that you sell, as long as you don't sell more than 100 total tickets. In this case, you'd want to set the Ticket Quantity for each ticket type to 100, and then also set the Event Capacity to 100.